Yes, the "Update #1" message in the news's subject line does hint that there will indeed be more than one update for xmas this year concerning DBS. Well technically, today's update is more than one piece of news, so your getting double already. Other updates should (time permitting) follow each and every day until the weekend, but no promisses, as we need to work on the mod as well before we take an xmas break. If you want to see if we post the updates, well you'll just have to keep checking back each day for more. We hope to not disappoint.
Ok, first bit of news... This coming Saturday (22nd Dec 2007), we will be releasing version 0.3 of the mod. This will not be the final saiyan saga version I'm afraid, we still have LOADS more planned to make for the base of the sagas, so it'll require one more full release before we move onto the Namek Saga (and Super Saiyan-jin). We don't aim to disappoint however, and this version will improve on the previous; bringing you better sounds, textures, code and a new map for you to sink your teeth into.
As for the exact time of the release, I'm afraid that I can't be too specific on the subject, as i'll be releasing it after I return from work and before I shoot off to go see Nottm Forest (hopefully) beat Port Vale. This should be somewhere around the time 11am GMT, maybe before, maybe after.
The final (hopefully) full release for the saiyan saga will be dated mid-April 2008, at our birthday weekend. This version will be completed way before the release date so that our current beta tester staff can bug test the hell out of it and we can bring you a bug free version. This will allow the main staff to work on the Namek Saga, and bring you a quicker release after that, so hopefully you all won't be waiting long. Character models for that version are well underway and can be viewed on our forums.
Phew... thats the release info out of the way, and now onto our second part of this update... a nice video to view. It features Goku Powering Up over land and water. Doesn't sound like much new, but you can see new effects have been added, like on land, dust will rumble over the landscape, and over water, waves will flow into one another. Check it out yourself and please feel free to express your opinions on our forums in this thread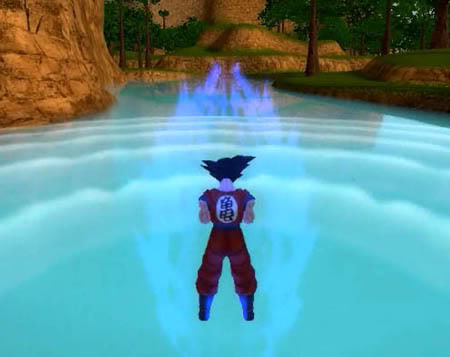 Download @ Moddb.com
While your here, we at DBSource kindly ask you to click this link which causes you to vote for our mod daily at moddb.com (no signup or anything required, just a single click).