I guess you wonder what we would post if most of the Ostheer is already known. You couldn't be more wrong ;).
Modernisation?? What's that? April's fools again? How it works? Had to do with veterancy?
Modernisation is an Ostheer ability that let them use better equipment on the battlefield, reflecting the change of weapons, units and strategies used in the Eastern Front campaign while it lasted.
We can ilustrate how it works:
Your landser squad starts with their 5 K98s and if purchase the upgrade, the squad leader will use a MP40. After modernisation, squad leaders will swap his MP40 for a new MP44. The Marksman will use a MKb.42 Scoped semi-auto, but after modernisation he will use the scoped MP44. Some unit types will extend the bonus to existant units, others will affect only the units created after the upgrade is done.
Of course, this doesn't affect only infantry, but support weapons and tanks as well. There are three modernisation upgrades, for three groups of units (Tanks, Infantry, Support Weapons) all of them availabe on the HQ; each one has different cost so, it's up to you to decide what group you prefer to upgrade.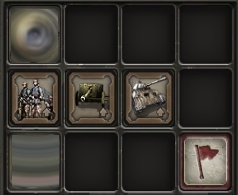 Each upgrade will be available to purchase so you can purchase them whenever you want, if you have the resources; the purchased upgrade or upgrades will remain until the game ends and you won't be able to recruit "outdated" equipment. The list of changes by buildings are:
Infanterie Gruppen Post:
Modernisation Cost - 330MP, 45FU
Landser Squad leader: MP40 -> StG44
MG Team: MG34 -> MG34/41 (Gains more or less the same stats as Wehr MG42)
Marksman: MKb.42 Scoped semi-auto -> StG Scoped full auto
AT Team: PzB 39 (Panzerbüchse Zug) -> Panzershreck (Ofenrohr Zug)
Kübelwagen: 985cc Engine -> 1.131cc Engine (Increase speed. Free with modernisation. Upgrades vehicles in field)
Schutzen War Camp:
Modernisation Cost - 450MP, 80FU
FlaK-38: PzII Luchs unlocked (Replaces towed Flak-38)
Panzerfusiliers: MP40 -> StG44
Panzerwerfer: Research becomes available upon modernisation completion.
Stormpioniers: Regular mines -> S-Mines(AP)/Teller Mines(AT)
Troop Halftrack: 2x MG34's -> Optional FlaK-38 (Sdkfz 251/17) upgrade for better AI (45 muni)
PaK36: Pak40 unlocked
LeIG18: 'Hollow-Charge Shell' ability unlocked. Grants LeIG18 greater AT abilities (30muni, 90 cooldown)
Panzer Kampf Kommand
Modernisation Cost - 520MP, 120FU
Panzer III: Gains additional armour on hull front and gun mantlet (Free with modernisation. Upgrades tanks in field)
StuG III: Improvised Armour upgrade -> Armoured Skirts upgrade (25 muni)
Panther Ausf.G: Available upon modernisation completion.
Marder II: 'Tungsten Core Shell' ability unlocked. Significant damage to Tanks. (40 muni, 90 cooldown)
Brummbar: Available upon modernisation completion.
As you surely have noticed, the towed flak 38 was changed from T1 to T2, and a kubelwagen now replaces it. It's better now, due to the flak 38 is too strong to be in that building and nerfing to oblivion wouldn't be the solution.
Modernisation is a different concept than veterancy... but that's another story and will be discussed in the future ;). See you next time.
Meanwhile from the front...