DOWNLOAD CALIFORNIA MEGAMOD 1.55 beta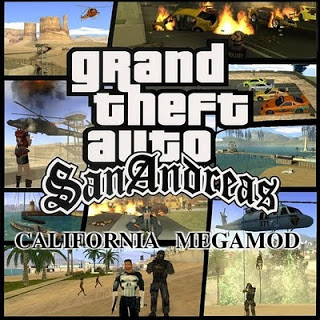 DOWNLOAD LINKS (UPDATED JUNE 2014)
GTASACAM155.Part1.exe 476 MB (488.282 KB)
GTASACAM155.Part2.rar 476 MB (488.282 KB)
GTASACAM155.Part3.rar 476 MB (488.282 KB)
GTASACAM155.Part4.rar 476 MB (488.282 KB)
GTASACAM155.Part5.rar 323 MB (331.236 KB)
GTA NFSMW (by_fireken and starman).exe (Mod Need For Speed Most Wanted) 9.14 M
UPDATE to v.1.56 of California Megamod
some mods included in California Megamod version 1.55 Beta by STARMAN:
Starman mod
Crime Wars
GTA Crysis
Halo Mod
Quasar Mod
Space Invaders
Star Wars mod
Alien City (by Deniska)
Ghostrider
Myths mod (misteries of san andreas)
Biohazard Alert 0.3beta (by coingod & pulga)
GTA Resident Evil
Resident Evil Outbreak File #3
Noob Mode
Global Overheating
Master Missions mod
it also includes lots of CLEO 3 scripts, although some are disabled by default in order to prevent crashes and get the most stable version we could.
The megamod works in Windows XP, Windows Vista, Windows 7, Windows 8, Windows 8.1
you need a decent computer to play it, if you can play GTA IV then you can play California Megamod very fast and at full quality.
HOW TO INSTALL CALIFORNIA MEGAMOD v. 1.55 BETA:
The best way to install the megamod is to install it in a new Folder avoiding to replace your current GTA San Andreas files. but you still need to have GTA San Andreas previously installed in order to get a sucessfull installation of the megamod (if you want to, you could delete your original GTA San Andreas later, when the megamod is working 100% and the original game folder is not needed anymore).
Some people got corrupted files when downloading, so, once you have downloaded all the files the first thing you need to do is to check that all filesizes are ok, in case any file is the wrong size, then download it again (just the wrong file). In this way you will prevent lots of troubles. Also be very carefull when downloading, if you download a same file two times, because the first time it failed, then your browser could store a corrupted copy of the file with the right name, and the good copy of the same file but renamed with a (1) or (2) added at the end of the filename, and if you dont fix it then the installation will fail. (Delete the wrong file and rename the right one with the rigth name, and everything will work fine.) Also put all files together in same place before starting the installation so that the installer can found all the files.
Only when all files have been fully downloaded and everything is ok, you can start to think about installation.
First Decide where you want to install the california megamod, it can be any logical place in your hard drive (but take care not to use a very long path because windows may give some troubles, the shorter the folders names the better). If you want it to work at 100% then don't try stupid things, like trying to install it inside WINDOWS folder or inside the start menu, or inside MY DOCUMENTS, or in the DESKTOP. Just choose a hard drive partition C:, D:, E:, whatever, and there create a GAMES\ folder (example: C:\GAMES\) and then install the megamod there. you can also use usual Program Folders of course.
Installation of this new version is very easy, it comes compressed with winrar but it has an autoinstaller, so you don't even need to have winrar installed in your PC. All you have to do is to double-click the .EXE and select a folder where you want to install the megamod and press continue. when finished the megamod will be ready to play. but please read behind because there are some copy paste needed for full features installation.
INSTALATION:
1-double-click the file: GTASACAM155.part01.exe
2-Press BROWSE button and Select the drive and folder where you want it installed (example: c:\GAMES\) and then press INSTALL button.
3-the autoinstaller will extract all files inside C:\GAMES\CALIFORNIA MEGAMOD 1.55\
4-When ready you will see the button FINISH, click it to exit.
5-Go to your "MY DOCUMENTS" Folder (there should be a shortcut in the desktop or in the start menu, just click it) and now get inside the folder MY DOCUMENTS\GTA SAN ANDREAS USER FILES\
Now locate and delete the file: gta_sa.set
This is only neeeded to prevent error messages or game not loading at all because you may have a different version of the game. (there are different versions of gta san andreas, one of them can't be modified, but the megamod will work no matter what version you had, just delete this file gta_sa.set and everything should be ok. the game when started will create a new version of this file and should be the right one for the megamod. if you ever install a new graphic card in your pc then you will need to do this again for the game to work.)
Now we need to copy some files from your current gta san andreas folder and paste into the California Megamod, don't worry is very easy. This step is needed if you later want to install and play SAMP (san andreas multiplayer online), or to play without mods using the gta_sa.exe included in the megamod.
6- Enter into your gta san andreas folder (usually at C:\PROGRAM FILES\ROCKSTAR GAMES\GTA SAN ANDREAS\) and enter inside the MODELS\ folder, select and copy these files:
- gta3.img
- gta_int.img
- player.img
7- Now go to C:\GAMES\CALIFORNIA MEGAMOD 1.55\ Folder and then enter inside \MODELS\ folder and click the PASTE option in the EDIT menu of the windows explorer, and wait untill all files are copied there.
8- This step is optional. only if you want to listen to the music of the game in the california megamod then go back again to your game folder (C:\PROGRAM FILES\ROCKSTAR GAMES\GTA SAN ANDREAS\) and enter inside AUDIO\ folder, now select the STREAMS FOLDER and choose COPY in the EDIT menu of the windows file explorer.
9- go back to the california megamod folder and enter inside the AUDIO folder and PASTE there (COPY AND PASTE OPTIONS ARE ALWAYS IN THE EDIT MENU OF THE WINDOWS EXPLORER)
10- Wait about 5 to 10 minutes for all files to be copied, they are very big files so it will take a while, don't try to start the game untill the hard drive light have stopped flashing and blinking completly.
HOW TO PLAY THE CALIFORNIA MEGAMOD:
you just need to start the game double clicking any of the .exe files in the main california megamod folder (please note in gta_sa.exe there are no mods at all, and it will only work if you completed the installation process above). probably the best would be to create shorcuts for your favourite ones in the desktop or in the start menu, or just create a shortcut of the california megamod 1.55 folder and put it in your desktop, for easy access to all .EXEs.
NOTE: There is an update to version 1.56 of california megamod that comes with a launcher, a launcher is a menu that lets you select the .EXE you want to play, and so you only need one shortcut to the launcher in your desktop to have access to all the game modes of california megamod, saving you a lot of desktop space and making your life easier.
Each one of the .EXEs of the California Megamod is like a different game, sharing the same gta San Andreas engine, some have more new features than others. The best way to find the differences between each one is to play all of them (one at a time off course :)
Enter inside the california megamod 1.55 folder and look at all those .EXE files with GTA SA ICONS, each one is a different game mode, take a look at the names and choose one, for a fast tour i recommend you start with STARMAN MOD, then CRIME WARS.EXE, play a while and then quit the game and start another one, like ALIEN CITY+STARWARS.EXE, play for a while and then quit and start any zombies mod, You will soon notice that in some .exes there are different vehicles, peds, weapons, and even a whole new world (in Alien City) and that is the MAGIC of the california megamod, this is what i do, apart from a lot of textures and many other things i basically make .EXE and .dat and .ide mods.
Off course not everything you'll see in california megamod is done by me, but i have done the magic needed for you to be able to have EVERYTHING in just one GTA San Andreas folder, without my hard work you will need a full gta san andreas folder for playing each game mode (this means from 6 to 7 gigabytes of hard drive space for each .EXE, and there are more than 20 EXEs !! ), so i saved you a lot of gigabytes cause the full california megamod uses less than 8,5 gigabytes (including all new radio stations that are not included in this pack, they can be downloaded individually in another section of my website).
If you know how to make mods and try by yourself to join just two or three of these game modes (alien city + zombies mods + starman mod) you'd probably give up saying it is impossible. and yes, it is, but i managed to do it. So i think i earned a bit of respect for my work, like i respect and admire other people's work. I apology to anyone i forgot to include in the credits cause i have been too busy to investigate everything i have used from other people and who made it, I started this project as my own proyect for playing just myself and so i never thought it would be published in internet, also remember this is still a beta version, published just because many many many people asked for it, because they wanted to play it, no matter it was finished or not.
So the best i can say is that California Megamod is not made by starman alone, California Megamod is the work of the whole GTA Modding Community and Starman is only the coordinator of the team, the one in charge of joining everything into the megamod.
As i said, the california megamod comes with a lot of .EXEs and each one lets you play a Different GTA San Andreas. The one recommended for playing the original missions is starman mod.exe, if you already completed the game and want to have more fun i suggest to try other different game modes with aliens, zombies, superheroes, etc. each game mode may have different vehicles, weapons, players, goals, etc.
In most .EXE you can play at anytime with different characters, to switch from one character to another use these keys:
STATISTICS + PREVIOUS WEAPON (TAB+Q)
STATISTICS + NEXT WEAPON (TAB+E)
You have many characters to choose from (up to 64). Some .EXEs are planned to be played with one specific character, for example, gta crysis.exe should be played using the nano crysis suit, which has two versions, visible and invisible.
for playing any zombies mod you can choose between several Resident Evil characters, but you probably will prefer Leon S. Kennedy.
For Playing Crime Wars you also have lots of people to choose, but one of the best is probably Wolverine, cause this mod has wolverine powers. but you can also use the same powers with spiderman, batman, captain america, daredevil, Lara Croft, etc.
Another Function in many .EXE is the PLAYER CUSTOMIZATION MENU which can be activated pressing the 3 Key, this menu will allow you to change CLOTHES, HAIRCUTS and TATTOOS, but only when you are CJ, so remember to switch back to cj first before trying to customize cj in case you had selected another player character. Included in the clothes options are several superheroe costumes.
Also in most .EXEs you may spawn any vehicle anywhere anytime using these keys:
2 Activate vehicle spawn mode
W or S to browse through all vehicles
ENTER to QUIT SPAWN MODE and DRIVE the spawned vehicle.
SPECIAL GREETINGS AND CREDITS:
- ALL VEHICLE CREATORS OF GTA COMUNITY (too many names).
- DENISKA (Alien City)
- COIN-GOD, PULGA and CRE team (Zombies and resident evil models)
- FIREKEN32 (GTA Need For Speed Most Wanted script)
- SEEMAN, ALEXANDER (CLEO and Sannybuilder)
- RYOSUKE (cleo player selector)
- EM3RALD, OMEGAGT, HYDRA & NEOS7 (Crysis 3D Models)
- ECLIPSE y WAUZIE (NOOB MODE v.2.0 main.scm)
- STEVE-M (for making possible ALL GTA mods)
- JVT (some vehicles like ferraries and lamborghinis)
- Spy3D (some tuneable vehicles)
- ODIE (RIP) (for inspiration to all gta modders)
- MTL (for some models)
- SAMT2497 (for support, and betatest)
- ALL GTA MODDERS (for making our favourite games better)
- AND EVERYONE OF YOU (for your support, loyalty, and patience)
and in general to the whole GTA Modders Community, without them this megamod wouldn't be possible. This megamod is my tribute to all of them.
DESCRIPTION OF EACH MOD INCLUDED IN CALIFORNIA MEGAMOD v.1.55
STARMAN MOD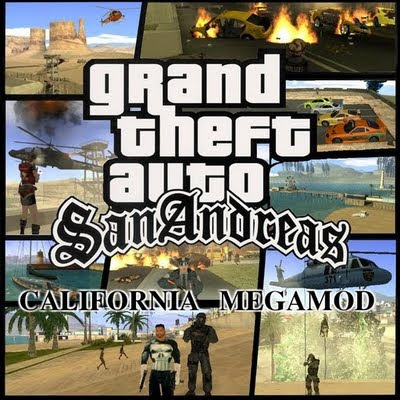 Starman mod is the base mod needed for all other mods to work, is like the engine, most mods share the same features from this mod, like vehicles textures, peds, weapons, but there are also other mods with their own features, not shared with the others.
In Starman Mod you have the original game with the original missions but improved a lot, all vehicles have been replaced with real ones, also the weapons have been replaced with better models, so some sounds, and i also created thousands of new textures and customized many files to improve the graphics quality and realism of the game.
So this .exe is the one recommended for people who enjoy playing the classic GTA san Andreas but improved with mods. here there are no myths, no misteries, no aliens, no spacecrafts, no zombies, no monsters... just the real thing.
GAME QUALITY SELECTION SYSTEM BY STARMAN
I discovered how to improve the graphic quality in GTA SAN ANDREAS (without using ENB series mod) and so i wanted to implement it in my california megamod, but because some computers are more or less powerfull than others i created several different quality profiles so anyone can test all of them easily and choose the one that best suits their computer.
To activate a profile all you have to do is Double-Click in the .BAT file you choose, they are named in english with a descriptive name so is easy to know what you are doing. You can switch to any profile you want at anytime you want, there are no restrictions. you can only use one at a time, but you can change it whenever you want. Once you have activated a profile, you will have the same quality profile in ALL of the .EXEs of California Megamod, (untill you switch to another profile)
QUALITY PROFILES:
HIGH QUALITY.bat = Switches to Maximum Quality
MEDIUM QUALITY.bat = Switches to Medium Quality
STANDARD QUALITY.bat = Switches to Standard Quality
ORIGINAL (LOW) QUALITY.bat = Low Quality (original GTA San Andreas quality)
I recommend to enable MAXIMUM QUALITY first no matter the performance of your computer, because it doesn't have a big impact in Speed of the game, you can then test it and if it doesn't work fast enough for you then you can switch to medium quality and test it again untill you find the best for you. I don't have a very powerfull computer (a single core one) but i use to play at maximun quality in 1024x768x32 and it runs pretty fast. I can even play at decent speed at 1680x1050x32 + maximum texture quality + ENB series + maximun quality profile in a dual core computer with 4 GB RAM, and a decent Graphic Card.
DEMO VIDEO OF STARMAN MOD v.1.55
DEMO VIDEO of STARMAN MOD v.1.51
DEMO VIDEO OF CLOTHES AND HAIRCUTS (v.1.51) (recorded in star wars.exe)
ALIEN CITY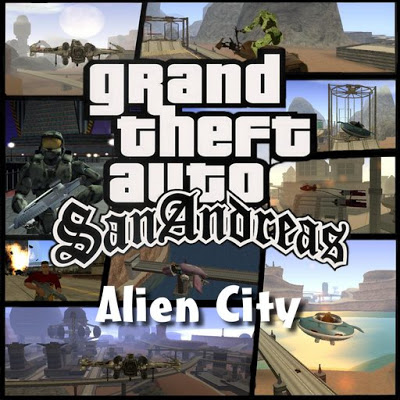 Alien city is not a simple mod, is the most amazing Total Conversion ever made for GTA SAN ANDREAS, it was made by a very talented Russian boy named Deniska, This total conversion replaces the entire San Andreas state with a new futuristic city with very original design. ¿what is a Total Conversion? is a new game created from the GTA san andreas engine, were absolutly everything has been replaced.
This proyect is not finished yet (it doesn't have new missions) but still is a lot fun to play, there are a lot of traffic and people round there. Most vehicles are futuristic and there are some star wars spacecrafts and alien peds i added to get a future world atmosphere. There are also some stunt places. and the wonderfull design of the buildings makes it fun just having a ride.
I mixed the alien city with my star wars mod but it is not so fun as my star wars mod alone, because there are no gangs in alien city. but still is worth playing. There are two versions of alien city:
- one where you start in the interior of a building, here most scripts works and so you can buy vehicles, customize them in tunning garages, sky dive, and the stunt zones are working. (be aware that all clothes shops don't work at all, so don't get close to the shop doors or game may close and send you back to the windows desktop)
-in the other version you spawn at a random place everytime and so is faster to get on the road, but here the scripts doesn't work, so you will not get easy access to the stunt zones, and the stunts attractions will not move and there will be no stunters. Also here clothes shop will not work at all. (try the 3 key to customize cj or switch to another player model that best suit the them, like Masterchief or a storm trooper for example.) If you start a game and you spawn in the water, its faster to go back to options menu and start a new game, cause there are no boats at all in alien city, and the coast may be hard to get.
WATCH A DEMO VIDEO OF THIS MOD (v.1.55)
WATCH ANOTHER VIDEO OF ALIEN CITY byr gathoxuzumaki
CRIME WARS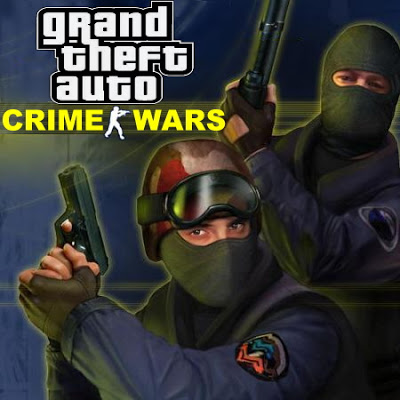 If you are a Counter-Strike fan then you will just love this .exe
Crime Wars is a mod i made where you play a hero who must save GTA SAN ANDREAS (or California and Nevada) from a lot of different criminals (street gangs, Latin Kings, chopper gangs, drug dealers, colombian drug cartels, maffias, yardies, Ninjas, terrorists, corrupt govern agents, etc.) You have lots of characters to choose that suits the theme of this mod, the best are: counter-strike special forces, policemen, Wolverine, Punisher, Daredevil, Batman, Spiderman, etc.
This .exe is perfect for playing as a superhero, because you will have special agility and strength (superjumps), and also the famous Wolverine's adamantium claws, so powerfull that you could kill several enemies with just one strike, to activate the claws press at same time WEAPON AIM + CONVERSATION NO (RIGHT MOUSE BUTTON + N)
and from that moment you will be the terror of the criminals. you will be able to kill any armed enemys no matter what weapon they have, using just the adamantium claws, but you need to move fast to avoid the bullets, because you are not inmortal.
You can't fly in this .exe because the supoerpowers.cs script is disabled by default. but if you want to play with another superhero you can get the quasar or green lantern powers back if you locate the superpowers.cs file in STAR\desactivados (disabled)\ folder and move it to the STAR\ folder
Another good character to play Crime Wars is PUNISHER, i made my own version of punisher (i think is the best one), other good character is Lara Croft (tomb Raider), very usefull for the gta females out there (i know they exist). There are also ironman, captain america, spiderman, batman, robin, batgirl, green lantern, wonder woman, etc.
CRIME WARS is currently my favourite game mode because it also has more interesting features usefull for players not interested in gang wars.
PRESSING 5 key while inside a vehicle you access a TUNNING and SPECIAL VEHICLE ABILITIES menu where you can customize any vehicle, you could for example add NEON LIGHTS with DIFFERENT COLORS and place it wherever you like, or simply add a minigun (or two) to your chasis (even in a motorbike) to get outside this menu press ENTER.
if you ever find a problem with the drawing of the kilometers counter, after adding neon lights, then do this: press 5 to view again the tunning menu, go to tunning section, and then press ENTER to exit back to the game, and the problem is gone.
Pressing 3 key you access the player customization menu where you can change clothes, haircuts, tattoes, etc, to CJ, between the clothes you will also find some superhero costumes in several shops.
you can play crime wars (and others mods) beeing: Wolverine, Punisher, Captain America, Batman, Daredevil, Spiderman, Iron Man, Lara Croft, Solid Snake, Jack Sparrow, Leon S. Kennedy, Claire Redfield, Cris Redfield, Jill Valentine, Ashley Graham, Max Payne, Fox Mulder, Nico Belic, Policeman, Motorbike Policeman, SWAT, FBI, CIA, Marine, counter-terrorist, Crysis Nanosuit, Masterchief, Etc. (64 characters in total, not counting the special superhero costumes)
SPECIAL KEYS:
2 = spawn vehicle, (select with arrow keys and enter to drive it).
3 = player customization menu to change clothes, haircuts, tattoos...only in CJ
5 = Tuning and Special abilities for Vehicles, (works like any other buying menu.)
TAB + E (ACTION + NEXT WEAPON) = switch to next player model from SKIN.IMG
TAB + Q (ACTION + PREVIOUS WEAPON) = switch to previous player model in skin.img
JUMP KEY -= HOLD TO PERFORM A LONG JUMP/ROLL, you can access the roof of small houses in this way and travel jumping from roof to roof like spiderman.
Right Mouse Button)+ N (AIM + CONVERSATION NO) = enable Wolverine's ADAMANTIUM CLAWS, they will be available as another weapon. (just make sure you are using the claws when you want to strike against enemies. the claw simbol must be visible in the top right corner of the screen)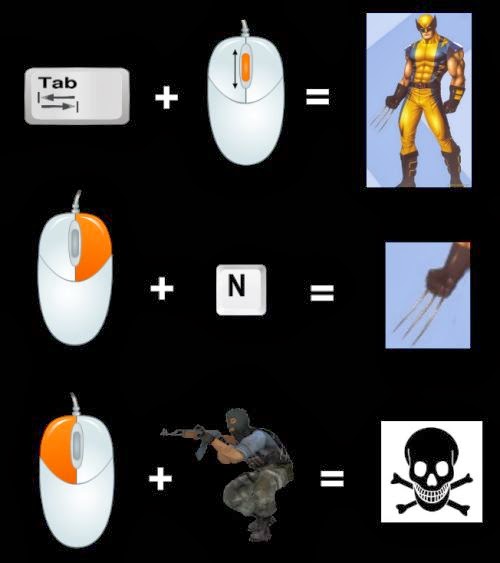 WATCH DEMO VIDEO OF CRIME WARS MOD v.1.55
WATCH VIDEO OF CRIME WARS 1.55 (thanks to Owega1)
WATCH VIDEO OF OLD CRIME WARS v.1.51
WATCH VIDEO OF OLD CRIME WARS v.1.51
GTA CRYSIS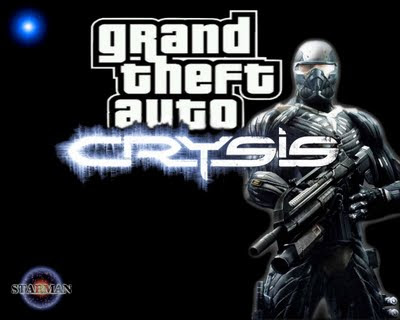 When i was trying to fix some bugs and finish a decent version to release the version 1.55 of california megamod my friend FIREKEN32 sent me some 3D models he had found somewhere and then when i saw those wonderfull models suddently the idea of making a CRYSIS MOD came to my mind, i made the GTA CRYSIS MOD in just a few days and later spend some days more trying to improve it with new vehicles. The resulting mod is very good (if you are smart enough to think that it must be played using the nanosuit, instead of CJ that is the default player until i found a way to change it from the start.)
The creators of the 3d models used in CRYSIS MOD are: EM3RALD, OMEGAGT, HYDRA, NEOS7.
This mod includes many elements from CRYSIS: the Nanosuit, with 2 versions: visible and invisible, some crysis weapons, some crysis vehicles, including the VTOL, a Tank, and a military boat, it also features some corean enemys, and even some coreans in their special version of the nanosuit. with the special Nanosuit you have special abilities, like strenght, agility, and cloack mode (almost invisible)
You must defeat the corean army all over san andreas state (or should i say california and nevada states because of the real textures and real names i did for california megamod).
The keys for this mod are the same as in CRIME WARS because i used crime wars as a base for faster building this mod in just a week.
WATCH A VIDEO OF GTA CRYSIS MOD (1ªPart) by AutoCroz
WATCH A VIDEO OF GTA CRYSIS MOD (2ªPart) by AutoCroz
WATCH ANOTHER VIDEO OF GTA CRYSIS MOD by gathoxuzumakiD
GHOSTRIDER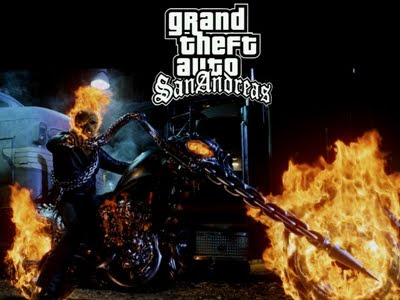 In Ghostrider mod.exe you can play as ghostrider the famous character from marvel comics, you can press 3 key and dress CJ like Ghostrider in VICTIMS SHOP(VIRGIN) and you can enable/disable his powers by tiping GHOSTRIDER like a cheat code. to spawn the ghostbike press 2 and browse untill you see it using the direction keys, and then press ENTER to ride it. with the powers enabled, any bike you ride will be in fire and when you get close to any other vehicles they will explode.
ACTION (TAB) + GROUP_CONTROL_FORWARD (G) = create a FIREBALL.
ACTION (TAB) + GROUP_CONTROL_BACK (H) = create a Fireball.
ACTION (TAB) + CONVERSATION_YES (Y) = Restore Health.
ACTION (TAB) + CONVERSATION_NO (N) = Restore Armour.
ACTION (TAB) + JUMP = create a white corona and a explosion.
ACTION (TAB) + FIRE = Changes Fighting Style.
ACTION (TAB) + CROUCH = 1 big explosion.
AIM + JUMP = energy balls rain.
AIM + RUN = Napalm.
AIM + FIRE = special movement. depends on Fighting style.
AIM + CROUCH =doble medium explosion.
AIM + LOOK BEHIND = Teleports. first set destination in map with red marker.
WATCH A DEMO VIDEO OF GHOSTRIDER MOD (v.1.51)
HALO MOD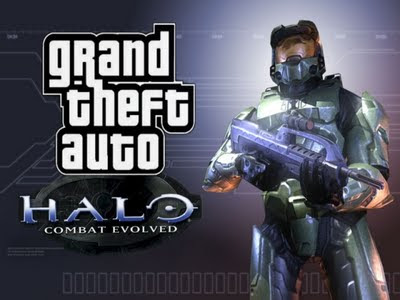 Halo mod.exe is a mod created by myself where you can fight against the soldiers from the game HALO (Masterchief), with their warthogs and other vehicles, You will also be attacked by evil aliens. this mod needs more 3d models to make a decent Halo mod but this is what i got for now.
In this mod you can play as MASTERCHIEF (or others from a total of 64 player models).
2 = spawn vehicle, (select with arrow keys and enter to drive it).
3 = player customization menu to change clothes, haircuts, tattoos...only for CJ
ACTION (TAB) + NEXT WEAPON (E) = switch to next player model from SKIN.IMG
ACTION (TAB) + PREVIOUS WEAPON (Q) = switch to previous player model in skin.img
WATCH A DEMO VIDEO OF GTA HALO MOD (v.1.51)
MYTHS MOD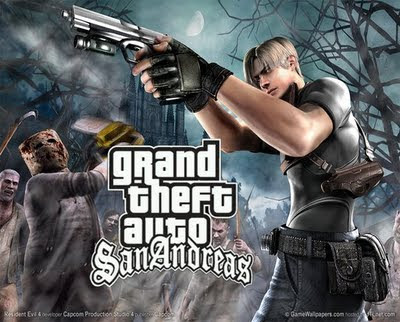 I have managed to join and isolate in just one .exe all myths and misteries so that they don't interfere and cause crashes in other EXEs. (one of the big problems in previous versions were the problems that the cleo myths caused to the original missions of the game when playing starman mod, so i had to take them appart to fix it) Now you can have fun hunting all myths safely without troubles. In this version i added some new myths that aren't in the video, like DRSAL in panopticam, Skeletons in Aldea Malvada, Aliens in Las Payasadas, aquatic monsters in Fisher Lagoon, etc.
WATCH A VIDEO OF THE MYTHS MOD v.1.52
GTA RESIDENT EVIL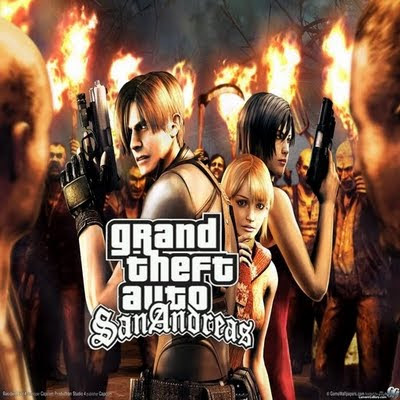 Resident Evil is a mod i put together using a primitive version of a main.scm that coin-god made a very long time. i added zombies and stuff, and here you are. also the resident evil characters are made by coin-god and pulga. Although i made this mod alone (as always), i don't want no credit at all, it must be coin-god and his team the one credited by all zombies mods that are included in california megamod.
In this zombie mod you can play as many characters of the Resident Evil game series: Leon S. Kennedy, Jill Valetine, Ada Wong, Claire Redfield, Cris Redfield,...
(also Wolverine, Punisher, etc. like in other mods of california megamod)
Your mission is to kill as much zombies as you can and rescue Ashley Graham in panopticam. be aware that there is an infinite number of zombies, so you better focus on the Zombie BOSSes. They are in los santos, panopticam, verdant meadows, angel pine, etc.
WATCH A VIDEO OF RESIDENT EVIL MOD 1ª Part (v.1.55)
WATCH VIDEO OF RESIDENT EVIL MOD 2ª Part (v.1.55)
BIOHAZARD ALERT 0.3 beta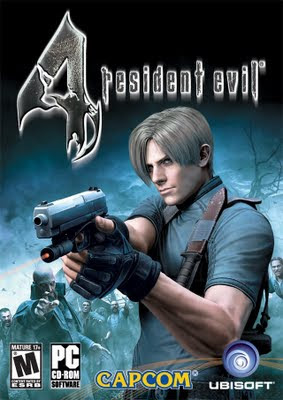 Biohazard Alert 0.3 is a very old version of a total conversion proyect for GTA San Andreas created by the [CRE] team (coin-god, pulga,...) based on the Resident Evil game series and Named BIOHAZARD ALERT. This primitive version was included in the california megamod with permision from my friend coin-god. I later managed to convert into .exe the 0,5 version but he didn't gave permision to add it to the california megamod 1.55, so its not here.
In this mod you always start at the same bar but when you get outside you spawn at a different city each time. You start with a Hunk that will help you in killing zombies, and you will find more help as you advance in the game. Each time you kill 100 zombies you find a zombie Boss that you must kill, and if you save the one he is attacking you will be able to continue your mision with more help.
Once all the zombies in a place have been killed take a vehicle and go to another place, in the radar you will see yellow dots that marks the location of weapons, but they will only appear when you get close to the exact place.
WATCH THE OFFICIAL DEMO VIDEO OF THIS MOD (NOT THE VERSION INCLUDED HERE BUT VERY CLOSE)
WATCH ANOTHER VIDEO FROM BIOHAZARD ALERT
ZOMBIES ALARM

ZOMBIE ALARM is another smaller zombies mod, a very good one i must say.
You begin at a bar in San Francisco, while CJ gets drunk, a lot of zombies invades san francisco starting from the cemetery and spreading all over the city. you will have to kill all the zombies as soon as posible, and althought it seems that the fight will never end, there is really a limited number of zombies and the mod will be beaten if you manage to kill them all, you will not be alone because there will be some citizens helping you. watch for special weapons in the alleys and kill them all as fast as you can. when the zombie alarm finishes the game will return to normal.
RESIDENT EVIL OUTBREAK

Resident Evil outbreak File 3 is a zombies cleo script that can be started at anytime in anyplace when playing myths mod.exe by pressing BACKSPACE. it was created by ZAZ.
watch the video "The Beginning of the END"
QUASAR MOD + SPACE INVADERS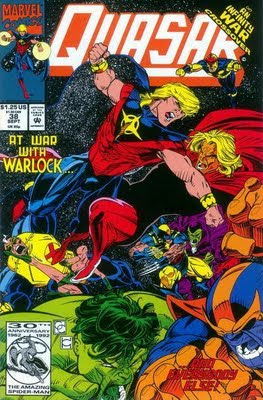 In QUASAR MOD you are QUASAR, a marvel comics character that once was in the avengers team although he usually goes alone in his own comic collection. He is the protector of the universe and at the beginning of his career he was the protector of earth and a cosmic being named EGO.
Quasar powers are very similar to green lantern and superman powers and his mission is to protect the earth from evil aliens that are triyng to invade the planet. Quasar can fly, create explosions, around him, rise vehicles in the air and launch them to their enemys, etc. He is inmune to fire and explosions and he can become invulnerable and then he will only die if he is inside a vehicle when it explodes. Be carefull cause he can lose invulnerability suddently in certain cases and so he could be killed with normal weapons. In this mod you can dress CJ as punisher, batman, iron man, spiderman, etc. and then switch from cj to quasar fast with a key combination.
AIM + LOOK_BEHIND = switch player model from CJ to QUASAR and QUASAR to CJ
JUMP + CROUCH = Fly, control direction with A D S W
JUMP + RECRUIT_GANG (G)= fireball that will kill all surrounding enemys close to him.
AIM + GANG_CONTROL_BACK (H) = explosion at a fixed distance from quasar.
YES (Y) = decrease powers (afects speed when flying, running, swimming)
NO (N) = increases powers (afects speed when flying, running, swimming)
GANG_CONTROL_FORWARD (G) = makes a vehicle float in the air (telekinesis)
GANG_CONTROL_BACKWARDS(H) = lets you remotely control the floating vehicle so you can smash your enemys using the direction keys. pressing G drops the vehicle.
In QUASAR + SPACE INVADERS you have the same mod but this time you have to stop an alien invasion taking place.
WATCH VIDEOS OF OLD VERSION 1.51
WATCH A DEMO VIDEO
WATCH ANOTHER VIDEO
WATCH ANOTHER VIDEO
WATCH ANOTHER VIDEO of SPACE INVADERS (without Quasar)
STAR WARS MOD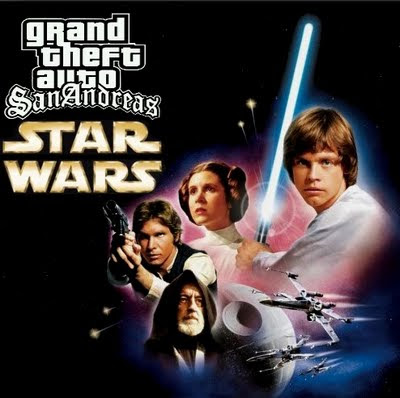 STAR WARS is a mod i made similar to my Space Invaders mod but without Quasar, and with diferent Aliens and spacecrafts. obviously inspired in the star wars movies.
In this mod you have: Milenium Falcom, X-wing, A-WIng, YT400, storm troopers and their bikes, Darth Maul and his bike, a Podracer from episode 1, etc, also some characters like Empire soldiers, Clone Soldiers, Jawas, Darth Maul, Obiwan Kenovi, chubacca, hans solo, some weapons, with special sound effects, laser sables, etc.
In this mod you also have 64 player characters to choose (and many clothes and haircuts for cj)
KEYS:
ACTION (TAB)+ NEXTWEAPON (E) = Next player model
ACTION (TAB)+ PREVIOUSWEAPON (Q) = previous player model
WATCH VIDEOS FROM VERSION 1.51
WATCH 1 DEMO VIDEO FROM STAR WARS MOD
WATCH OTHER VIDEO
NOTE: the audio from all my videos has been replaced by youtube, they were very good with the original soundtrack, now they are shit.
GLOBAL OVERHEATING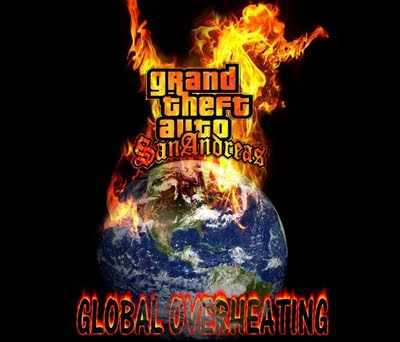 In global overheating there is no water in the oceans so you can walk or take a ride in the bottom of what once was the seabed.
WATCH VIDEO OF GLOBAL OVERHEATING v.1.51
MASTER MISSION MOD
In Master Mission Mod.exe you have a menu that lets you choose any mission from the original game, and so at any time in any place you can do any mission whenever you want, and many times as you want.
the menu works similar to the classic buying menus of the game, to spawn the mission menu, press GANG_CONTROL_BACK + CONVERSATION_NO (or H + N)
In the screen you will see many missions, and selecting "and I mean everything" you will see more, there are ALL the missions from the game.
To start the other secondary missions you still will need to go and enter the red circle, for example in the driving school in SF, Biker School in LV, Flying School in verdant meadows, navigation school, Trucking missions of Transporter, STREET RACES, etc.
In this mod you will also have access to all the shops and all the cities from the beginning, also the gang wars will be enabled from the beggining and will never end.
N00B MODE V.2.0

NOOB MOD.EXE is a very usefull mod for the stunters out there, cause it will have a big menu with lots of options to get instant access to any vehicle, weapon, control of wanted level, teleport menu, etc. it also has a supernitro and superbrake.
TAB = help screen that shows the keys for all menus
H + N = Vehicle spawning menu
G + N = weapons Menu
CAPSLOCK = NOS (Nitrous Oxide)
H = superboost (you can make your car or bike fly if you keep it pressed)
S + SPACE = Superbreak
SPACE + Y/N = Controls wanted level (Police stars)
H + Y = save anywhere (dont save in a vehicle or mission)
G + Y = Teleportation menu
H + SPACE (On/Off) Infinite Health for CJ/vehicle
G + SPACE (On/Off) Super bike abilities
WATCH VIDEO FROM NOOB MODE v.1.51
WATCH OTHER VIDEO(v.1.51)
WATCH OTHER VIDEO (v.1.51)
GROOVE 4 LIFE

In groove for life you have all original missions, but everything is unlocked and opened from the beginning of the game, you also have several weapons and vehicles in your save houses: bikes, sport cars, hydra, etc. and also all hidden objects in one place right in front of cj's house.
REAL ALL IN 1

REAL ALL IN 1 is a compilation of many mods in just one main.scm file, (like that old space-einstein mod for gta vice city)
This mod is similar to GROOVE4LIFE, you also have some things unlocked from the begginning. I haven't played too much in this mod, it can have some bugs (not my fault)
HAVE FUN