Captured Marines
Some marines which were captured alive by the Hellspawn to be used later in living sacrifices to their demon gods. These guys are not just targets to practice your targeting skills, DON'T SHOOT THEM! (When I watch LP videos on youtube, I usually see some people shooting these guys, because they don't know what to do with them). When you see one of these guys, punch or kick him to get him free, and will help you until the end of the level, or until they die. These marines usually comes with a rifle or a shotgun, but in rare cases they can come with a plasmagun, minigun, or a super shotgun.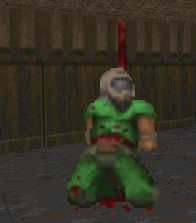 Im fine, It doesn't hurts because I can't fell my arms anymore. Y

ou don't need to hurry.
Hanging Civilian Bodies
You shoot and explode these bodies. Funny isn't? But it's not just for fun. Sometimes, you can find armor or/and health bonuses in them, and sometimes, you can even find ammo. It's not a bad idea to shoot them until they explode. Even if they can't drop anything useful, well, at least the fun was worth the wasted ammo.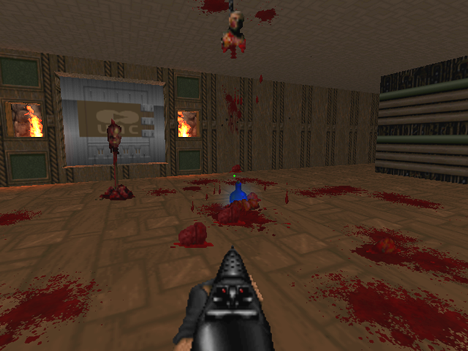 So, you were trying to hide this from me?
Tinkering with Barrels
Barrels in Brutal Doom are much more useful than in Vanilla Doom. First, because you can push these barrels into strategical positions and shoot them when enemies get near, or use these barrels to reach higher positions. If you have the Berserk Pack, you will be strong enough to grab these barrels (If you have Berserk Pack strength, just punch the barrel once, and you will grab it). When you are holding a barrel, press the fire button to throw the barrel, and when the barrel hits anything, it will explode like a grenade. Or you can use the alt fire button to drop the barrel in front of you, it helps to transport a big amount of barrels to a specific point to make a big trap in less time than just pushing it.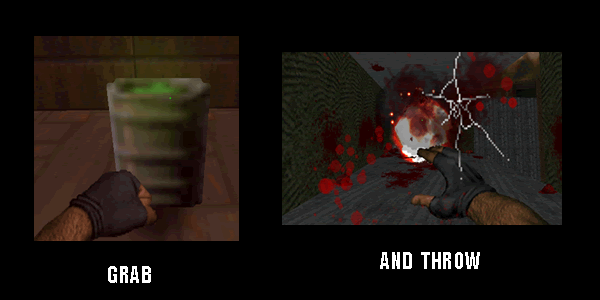 Who needs hand grenades when you can have barrels filled with explosive green goo?