13 years ago
Bleach Soul Slayer was founded by Ryan (Anubis). 11 years ago the group reformed with Chris (Tacef) as BZSmod and ever since the group has been working towards achieving a game that could represent an immersion of the battles in Bleach, though your controls.
Over the last ten years a lot of ideas, people and events took place which bought BZSmod its many failed attempts to obtain its goal but also its many highlights that united no less than 14 developers, ranked #39 on moddb in 2015 and was part of some individuals career development.
Today we are approaching the final milestone, and we confident that we will release this mod within 6 months.
To Joshua and I, it is really important to show that we did not get to this stage by ourselves and we want to honour the original idea as well as the journey.
Credits verification wanted
We are currently working on a credit screen to the menu and we would like to every contributor to be represented in that list. We have the details of most of our previous members, but we would like to verify that we did not get something wrong.
If you worked on the mod, please send us your details to contact@bzsmod.com and we will confirm them to ensure that we them right. This also includes participants of BSS.
The final steps, what can you expect?
While the Gantt chart will show that we will be done by Christmas, we often underestimate the time required to complete a task and overestimate the available time to do so. Therefore we currently want to set the release date for Q1 2021.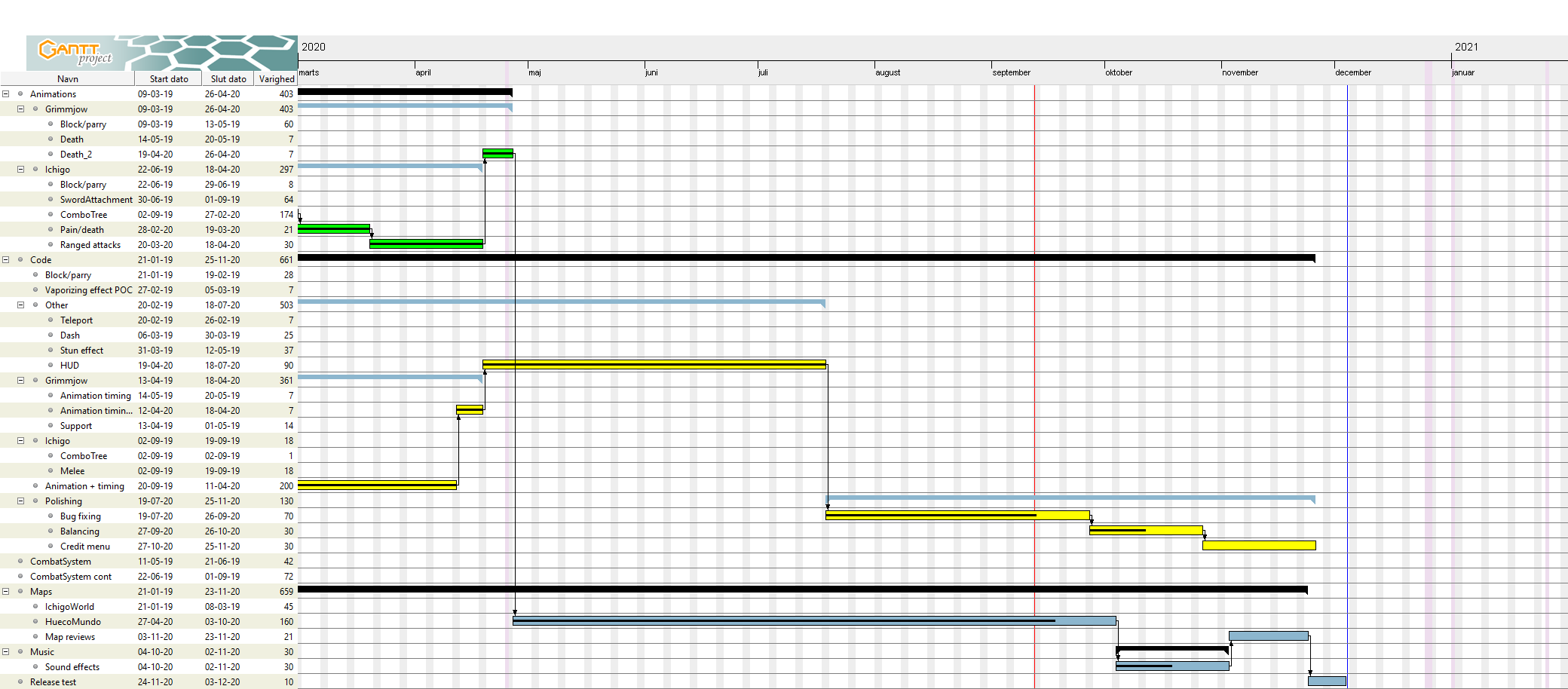 In the new plan, the code is a bit behind due to lack of sleep. as such it can be easy to see how Q1 2021 is more realistic.
Joshua have been testing the mod and found some flaws that needs to be resolved for a good experience.
Some issues related to movement speed and collision detection on ranged weapons has been resolved; but a few issues remains to be resolved.
We will be making 2 articles showcasing Ichigo's World with its teleporter feature and Hueco Mundo.
We will include some renders of the mascots Kon, Rerin and Korodo, who will be placed as easter eggs in some of the maps. They were initially considered as flag objects for a customized capture the flag type of gameplay. We decided to include them due to all the hard work Angel did, and we think it will be a nice touch to make you search them out in the maps.
Perhaps you will also get to see Ichigo's animations in use during the showcase.
We intent to release the mod with a public domain right, bringing as much of the source material as possible. We had this option covered since 2011, but we might not be able to provide the material prior to this date due to the lack of formal agreements that provided such a right.
Most material should be available to use with free software, such as the 3d models that have been converted to blender projects.
It is also a single release, we don't intend to support the mod with additional patches unless there are some serious issues. It is however possible for us to provide support to anyone who want to use the material in a different mod or extend the development of BZSmod.
On a final note
We would like to express our thanks and gratitude towards all of you who have supported us in the past and support us now. BZSmod lives this day due to the combined investment of developers and fans who have shared a passion for Bleach and a united a ton of ideas into a project barely suitable for an engine like GoldSrc.
To some of you BZSmod might just be a game, but has been life changing to some of us.
Please stay safe and look out for the next article about Ichigo's World map
Cheers
- Eliasr