Happy New Year
By the time you are reading this, it is probably already 2020, and what gives... BZSmod has not been released as promised. Well... yes. We could, but it would be a sad experience without Ichigo in it. So just hang on for a quarter more, we will get there.
Status
We were expecting to release the mod during 2019, with an initial expectation for it to be during summer and later during game testing found some issues we tried to resolve as fast as we could. However it took a long time to get the melee combat to a state where we could move on to something else, it unfortunately included experimenting with some great ideas but practically horrible implementations.
As a result the animations of Ichigo's combat moves could not start before October and here we again experimented with Ichigo's zanpakuto and attachment points, as we wanted to be able to holster the zanpakuto and if possible, use collisionboxes with the zanpakuto to register hits as this would allow for wide swings and be a positive combat feature for Ichigo.
That went really bad. We discovered that we would break all the existing animations if we did so and we also discovered that the attachment point that you can use with sprites, doesn't support models very well.
Additionally by exploring code from starwars jedi academy and a MechWarior mod to halflife MechMod, we saw that the solutions were large and would be time consuming to implement.
For Starwars Jedi Academy, they used a different model solution, which would be incompatible with our code and models.
For Mechmod the solution is really great, but complicated to implement in a short time, as they directly accessed the bones on the model to get its position and extend a saber from that position.
In the middle of November we could start working with the animations, a few issues rose due to a wrong reference file, but we were able to resolve it and during December we had the first version of the animations in the game. Some of them needs to be reworked, and we expect to be done with that in January.
We are no longer adding new features to the game, because the time is up, but we do want to add those we planned initially, and as such we expect to be able to complete it before April.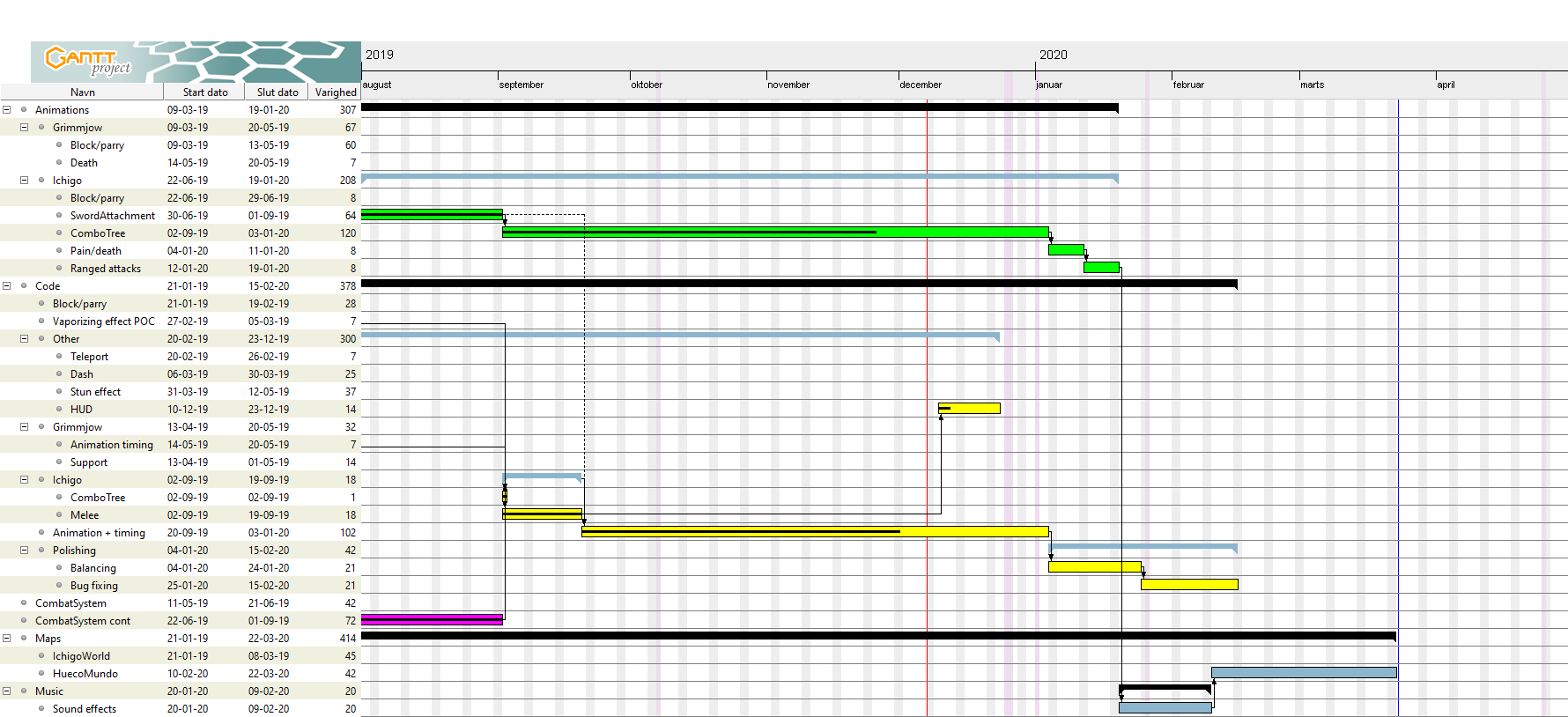 Unfortunately that might be optimistic too, but we can't really cut anything off without significantly lowering the quality of the game. While the Gantt chart shows that there are no coding from late February and ahead, there most likely will be.
The primary reason that we have been delayed for half a year is due to the combination of smart ideas that we should have let go off sooner, and an increased work requirement at Joshua's and at my workplace.
Since November I have been without my supervising software architect, leaving me as the most experienced person on the team and we also just got 2 new developers on the team that receives training from me, with the common goal of meeting a deadline in Feburary.
While being very interesting, it has also been time requiring.
Those events simply takes priority over BZSmod, and the same is true for Joshua.
What you can expect
As shown in the Gantt chart the melee combat for Ichigo remains to be done, some HUD and some bugfixing. We would also like to get the sound and the Hueco Mundo map into the game as well.
These are our goals and ultimately nothing else should stand in our way to release the mod. We do have some ideas for a secondary ranged attack for Ichigo if we get Grimmjow's Cero Beam working, but in reality it is not something that is easy to do and with the additional time constrain on Joshua and I, we won't be able to add additional hours to the mod.
When we release the mod, it will be done, and it will be released to public domain. We will attempt to establish a Github, so public contributions can be made towards supporting the mod and allow additional features to be added later.
We hope to release the mod by April or sooner.
Thank you for your patience and have a great 2020
Sincerely
- Elias