It is about 6 weeks since the last update and we are proceeding steadily with our work.
We had some delays over the past 4 weeks and we are now approximately 3 weeks behind schedule.
As a consequence, the April fools has been cut from the budget.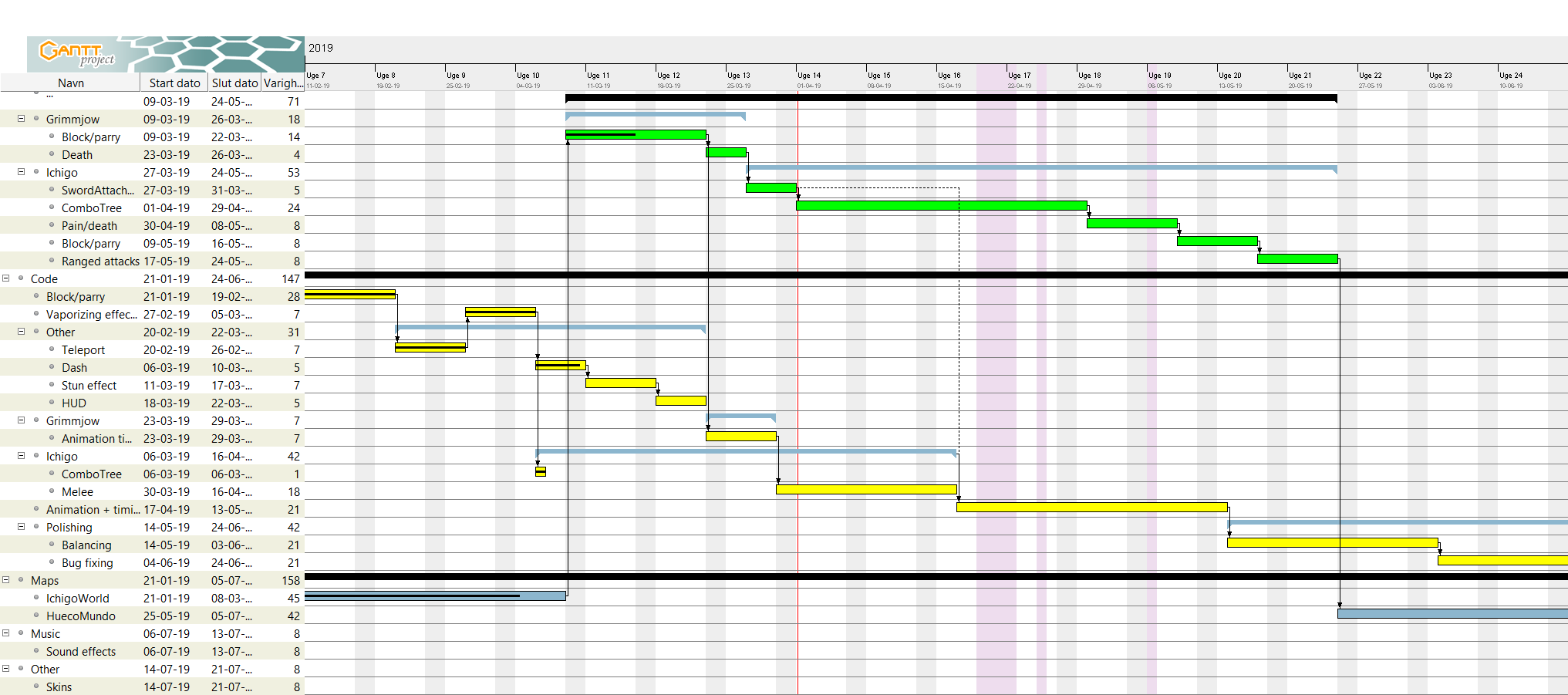 Teleporter:
We made a tutorial showing how the teleporter can target a brush entity and spawn a player at a random position within the brush. After Joshua had reviewed the new feature we corrected a bug in the code which could cause the player to spawn outside the world. This has recently been updated in the tutorial.
Grimmjow animations:
In the meantime Joshua has been working with Blender to create the block and parry animations for Grimmjow. We are currently at a stage, where the animations has to be compiled and implemented into the game. We look forward to show the results from our tests.
Ichigo's Inner world:
Ichigo's Inner World is also on the edge of being completed, and with some luck you will retrieve a walkthough of the map during April. Joshua is currently putting the last details into the map and testing it properly before it will be showcased.
Vaporizing death:
The vaporizing effect has been cancelled in favour of using a death animation, due to the behaviour of the studio model render, it did not appear as if we could properly change the existing glow render or reduce part of the model being rendered. Since I was reluctant to cover the model inside a sprite, it would not be worth the time to proceed with the effect.
Dashing:
The dash is almost fixed. Due to some code overwriting the variables used to store the dash information (so they can exchanged between client and server), it caused the previous version to be unreliable.
This has been corrected by reducing the stored information and calculating the remaning information. It also means that player's dash status cannot be interrupted by external force, ex damage. While the player will take damage from an attack, the directional movement executed by the player will not be altered or stopped untill the dash has completed. It is not tested, but an explosion could affect the resulting trajectory.
The double tap has also been replaced with a <dashKey> + direction combo for simplicity.
Currently the dash needs to reduce the speed during cooldown until the speed is within normal speed for movement. It will take a bit time to tweak that into place with consideration for map design.
Effects:
The effects for parrying and stun has not been worked on.
This generally sums up the accomplishments of the last month. If you want to ask us questions and retrieve more updates from us, we recommend you to join us at our Discord channel. We are currently 15 active people including other modders, who have been helpful to us by brining suggestions and advice.