Hello there!
It's been almost a month since the release of our demo. We want to thank everyone who played it and shared their thoughts about it - every bug you found and reported to us will be fixed.
We know that you got questions about this demo and the full version of the game. You've been asking some of them more frequently than others, and we thought that you should know the truth. This article supposed to help you understand what we want to do, and solve some misunderstanding, so there will be not so many screenshots.
---
New screenshot showing how we're recreated the empty boring corridor: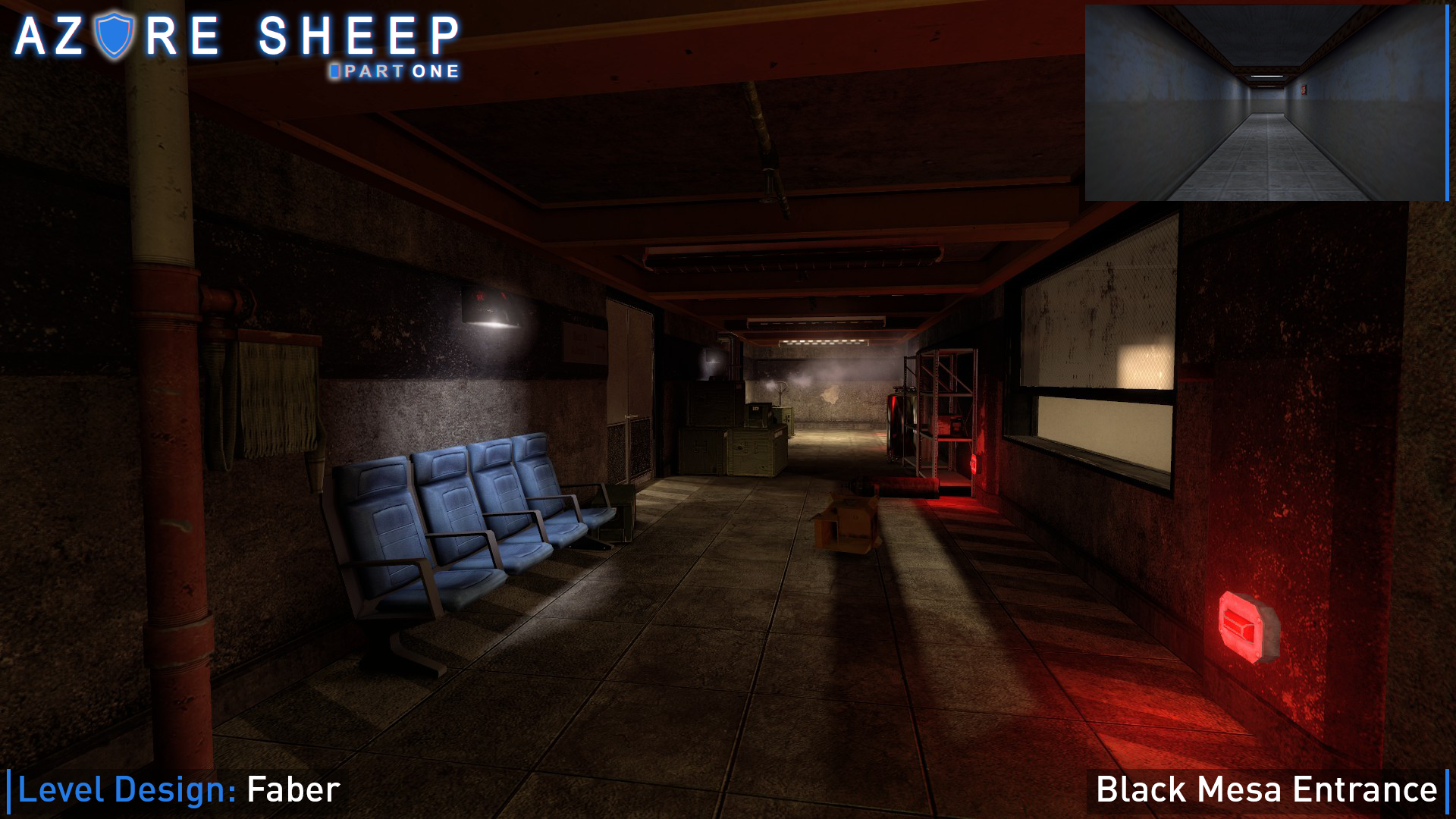 ---
Q&A
Why wasn't Kate in the demo?
At this moment our team is looking for someone who could help us to create a Kate model. Our abilities are insufficient to make it. We'll be very grateful to you could help us in this.
P.S. You can hear Kate's voice in the moment when you wake up after the helicopter crash. She gives an info of where she is at this moment, and goal to go for her throughout the Complex. Also we plan to record additional voice lines to improve the storyline and make sense to all player's actions.
What about new NPCs and weapons?
We can create an episodic appearance of a few newmonsters. But we are not able to add completely independent NPCs with their own AI, or new weapons too - we can't do this without the source code - it's impossible. But we'll try to diversify the mod as far as it is in our abilities.
Why there was no Freeman inside the car in the beginning and what about the game canon.
We are trying to bring the original Azure Sheep game closer to the HL canon. We want to remind You that Gordon lives in the Scientist Dormitories and he couldn't ride to work on the car. He lives not so far from work and uses the inbound Tram (He has no need in a car).
We used the same method at the end of the demo to associate the mod with the original game (Half-Life/Black Mesa).
It is worth noting that many places in the mod are different from the original ones because we are thinking out of the box and only adhering to the concept of the original modification.
Why are the fast headcrabs in there? They were created by Combines!
We don't have reliable information whether fast headcrabs were created by Combines or they were native Xen inhabitants. It can takes a long time to discuss about this NPC but one fact is exactly known – they were just recently added to the source code of the Black Mesa. Therefore, it is accessible to assume that they will be in Xen as one of the usual (native) species, or even become a baby headcrabs, because of they both are fast and hard to shoot. If the last variant will be the right, we'll do something with it.
---
Our plans for the near future.
Currently the full version of the first part of the mod is under development. It is ready by 50% (including polishing, fixing bugs, and more, this is not only mapping). You`ll see at least 8 additional maps. We are also improving the existing maps, and we want to add a new chapter 0. Everything will be released in the spring of 2019.
---
Donate Us
Unfortunately, we can't enter a big market with our project. The main reason is the using of third-party content and that Black Mesa is not supporting the mods like this one officially, like HL2 does. But it doesn't negate the fact that the great human diligences are embedded in the mod. Our team is releasing the 3rd project now. Therefore, in order to keep the pace of the development and to give impetus to the exhausting work, we have opened our team's donation accounts. If you liked our work and want to see more new content from us, please support us. All funds will go to development of the mod.
P.S. We are grateful to those users who have already helped us. But at this moment we managed to collect only $35 for this month. You can draw your own conclusions about profitability. Our financial policy will be open to the community so that everyone can understand the essence of our affairs.
---