Never fear maties, we're back! After the site had run aground due to a scurvy pirate known only as 69.140.43.78, the ships been refitted and is back on course. Why he be targetin' us is due to me relations with BFEditor.org, seeing as how we be runnin' that site as well.
After layin' siege to BFE, the scallywag set his sights on our home port, the crew's development site, and ransacked us good. This here ship was soon to follow in the onslaught, and the rest you know, be history.
Luckily we be sailin' with the finest carpenter on the seven seas, and Vex be thinkin' we'll have our treasure back up on display soon, so never fear me hearties! In the coming week, ye be hearin' a lot more from us, as we prepare t' show you our finest plunder yet!
Before I be signin' off, it be me pleasure to show you a fine ship known as the gnat, which be makin' it's way into our first release (model by Bunnysnot, skin by Tib);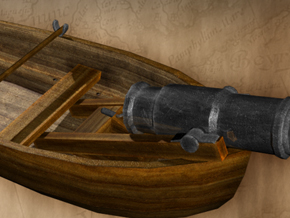 The gnat be a fine vessel, perfect for transporting yourself and a mate between islands. It's maneuverability and speed make it perfect for preying on larger ships, its large cannon packin' a powerful punch! Until next week ye scallywags!