Hi all! I decided to release a smaller news post to give some new info. The main topic is the M1 Garand's animation which enables partial reloads. Also, I will tell you something about the awaited vehicles & artillery. At the end I show you one new texture.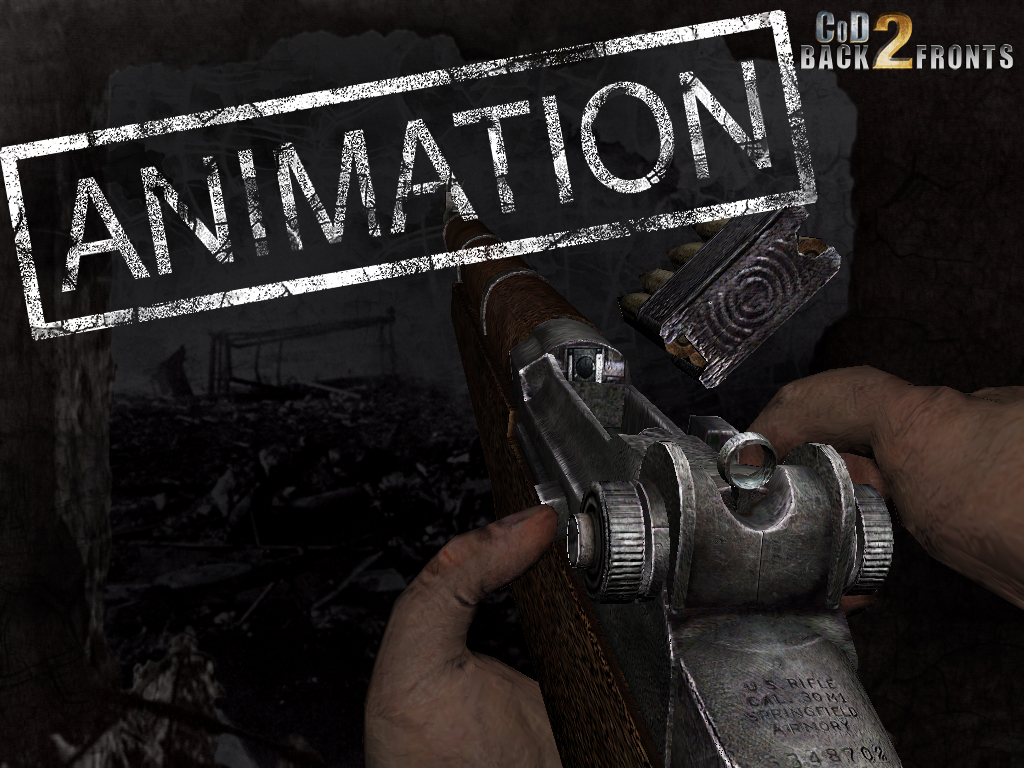 Animation
M1 Garand
As I said, the most notable thing there is the partial reload animation. Partial reload takes 3.2seconds, empty reload takes 1.8seconds. But the whole thing has been improved a lot. For example, when you fire your Garand, you will see your bullets in magazine through the opening and closing bolt. Naturally, when last round is fired, you won't see any bullets. Motion of the bolt group has been enhanced. The reload empty animation has more frames so it is more detailed. There are 4 distinctive fire animations - one for HIP-fire, one for HIP-last-shot, one for ADS-fire and one for ADS-last-shot.
But enough talking, pictures are worth a thousand words. Check out the pictures/videos below to see the beaty!
CoD2 B2F new M1 Garand on Rhine
Gameplay with the new M1 Garand.

CoD2 B2F M1 Garand's new animations
Preview of the animation.

Scripting
Vehicles & Artillery
Well, I want to save this info for its own news post because there is quite a lot of new stuff. But I will tell you at least something :-)
I (hopefully) completely solved the problem with addition of new vehicles. It works as a clockwork, I haven't encountered any problems with it yet. I am using this knowledge for editing the two tank ride SP missions.
From now on, your Crusader tank encounters the German Panzer Divisions in full power equipped with Panzer IIs, Panzer IVs and the mighty Tigers! I decreased the level of accuracy for all tanks/artillery so you won't be killed immediately after you appear on sight of enemy's guns. But still, the difficulty is lot higher than in vanilla CoD2.
Some statistics info:
How many times you must hit to kill:
any artillery gun =

1

a Panzer II = usually

2

a Panzer IV =

2

or

3

, sometimes

4

, depends a lot on where you hit it
a Tiger I = at least

5

, this is true monster, keep shooting!
How many shots your Crusader can take from:
a Panzer II = a lot of, I didn't count that exactly but it will be at least

3

or

4

a Panzer IV =

2

, sometimes

3

a Tiger I =

1

shot creates 1 toasted Crusader...
a PanzerSchreck or PanzerFaust = usually just

2
Remember that the Tiger with its 88 milimeter gun is a very accurate enemy. Don't be an easy target and move soldier! Of course, outmaneuvering is a recommended strategy against all enemy tanks but only against Tigers it is absolutely vital. If you stay on one spot, you are a one dead tank commander.
I finally found a way to add new artillery. It was much harder to solve than the tank scripts. It works fine. I haven't encountered any errors so far. But one last script file still resists my attempts to edits. From this reason, the artillery question is not fully solved. Btw, the new artillery added is of course the British QF 6-pounder AT gun.
Texturing/Skinning
German winter viewhands
I changed the color of the German winter hands into a white camo. I didn't like the original CoD2 texture for them, it just look weird. Now it not only looks good and realistic but it also fits the German uniform models.
That is all for now. Cheers!
Martin a.k.a. MCh2207Cz