The Quake engine is from a time when cinematic story introductions were not really required or thought about until Half Life came along. Code does exist for third person camera systems, intermission cameras and episode end screens, however there is a flaw in the engine. The angle value for the player is truncated into a whole number and this 'code feature' prevents smooth camera movement. Luckily there is a way to get around this error and Arcane Dimensions now has special camera smoothing code included.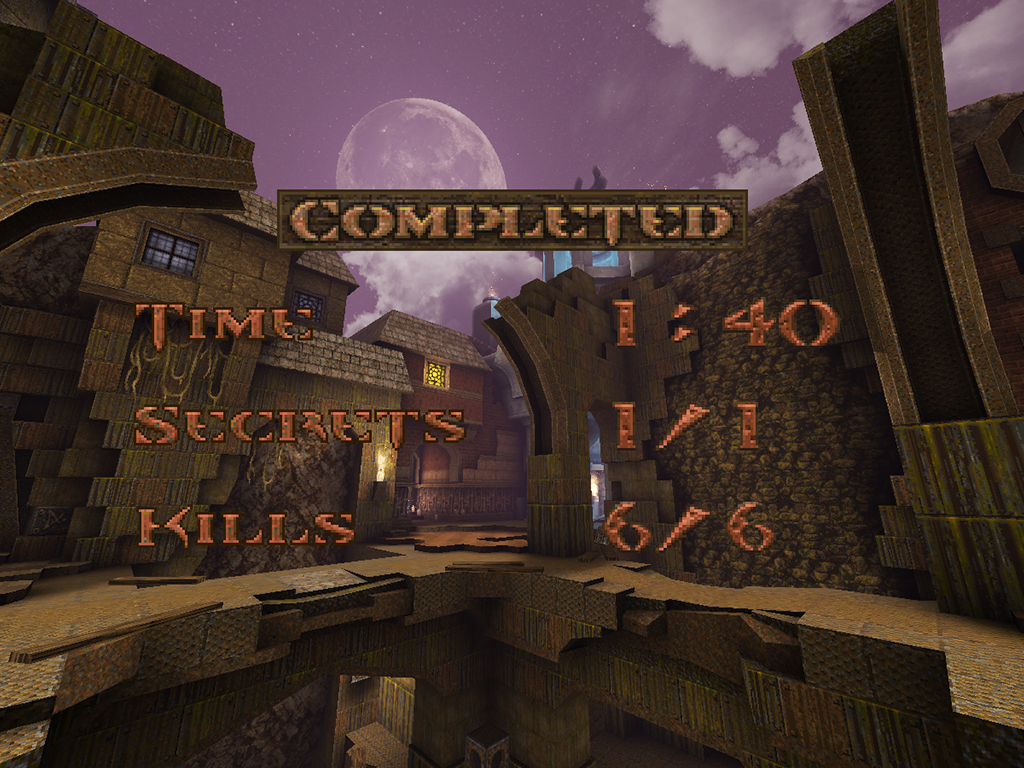 Intermission camera entities are only used at the end of a map and designed to be a cool background image for the scoreboard. The original Quake engine only picks one intermission camera to show, however Arcane Dimensions lets the player cycle around a list if more exist in the map. It is always encouraged for any AD map to have multiple intermission camera's for the player see at the end.
Arcane Dimensions does have a new feature (impulse 145) where multiple intermission camera's can be shown in a long sequence so that a YouTube video trailer can be created easily. The intermission camera's can be setup to trigger special events (monsters patrols) or change the fog / skybox settings.
To use this new feature make sure a map is loaded, bring down the console, type "impulse 145" and once the command has been accepted, put the console back up again. Some maps (ad_zendar, ad_metmon and ad_mountain) have special setups included where they tell a story with new monsters and patrols, however the default is just to show all intermission camera's in sequence instead.
Arcane Dimensions 1.8 has a new cinematic camera system where level designers can define a chain of camera's in a sequence and they can be faded in/out, have screen wipes, special movement or focus on an item. This new system could be used to introduce special objectives to the player like the example video above which is part of the AD 1.8 test map pack.
There are many ways to use the new cinematic system and probably one of the easiest to setup is the introduction to a map. A single camera entity that can move the player towards their start position and help draw the player into the map's world and environmental ambience. The example video above also shows how the cinematic system can focus on certain objects and move around them smoothly.