Merry Christmas, all!
Yes, it's that most fabulous time of the year again, and we're here to distract you from all the holiday hubbub with a news update on the current state of Ages of the Federation! Huzzah!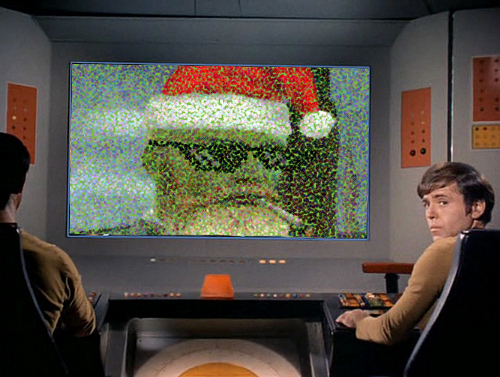 "Message coming through, Keptin. I think it's him again..."
It's been pretty frantic for us over the last few weeks. With the Federation faction now functionally complete we've been going full steam ahead smashing through the Klingons. The mod feels so different from how it was only a month ago. And, of course, with the silly season closing in on us we've been extra busy balancing work, modding and spending time with family, friends, and the workmates we secretly hate.
So how are things going with the mod?
Well, as we stated last month the Federation is now functionally complete and fully playable, at least for testing purposes. New team member SovereignEcho has been sent straight into the darkest pits of the code mines, tweaking research trees and abilities and making sure nothing's broken, while being a major part of setting out the Klingon's research trees, which are becoming more functional by the day. Some of you may know Echo from his work on the excellent Mass Effect: Dawn of the Reapers mod (also for Sins), so his experience and enthusiasm have proven invaluable and we're glad to have him on the team. Even if he is from New Zealand...
We've officially entered a new phase of development - we started beta testing the mod a couple of weeks ago, bringing on board a small team of beta testers we recruited from our Discord (which you should join, by the way). Tbey've brought new insights and a great new energy to the development process. Thanks, guys. Welcome aboard!
But what about the new DLC!?
Sins of a Solar Empire - Rebellion's newest DLC package, 'Minor Factions', dropped only a few days ago. Like many of you who enjoy playing mods for Sins, we were curious as to what exactly it would bring to the SIns table and how it would affect our plans for the mod. We're happy to say that Minor Factions actually brings quite a lot to the table and opens up a number of options that we're pretty excited about. We've been excitedly coming up with ideas for various minor factions you'll find around the map when you play a game of AotF. One has alreay been confirmed and entered into the game for testing - a rogue remnant of the Andorian Imperial Guard.
Is there an ETA yet on the release?
The short answer is 'not really'. We really were hoping for a Christmas release, but obviously with only two days to go before the big day that's no long possible. Sorry everyone, but Santa's going to be a bit late in this regard.
Our plan at the moment is to aim for a release early in the new year - precisely when we're still not in a position to say. Our first release will likely include the Federation and Klingon factions, with the Romulans included soon after.
So what's the plan for Christmas and New Years?
Obviously we're going to be taking sort of a break over Christmas and New Years - all that booze isn't going to drink itself! - although some of us will certainly be continuing to work on this and that over the holidays. That said, we're going to be trying to spend more time with family and friends over this period, and we hope you have similar pleasures planned, too.

On behalf of the whole Stellar Parallax team I'd like to wish you all a Merry Christmas, a restful holiday and a Happy New Year. This mod is turning out to be something special and that, in no small part, comes down to you. We've got some great supporters and we appreciate every one of you.
We also understand that for some the holidays are not necessarily a happy time. To those of you to whom this applies, we wish you all the best and hope things get better for you soon.
Merry Christmas, everyone!
'Til next time, stay classy. Or don't.
- OrionSlaver