Greetings all,
Well, here we are - March already! Where does the time go?
No doubt many of you have been wondering what's been going on with Ages of the Federation, so let's get you filled in, shall we?
Any news about a possible release?
Nothing concrete yet, but we recently had a discussion in which we laid out some general plans for the future. We definitely decided that we will, in fact, be releasing a playable beta version of the mod, both for your enjoyment, and so that we can stealthily enlist you into our growing army of bug-reporting (and possible world conquering) minions. This beta release will include the full Federation and Klingon factions, with the Romulans being left out for the full release. It will be worth the wait, we promise - we have some nifty plans for the Romulans and we're looking forward to implementing them, but before that we need to finally knock out the Federation and the Klingons.
Ooooh! An open beta! When!?
As frustrating as it may be to hear this again, we're not quite in the position yet to give a definite date. We are in a position, however, to say it will be soon. We'll be announcing the beta release date on this page in the near future, and we'll probably have some fun with it. Stay tuned - we expect you to check back here religiously!
Dammit, Orion! Get your sweet ass into gear!
Make me.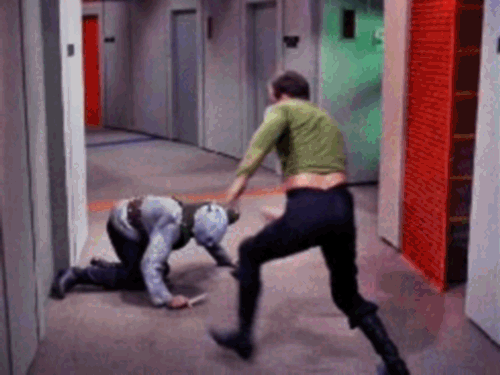 Okay, we know the Federation are mostly done. How are the Klingons coming along?
Very well, as a matter of fact. Those of you who have been following our livestreams will already know that the Klingons are now absolutely in a playable state and are only a few additions and tweaks away from being a functionally complete faction. And let me tell you, the Klingons are absolute bruisers. We still have quite a bit of balancing to do but the Klingons are shaping up to be utterly deadly, especially when on the offensive.
How can we expect the two beta factions to play?
Of the two factions you'll have access to in the beta, the Federation will start off weaker, but, specialising in technology and research as they do, the Federation will quickly grow in strength to match its rivals, thanks largely to a strong economy and great support abilities. The Klingons will start out on top, but research won't carry them as far as the Feds and they'll eventually be somewhat overtaken technologically. Even so, the Klingons will specialise in offensive combat, dealing great damage with conventional and special weapons, even if they're lacking in the support department. Going by our own experiences in test matches, we think you're going to enjoy pitting these two factions against each other.
What about the Minor Factions?
The Minor Factions are coming along fine. Again, those of you who follow our livestreams will have seen firsthand how much fun we've been having setting them up, especially the recent Ferengi 'Zek's Used Starships' minor faction (featured in a recent screenshot). We're aiming to have a very wide selection of Minor Factions featured in the mod by the time of the full release. Here's a hint at the most recent minor faction to be added into the mod, courtesy of The_Undying_Nephalim:
So what else is new?
You mean beyond the nearly complete Klingon faction and the ever growing list of minor factions? Plenty, most of which has taken place in the guts of the mod - our coders have been working harder than an ugly stripper, adding features, making them function, tweaking aspects of the mod and, of course, trying to make sure everything is balanced. With every update we bring you the mod has significantly improved, due in large part to their efforts. Thanks, guys.

A recent piece of visual candy was added recently when Max, purely on a whim, overhauled the aesthetics of the various asteroid fields you'll find sprinkled across the map. Instead of plain old groups of rocks or ice, asteroid and ice fields are now accompanied by swirling clouds of dust specific to the type of field they're in. It was a bit of a challenge to make sure this didn't make the game lag when players zoom in on these gravity wells, but Max pulled it off and we all think it looks really nice.
Well, that's just about all we've got for now. We'll be back soon with another update, maybe even with a release date - who knows?
'Til next time, stay classy. Or don't.
- OrionSlaver