Good evening, morning, and afternoon (depending what time you are reading this)! This summer has been full of new information! But today, I am going to talk about the unit everyone has been excited about the most. You guessed it, the Protodeka. I figured that since you guys enjoyed the sight of it a lot, I should tell more about it.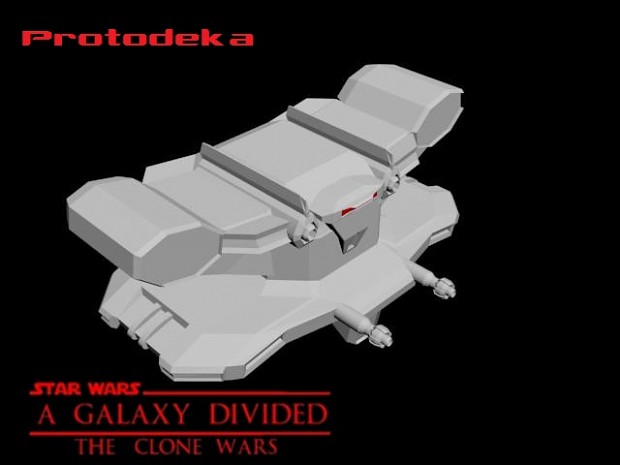 Faction: Confederacy of Independent Systems
Cost: 5000 credits
Name: Protodeka droid tank
Manufacturer: Collicoid Creation Nest
Class: Repulsorlift
Information:
The Protodeka is a massive repulsorlift droid tank. It is armed with 2 turbolasers and 2 concussion missile launchers. It was heavily shielded and was capable of wiping out entire attack forces. However, it was found in minimum numbers because of how expensive it was to produce. It's main role was to be used to turn the tide of the war in the Confederacy's favor. But when the Confederacy council was killed on Mustafar, these massive machines of war were deactivated when the deactivation signal was sent.
Abbilities:
- Seismic Wave Emitter: Emits a seismic wave around the Protodeka, destroying any nearby or surrounding ground units.
- Concussion Missiles: Fires a horde of Concussion Missiles upon the enemy.
Well, there you have it! Full details on the Protodeka. So, now for mod progression. Progress on the mod is running smoothly, and lots of structures are being made. The reason for this is because we are trying to get new structures to replace the Rebel and Imperial ones in the game already, that is the main idea for 'Total Conversion'. For our planet list, we are still aware that there are too many planets (remember that the last time we talked about this, the planet list was 170 planets), so we cut down the planet list to 120-130 planets. Hopefully it should be enough for all people to enjoy. One of our goals is to make this mod playable for everyone, and that everyone can enjoy it equally.
Now, it is Q&A time!
Q: When will the mod be released?
A: This question has been asked repeatedly, and it will be finished when it is finished.
Q: Will this mod have a campaign?
A: Yes. We plan to have a campaign, an enjoyable one too.
Q: Will there be anything from the Clone Wars miniseries in the mod?
A: Yes. We will be staying true to the entire Clone Wars realm, which includes the miniseries. Don't worry miniseries fans, you'll get to see Obi-Wan in clone armor in the campaign ;)
Q: This mod looks big. Will it slow down my computer?
A: With all the content we showed, it is just mainly replacement models and a few new units. But if your PC is starting to slow down when you get a chance to play the mod, we'll make a version of the mod that will a bit smaller than the main version but will allow you to enjoy the mod.
Q: Why make a Clone Wars mod instead of the wide variety of other Star Wars eras? Why not combine with the other Clone Wars mod teams?
A: The reason is because, the Clone Wars is currently a growing era (like the Legacy Era, but there isn't enough to make a mod out of that. In my opinion.). And I find it equally interesting as the Galactic Civil War. And the reason why the other Clone Wars mod teams aren't combining is because we all are making something different, like the nett40 mod is trying to make a mod about the current Clone Wars TV show.
Hopefully that answers any asked or unasked questions. So, before I end this news update, I have a question for all of you:
What are you most looking forward to in the mod? What do you want to see that will make this mod different?
Thank you for watching the mod! And may the Force be with you!
- A Galaxy Divided Mod Team
(Leader: The_Darker_Side)
(Co-Leader: PatrickKosick)
Don't forget to check out our affiliates!
Moddb.com