It's update 9 from outer space! This week, we introduce a weapon to harness the power of the sun itself. Get ready for… Solaronite Gun.
This weapon lets you shoot solaronite waves (a.k.a. Solar flares) at enemy planets. When you shoot the Solarontie Gun at the sun, a pack of flares comes out the directly opposite side of the sun and head for any planet they can hit. The trick here is aiming your initial projectile at just the right angle for the flares to hit the enemy on the other side. Of course, if your planet is derailed, you can pretty much position yourself any way you want.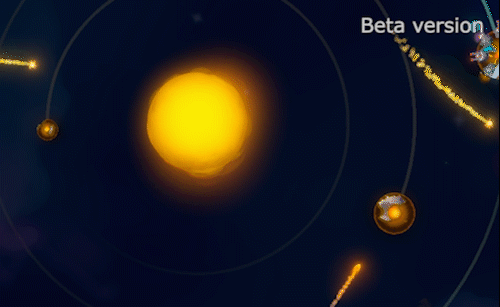 Unlike the legendary weapon from Plan 9 from Outer Space, Worbital Solaronite doesn't destroy the entire universe -- it's more precise and, hence, even more advanced. Also, our apologies to all the Lucid fans out there. We know, the faction haven't got new weapons over the last few updates, but it will all be balanced out in the end.
A more technical update: we have moved Worbital to the new, 2018 version of Unity. This doesn't change anything specific in game, but some unexpected problems might arise. They will all be fixed in time, but for now we apologize for possible inconvenience.
See the full changelog for the update below.
Worbital Beta Update, 0.95.3351_Beta9 - September 12th, 2018
Features

New Weapon: Solaronite Gun

Available for Terrene and Celestials (sorry Lucid…)

Updated Unity Engine to version 2018.2.7f1

This may cause unexpected issues (but hopefully improvements too)

Fixes

Fixed AI avatar randomization to disallow duplicates
Removed "Friendly Fire" advisor event when shooting yourself
Fixed "Friendly Planet Destroyed" event trigger
Fixed AI-replacement popup from appearing when player is not actually replaced
Fixed host receiving popups that notified AI players' Structure Tier unlocks

Adjustments

Added player names and Factions to pre-match loading screen
Various AI improvements

Balance

Rebalanced Fragmenters, so that Terrene's isn't strictly better at level 3
Increased Attack Ship soil damage slightly
As usual, we are coming to play Worbital online with you this Thursday, September 13th. We start at 5pm EEST/10am EDT. To arrange a match with us, join the official TJR Discord server.
Have fun with Solaronite Gun and remember to fill out our new feedback survey.
Blast you later!