Now that Caer-Tor (the Imperial Guards' headquarters) is out, bringing the number of available locations to 16, our focus is on Ganezzar (the third and final town) and I daresay that it's shaping up great.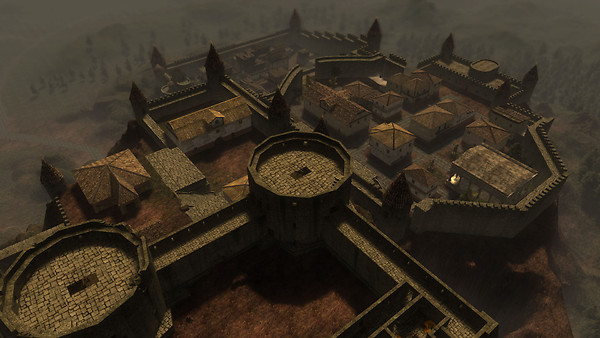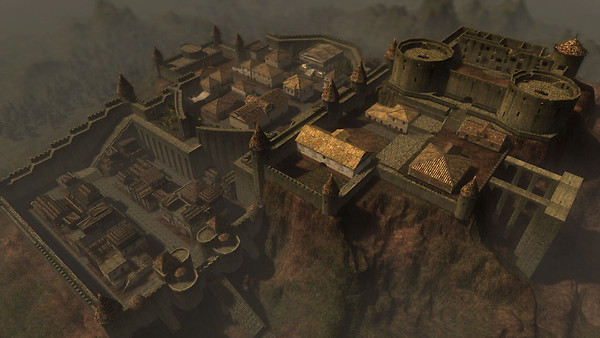 Notice the dock for the flying ships to the right. Speaking of flying ships, technically, what we have is not a flying ship but a flying fortress. Here is our original model from 2008. Yeah, I know, time flies.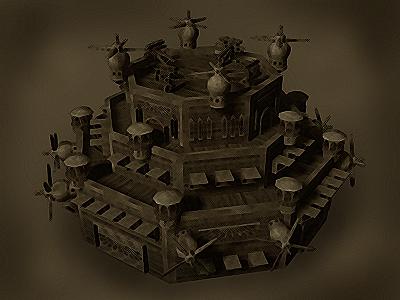 Oscar felt that we went overboard with the propellers that were everywhere, so we decided to do the smart thing and consult with Mazin, our artist extraordinaire responsible for the portraits, the interface, main screen, ending slides, and many icons. Since our original idea was based on the Indian vimanas, Mazin felt that staying closer to the 'original' would be better.
At the same time, he thought that it would be a good idea to give it the "ironclad" look, both for the interior and exterior, as it would be more consistent with the tower and other pre-war places. Besides, who doesn't like ironclads? If you ask me, the battle of the Monitor and Merrimac was way more exciting than any Transformers movie.
Anyway, behold the new and improved concept art:
So, we released 16 locations out of 22 so far. Our plan is to work on Ganezzar, Al-Akia, and the Hangar in June (visuals & writing) and July (scripting), start the beta test at the end of July, test for 4 weeks and release. It seems realistic. Testing Maadoran took 8 weeks, but we had 7 locations there and substantial system and combat changes.
The remaining 3 locations (aka the Endgame content) will be released at the end of September. At that point the content of the game will be done and all that will be left is to tweak and polish, which shouldn't take longer than a month. Either way by that time the game will be fully playable from start to finish and available to the Early Access crowd whose support has been invaluable.
Now that we're working on Ganezzar "full time" we can start introducing different characters for those who are bored, easily amused, or just can't wait. Since now we're putting together the MG questline, let's introduce Athanasius who is a scholar and a gentleman: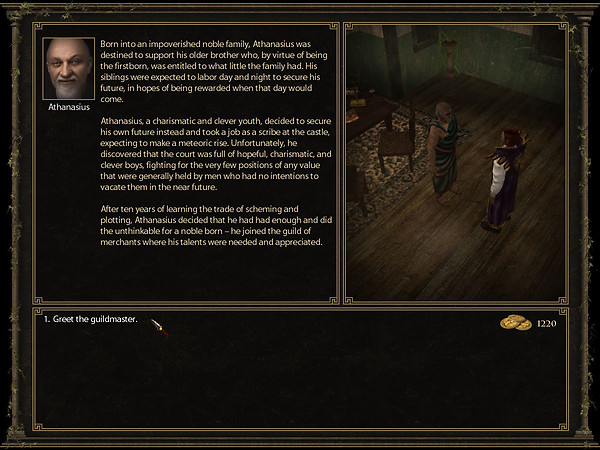 To see the rest of the screens, visit our forums: Irontowerstudio.com
For more information, videos, and players' impressions, click here: