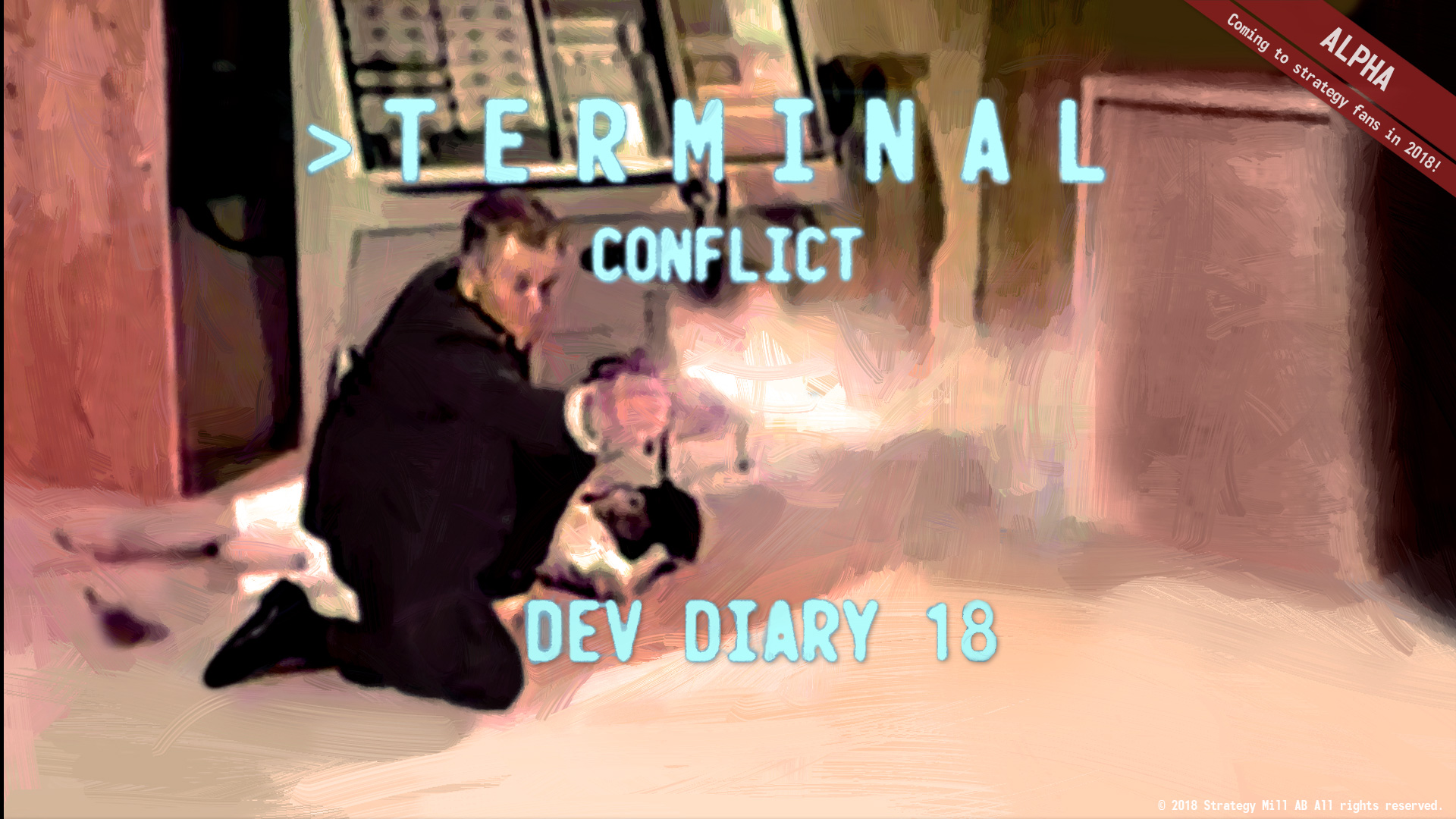 She was with the Riga branch and in one lapse moment she looked at me, smiled and slipped that her mother was Latvian just like mine. I know very well that she poisoned me in Vienna yet it was not personal. I will never forget her heroism. A wise man once said that well-behaved women seldom make history. She would receive the Order of Lenin that year.
Information is power and your potent terminal is the most realistic outlet of Cold War information in the world. Your armed forces and allies may supply some of that data but none more valuable than that provided by your intelligence services. You give them the order and they will execute the mission.
Intelligence HQ
The intelligence menu in the Command Reserve is where you draft your clandestine operations. Selecting the Intelligence menu displays the possible missions your agents are capable of carrying out within the theater.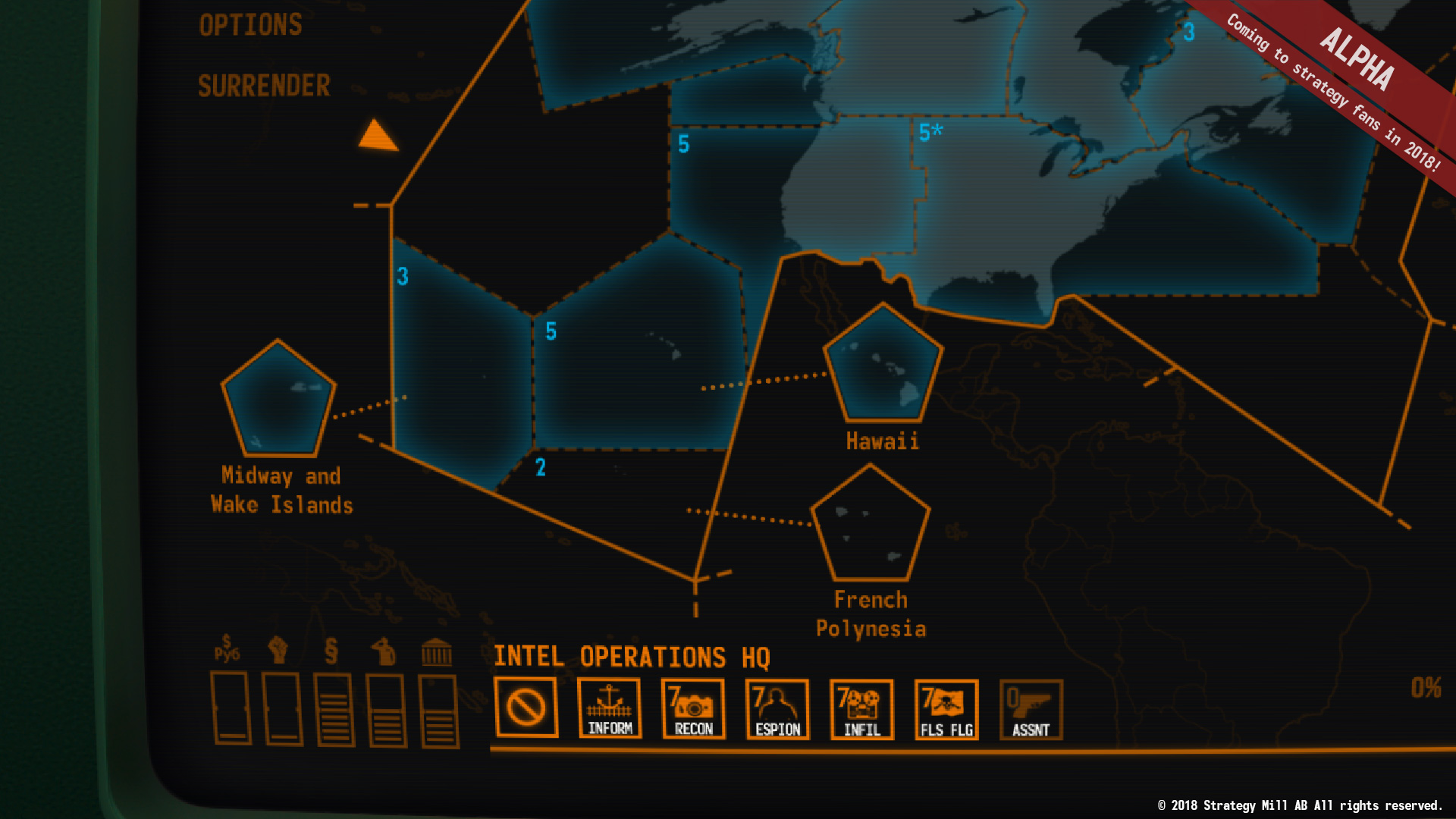 Generally speaking, the more influence you possess in a region, the easier it is for your agents to accomplish their objectives there. Reviewing a mission will display potential information it could provide along with the percentage chance of it being successful. Your enemy's spies operate under similar conditions and thus keeping strong friendly influence insures vigilance. This is at your discretion to decide, as intelligence missions are not limited to your current focus. Your devoted operatives are ready to face your foes wherever they needed worldwide.
Launching an Op
Sending your agents on a mission usually involves a domestic cost to the interests of the Elites. Being the establishment, they tend to prefer the status quo and utilizing agents in the exercise of state powers that do not further their privileges and an apparatus that one day might be turned against them is not something they will ignore. This interest cost is therefore a price you pay regardless of success or failure. With each success, you reap the rewards but the risk of detection also grows diminishing your agents' chances to repeat their success this timeline without detection for the same particular mission.
Intelligence Missions
Information [100% success rate]: Task your intelligence analysts to put together information about friendly and enemy logistics. By selecting a friendly or enemy region, the logistics costs and current logistic paths display a battlefield overview. This action is always available both during your and your opponents turn and is one of your main essential planning tools.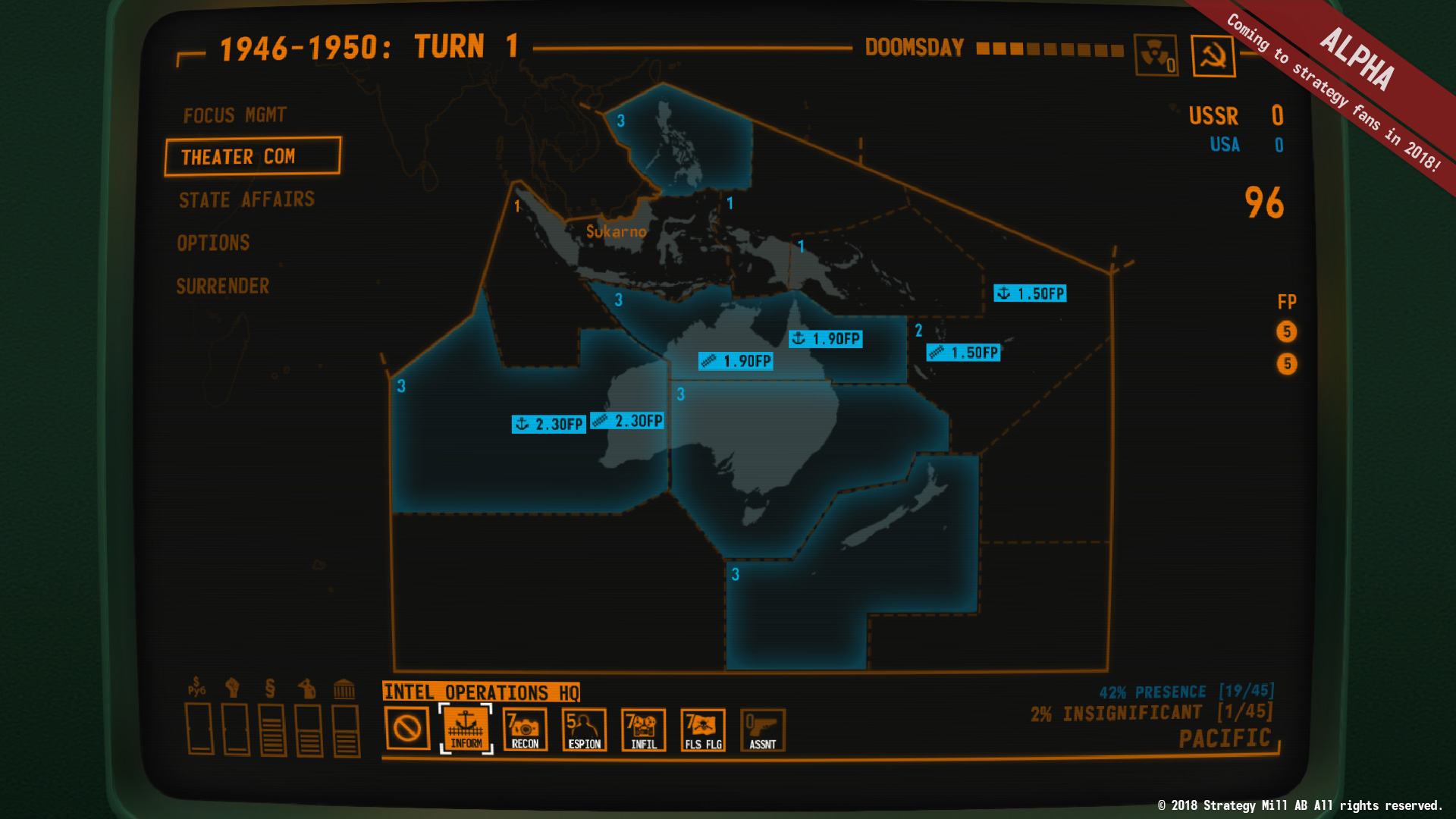 Reconnaissance [flat 70% success rate]: By conducting military reconnaissance, if successful, lifts the Fog of War for you this turn revealing enemy units stationed there. Technical advances in the Space Race and certain decisions can increase success rate and this mission is available in all regions except Arctic regions.
Espionage [70% success rate at maximum enemy influence, increases 5% for each influence under that]: Your spies will attempt to gather information at the highest government level about how many turns your opponent has at its disposal this timeline as well as estimate the size of the enemy nuclear arsenal. The larger the enemy influence in the region where this is carried out, the more accurate the data. Available for regions where enemy has at least regional control.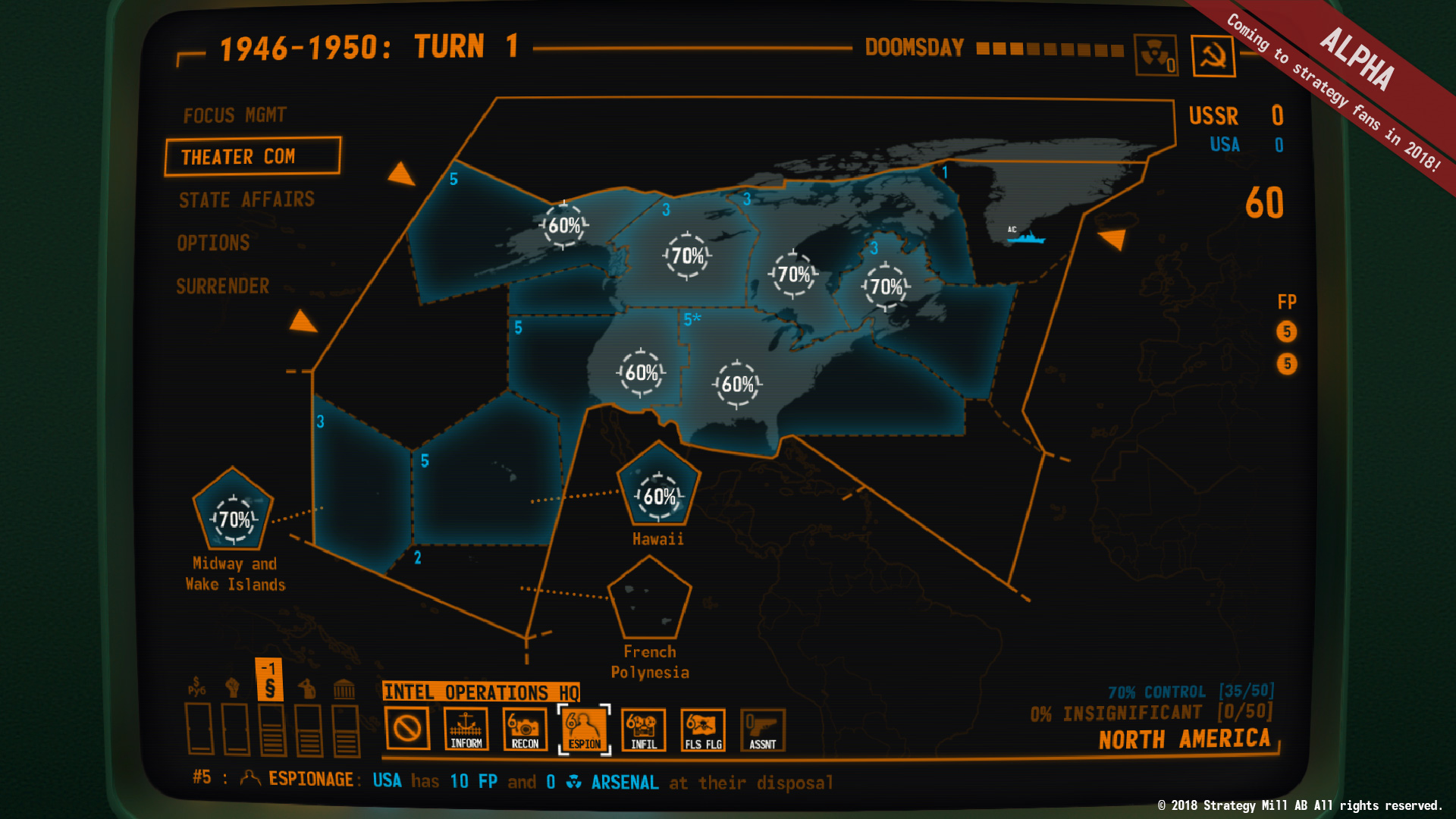 Infiltration [40% success rate at maximum enemy influence, increases by 5% for each influence under that] Two things can happen:
If one or more enemy units are in the region, operatives will embed themselves permanently with an enemy unit and report position and other vital military data. This will allow you to have the Fog of War lifted for all enemy units in the region where the marked unit resides in or moves to. If the marked unit is Disarmed, sent to Command Reserve or destroyed the information gathering is also lost. Submarine Fleets are immune to infiltration.
If there are no enemy units in the region or none available for infiltration, your operatives will attempt to gather information of local forces for this turn before returning potentially granting you +1 Military interest
Infiltration is available only in regions where enemy has presence or more.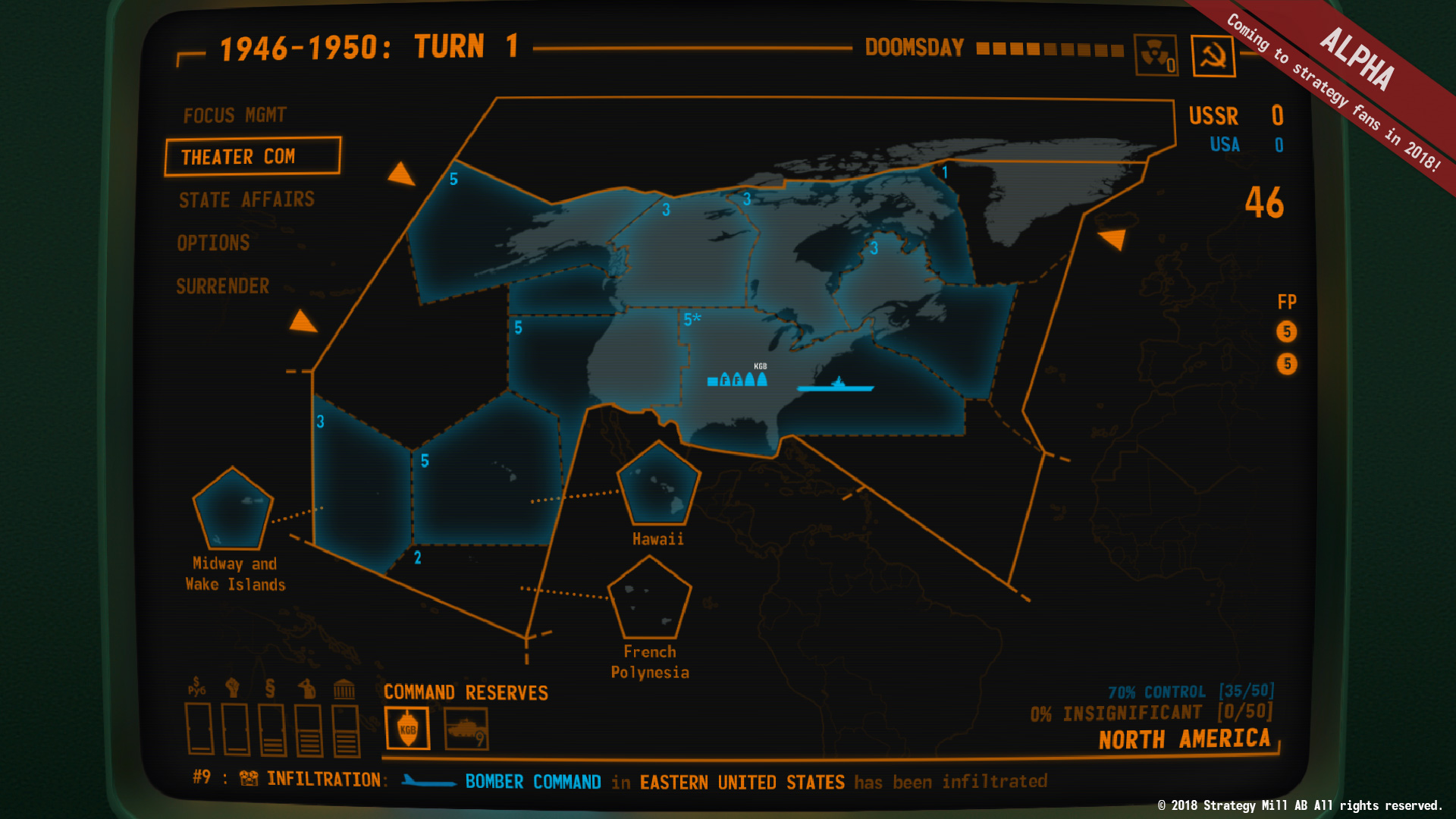 False Flag [25% success rate at maximum enemy influence, increases by 5% for each influence under that]: Attempt to frame your opponents faction and thereby increase influence in the target region by 1 in your favor. Has an equal inverted risk to grant opponent Military +1 when successful. Available in any region except for regions where you have regional Domination already established.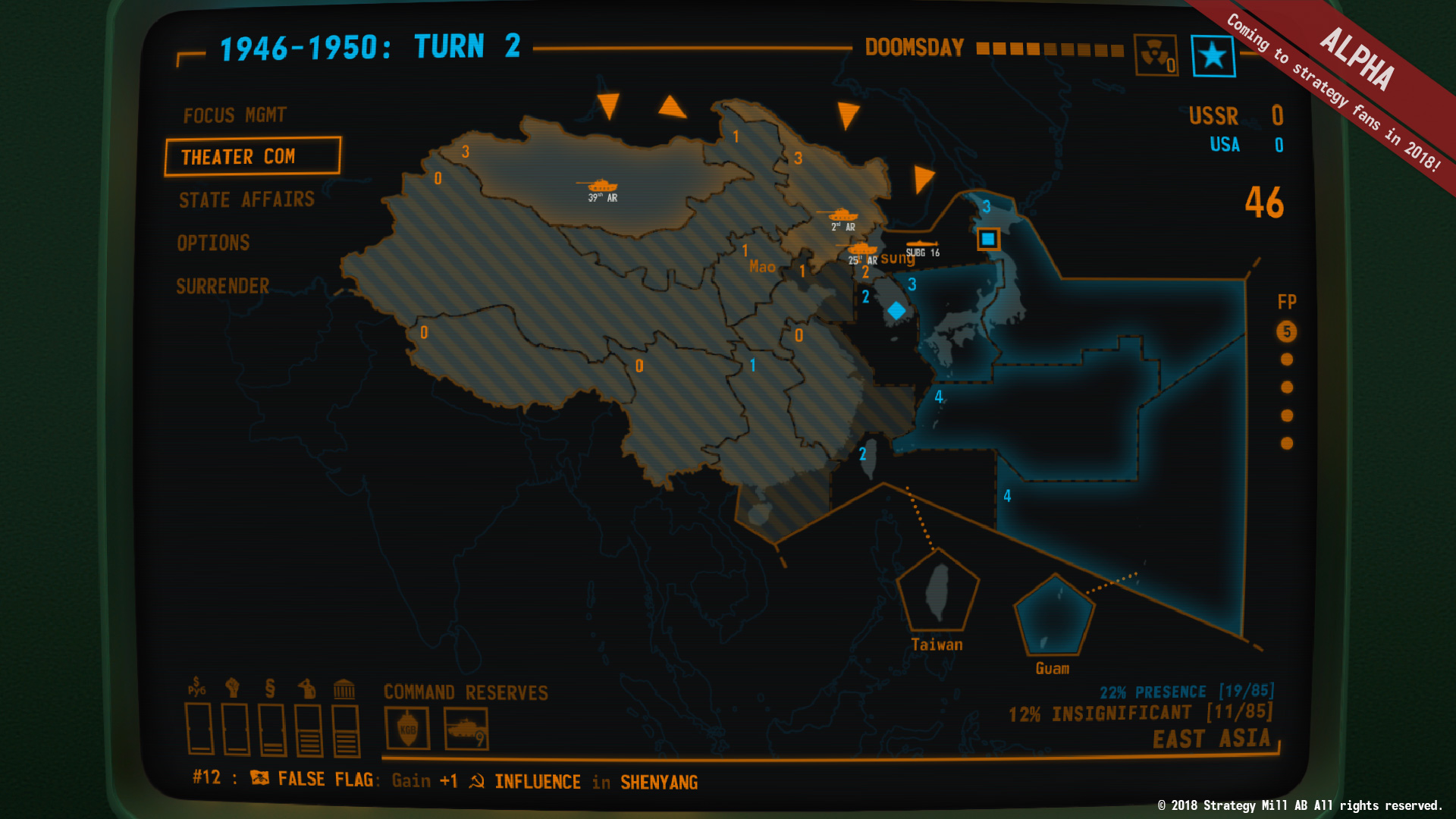 Assassination [50% success rate at 1 historical leader Power, decreased by 5% for each Power above that though never lower than 5%]: Attempt to kill an enemy or friendly historical leader. If successful, the leader is immediately reduced to 0 power and lost. Failing this mission might result in empowering leader by increasing their power by 1 effectively prolonging their reign.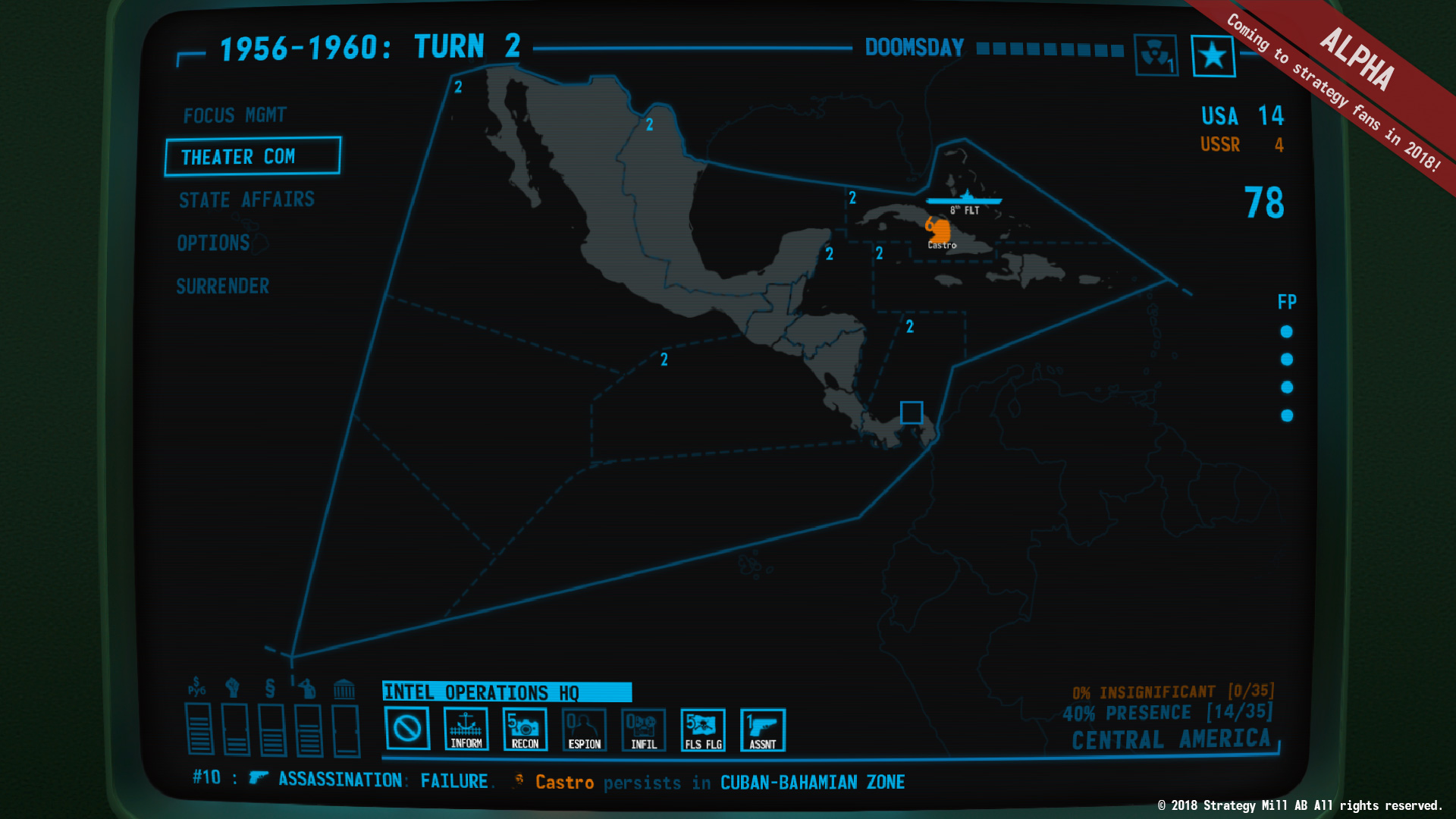 Failed missions
Each mission that fails has a chance to result in a myriad of outcomes ranging from no incident to as serious as potential Doomsday Clock shifting. One thing to keep in mind is that failure is only truly a loss if you do not learn anything. Adapt your strategy and keep the odds on your side to prevail.
Security Acts in Decisions
Some missions are not available at game start but nothing that will put a dent into an ambitious political mind keen on advancing and reforming the intelligence service. The United States starts off without Infiltrate, False Flag or Assassinate in 1946. To gain these missions, requires the reforming of the CIA in your home theater of North America (starting with Olympus Rising). The Soviet Union has an advantage in this field, though False Flag and Assassinate still requires reform and the KGB (starting with The Ascending Titan), yet be ware. Ignoring the intelligence services, or blindly trusting them, is nothing short of a mistake in waiting because it would not be called intelligence if it were fact.
Would you like to know more or would you like to drop us a message? Contact the team on Twitter , Facebook , or write us a comment on Reddit.
Want to have news delivered about our game straight to you? Sign up at terminalconflict.com