IndieDB Staff notes: This trip was awarded to S.p.A.I for winning best UDK game during the 2010 Indie of the Year Awards. Congrats S.p.A.I team, looks like you had a blast!
The last two weeks have been busy, I mean really busy, like fighting Godzilla busy. Even though we went to America a little over two weeks ago I have been wading through a constant flood of assignments and have had very little time to write a detailed account of our journey into foreign lands.
But it is now mid semester break and the ever present demands of university are being held back for the time being. I can finally put down on paper the tale of how a small rag tag team managed to survive a brutal attack from space pirates and go on to form a underground resistance/rock band to save the world ... uh I might be remembering that wrong. Let me check my notes.
Okay so there were no space pirates, but there was a lot of flying. We spent 14 hours to get to America and another 6 hours to get to Raleigh in North Carolina. We left Monday and travelled THROUGH TIME to arrive there ... slightly later on Monday.
We went straight to sleep, for on the morrow we would be entering the hallowed halls of Epic Studios.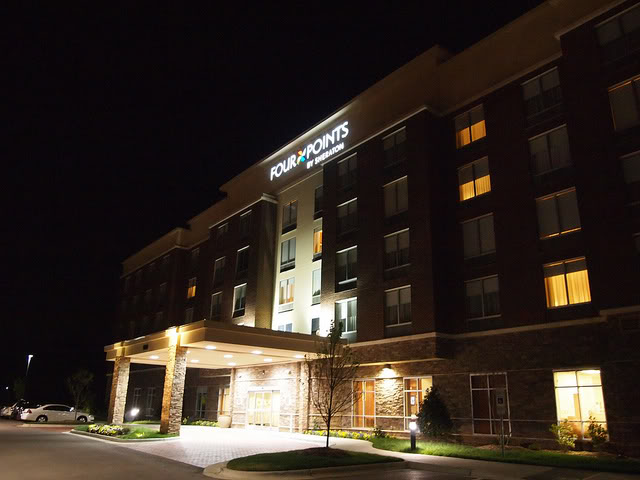 After 20 hours of flying we could have fallen asleep on a park bench,
but were treated to something a little more comfortable.

Day Two:
We stood there in the frosty spring morning, hearts beating in our chests waiting to make the journey towards destiny. No longer were we Indie Developers, we had been reduced to fan boys, the equivalent of little children standing in line for their first trip on the roller coaster. If was with this mindset and a full tourist kit on we walked into Epic Studios.
After a quick demonstration of our game (behind closed doors) we spent the next hour walking around the Main building commenting on the architecture and trying to keep the excited squeals to a minimum. But the hour soon past quickly and we needed to get ready for our presentation. So off to the big screen we went.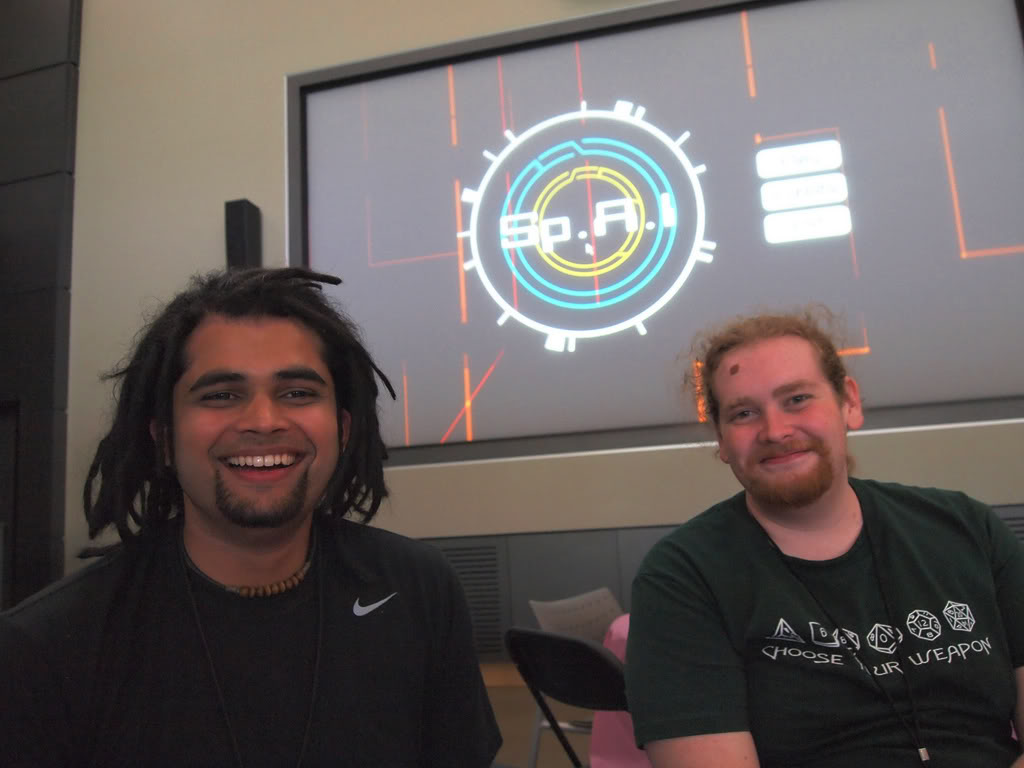 That's the second biggest Scalefrom logo I have ever seen.
So with a huge portion of the staff sitting there eating tacos we presented the new and improved level that we had been working on for the last two months. Sadly we won't be releasing this level since it is fragile as all buggery but we shall happily show you a video of somebody playing it.
They loved it, the crowd went wild though I am not sure if it was because of the game or because the catering mentioned that there were seconds (I kid, I kid they were already eating seconds).
After the presentation we spent the rest of the day doing three things.
Working out what we were going to talk about at the Game Conference
Playing the Gears of War 3 beta
Being shown around the studio.
The first is to boring to show, the second we can't actually show and the last... well you knew there had to be a mandatory photo slideshow portion of this news post.
Please enjoy the following deluge of images and for full effect imagine the song Happy Go Lively
At the end of the day we had time for one last photo before we were cast into the night.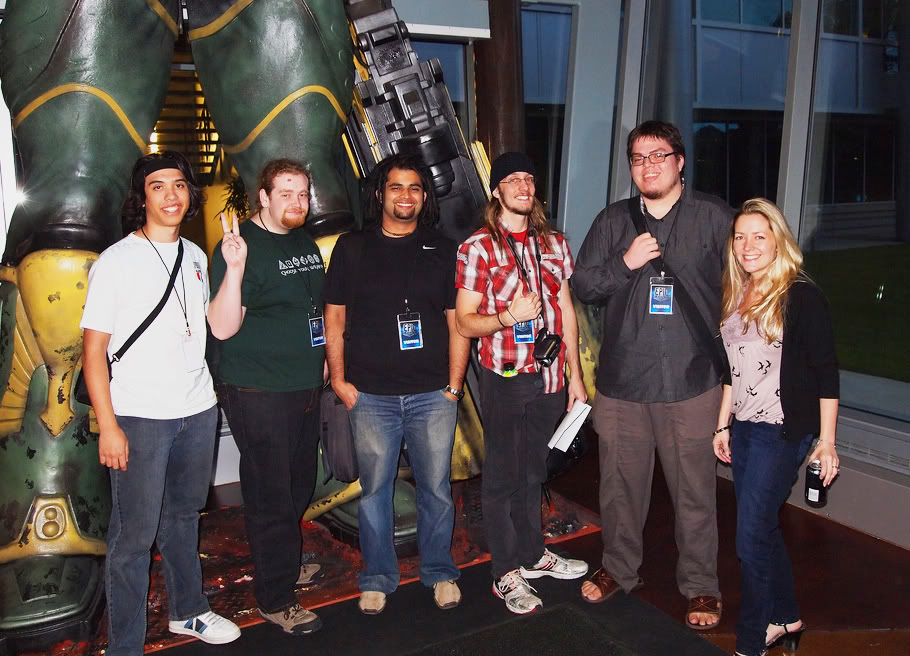 From the left Clyde Smets (Environmental Artist/Level Designer),
Joseph Hitzke (Programmer),
Abbey Miranda (Character Modeller / Rigger / Animator),
Ryan Hayward (Programmer/Designer/ Level Designer),
Steven Alan Scott (Designer/Level Designer)
and of course how could we forget our wonderful guide, Dana Cowley (PR for Epic)

Day Three:
The day brought with it sunshine and a trip to the Raleigh Convention Center, where we were to do a presentation for Epic's "Unreal University". A series of workshops designed to educate the masses on the awesomeness that is UDK. It was here in these walls that we would face our greatest challenge, our cursed nemesis PUBLIC SPEAKING! (The Fiend!!!)
But before that we couldn't resist checking out "The technology behind the DirectX 11 Unreal Engine Samaritan Demo". The presentation showed a quick look into the future of computer graphics. It was presented by Martin Mittring, Senior Graphics Architect, Epic Games. If you have yet to check out the Samaritan video you must do so now by watching it here.
The clock ticked onto four and we knew that it was time to our get our game faces on. We stood up there in front of what seemed like a dozen people and we talked about some of the problems we faced when developing an indie title especially with such a small team.
I personally think it went well; we stressed the importance of communication between members, especially if you are working with members over long distances. We stressed utilizing deadlines and milestones as ways of motivating yourself. We talked about more things but I find it difficult to think back to the sheer terror without breaking out in a nervous sweat.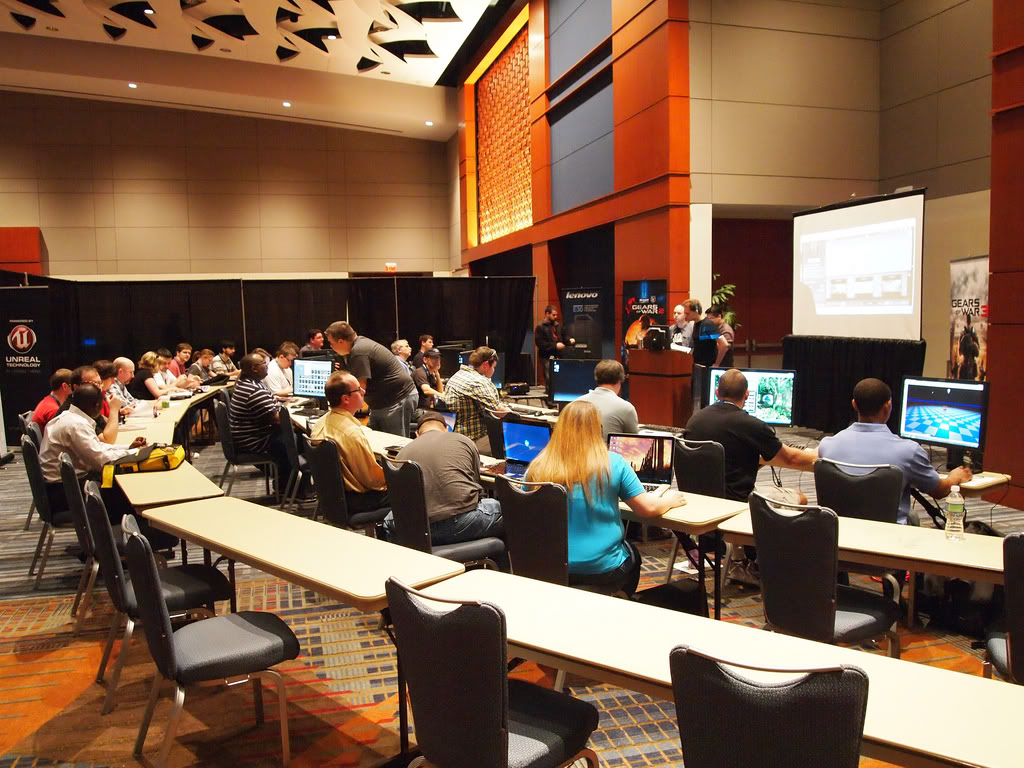 This isn't actually a picture of our presentation but one of the training sessions
run by James Tan and Markus Arvidsson two of the members behind "The Ball"
another awesome UDK creation. Think us, but successful and with sexy accents.
With the our two days over we packed our bags and left America behind taking with us the fond memories and assorted snacks items (taken fresh from epic's kitchen) and we find ourselves looking
towards the future. The question is raised "Where do we take SpAI from here?"
While nothing is ever set in stone we want to see SpAI taken to the next level and become viable for the commercial market and for us to reach this goal we need to work harder then we have ever worked before. So over the next year we will be redefining the gameplay and producing more content.
We also want to break open the cone of silence that usually surrounds a small project like this. We want you reveal all and show you the process of what goes into creating a small indie title. So while we are striving to create a new and improved SpAI. We will also be showing you behind the scenes footage and possibly even some tutorials on how to utilize UDK to its fullest potential. Hopefully it will be fun and informative but knowing the programmers it will be filled with puns, dreadful puns.
So thank you Epic Studios for treating us to an experience that will sit fondly in our memories for a long time to come and thank you to Paul and Dana for showing us a great time while we were there and here is to the future of SpAI.