Hello, again! So, here's another small update. I recently worked on the AI for the enemy soldier - they don't fire yet, but they blindly follow you about. I need to make it so that they fire at you (obviously) and go back to their inital positions if you leave the map. Of course, it would be even cooler if they could follow you. >:D
Something that the BGE recently got was more advanced path-finding, which would mean that the enemies could find you, around or perhaps even over obstacles and different levels or floors. I feel like implementing it into my enemies, but it also would require a little bit of work, particularly working with navigation meshes. So, it might be a little while until I do that. In the meantime, this crude behavior will do. But if I were to implement the advanced path-finding, it might be easier to get the guards to follow you around maps... >:D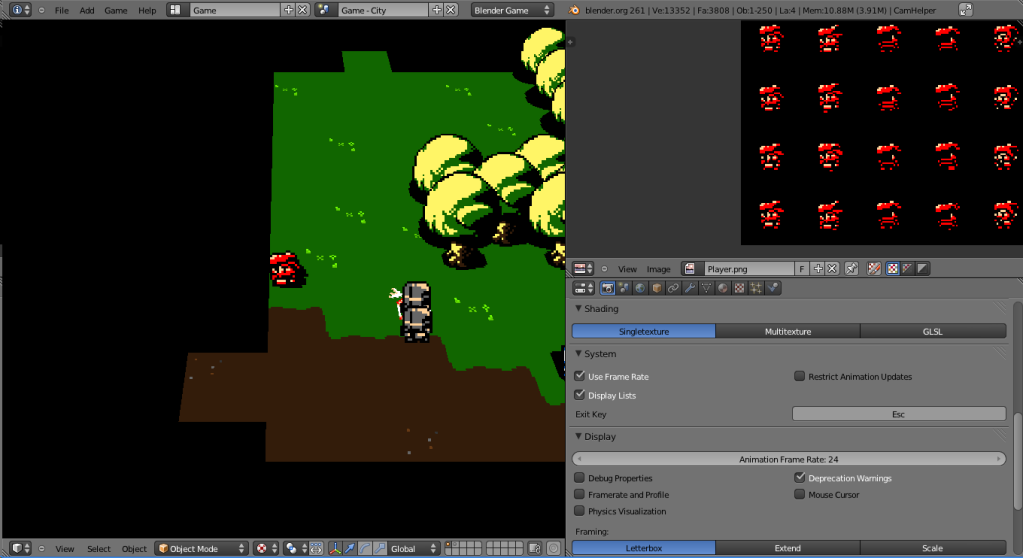 As you can see in the screenshot above, I also pulled the camera back to allow for more of a field of vision while moving about. The reason for this is because the game will be fast-paced and about using weapons (usually guns) to attack foes and obstacles, and usually you will be doing this at a distance. This being the case, I thought that pulling back the camera helps to make the game easier to handle. After all, why even have any kind of projectile weapon if you have to use it up close? :p
I also managed to get the item code working to the point where you can use either item key (primary or secondary) to use whatever item! This will allow you to have more control over your load-out - rather than being forced to have a weapon and an item, you can roll in with any two items, like grenades and a flash-light, or jump boots and the targeting system (which is useless without a primary weapon, but the point still stands). At least one 'puzzle' that I have in mind will rely on this capability.
I've also begun working on the GUI - particularly the equipment screen. I'm trying to implement it into the game, so it's really crude right now. Hopefully I can finish it before the next devlog video (and perhaps a demo!).
Anyway, that's it. Thanks for reading.