Hello Everyone
Since Monday we shifted our attention to Slaughter Maze as one of our core games in development. Before we start showcasing the stuff that we are actually working on, we'll begin showcasing what is already done that was not shown to the public before. Thorough this month and the next we'll constantly upload material and write about a few of the new design changes of the game.
Lets get started. Before we went on hiatus, we showed a few screenshots of the latest version of the Sci fi Maze. You can see a few of them below.
So far, there are four mazes designed. Sci fi, Industrial, Stone, Ice.
Here we can appreciate a few Industrial Maze Screenshots, please note that the character models there are not the ones that will be used in the final product, these are were merely for testing.
On this maze, the dangers that the players will face (beside the other bloodthirsty players) will be explosive environmental meshes, saws and stuff like oil that will slowdown the player and increase fire damage on him. Everything here will be about cutting and setting the players on fire.
Enjoy the pictures ! Next time we'll talk about the rock maze.
Don't forget to support Slaughter Maze by playing our free mobile games like Zombie Desperation
Moddb.com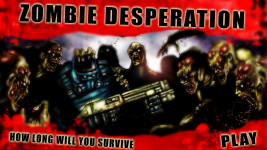 Some parts of Slaughter Maze's development has been paid with the money of our pockets and the one generated by our mobile games. By playing Zombie Desperation you'll be helping with the development of our projects including Slaughter Maze .
Thanks for reading !