The world's largest online game disappeared from the web
On Sunday, the world went down for millions of children and youth.
The online game Fortnite went black - leaving both a visual and psychological black hole.
We who are still playing have now enjoyed 10 Season of this game and throughout the different seasons there has always been an update on Thursdays, but today it was only closed. "The End" was called live broadcasting which began at 8pm on Sunday. For those who played then it all ended with rockets that shattered the entire island inside the game.
The screen then went white, before everything shrank to a small black dot of pulsating plasma all around. The game is now gone, it is impossible to log in and load something similar to what was there. Epic Games, which owns Fortnite, is now streaming the black hole on all its social media accounts.
~ Watch The Full - Fortnite the end even here ~



There are millions around the world wondering what is going on?
Probably the explanation is simple enough: The whole thing is a well-planned game for uploading new software for the next chapter. Chapter 2. Now a whole new world is to be built, and the amount of data is probably so large that you need a longer downtime.
When will Fortnite come back?
If you look at the history of the game, it should be back in place on Thursday, October 17. The other seasons have always had a Thursday premiere. At the same time, in advance of each new season, there are usually a few hours of downtime. Now speculation on social media is about when Fortnite is back.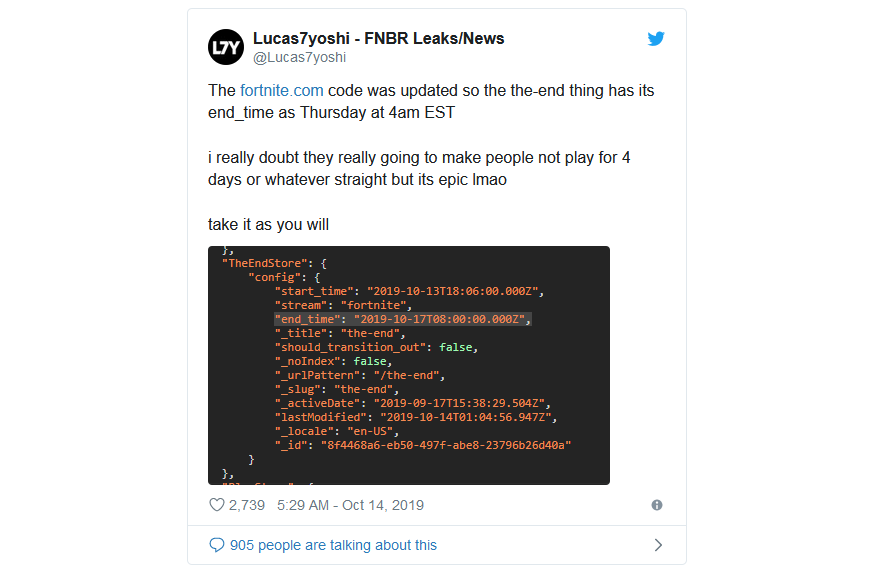 For example, the Twitter user @ Lucas7yoshi believes to have found another time in the fortnite.com data encoding. So yeah more or new stuff coming soon to Fortnite and maybe who knows even more new things will come to the Save The World part too.