The Indie Royale game bundle site is in full bloom with its May Hurray Bundle, offering five fantastic independent games available at a bargain, fluctuating price.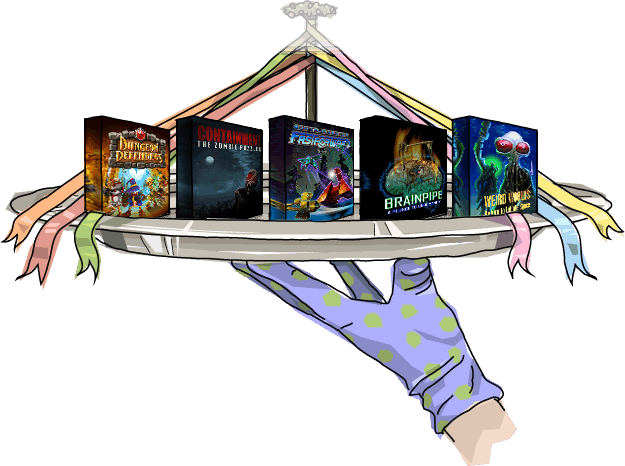 Headlining the bundle is Trendy Entertainment's addictive tower defense RPG Dungeon Defenders, available for Windows and Mac on Steam, Desura and DRM-free. The game puts players in the role of one of four distinctive hero classes, tasked with fending off hordes of invading beasties by strategically summoning a variety of defenses & traps throughout their castle. Rock, Paper, Shotgun called it, "A superb thing: gloriously colourful, robustly made, filled with tonnes of loot and skills and towers." All of this can be enjoyed in seamless online and split-screen local multiplayer. Combining the depth of strategic gaming with the satisfying action of RPG character building, in a beautifully stylized 'toon fantasy setting, Dungeon Defenders is designed to be a distinctly addictive, easy-to-play experience for casual and hardcore gamers alike!
Also featured is Digital Eel's grand space opera Weird Worlds: Return to Infinite Space, available for Windows, Desura and DRM-free. Set in a randomly generated universe of endless possibilities, this single-player experience will let you explore new worlds, meet exotic aliens, discover black holes, witness the deaths of stars, encounter drifting space hulks that promise untold riches or untimely death, and much, much more.
Next up is Boot Snake Games' radical puzzle title Containment: The Zombie Puzzler, available for Windows on Steam, Desura and DRM-free. Featuring multiple types of units, items, zombies, and bosses, this is not your typical puzzle game. Experience the branching campaign and survival mode, with integrated leaderboards so you can make sure that your past glories are more glorious than your friends'.
Last up are two more indie favorites from the wizards of weird, Digital Eel. First, fight the system as you plunge down a continuously twisting and turning three dimensional retro wireframe landscape in Data Jammers: Fast Forward, available for Windows on Steam, Desura and DRM-free. Rock, Paper, Shotgun called Data Jammers, "Reminiscent of all that is good in the world. Or at least some of the things that are good in the world, like Tempest and speeding through cyberspace." Rounding out the bundle is the otherworldly mind control device, masquerading as a seemingly quaint computer game, Brainpipe: A Plunge to Unhumanity, available for Windows and Mac for Steam, Desura and DRM-free.
Finally, those who support the independent developers by paying $7 USD or their currency equivalent during the May Hurray Bundle get Starscream's acclaimed 'Future, Toward the Edge of Forever' music album (a $5 value from the NYC chiptune futurists now known as Infinity Shred).
As always, generous purchasers keep the bundle price low and give more to developers, as Indie Royale runs on its familiar short duration model where the price will automatically increase as more people buy the bundle.
Grab it now at: Indieroyale.com