First and foremost, I am happy to be back. In the time I spent "officially" off-duty, I found myself constantly thinking about the game, and so after a few months I decided to start up again. Working on CT has been my greatest creative endeavor and I wish to continue flexing these creative muscles!
So what can be expected now that CT is back in the forge?
Increased attention to how things look. Yes, CT will maintain its "cell-shaded" appearance, but the complexity and overall composition of models will be increased to offer a higher level of quality. Animations are going to be revised and in general more effort will be put into certain aspects of the game.
The promised redesign of the NKG Navy will happen. Model ideas have been drawn up and I'm anxious to finally return to the waters.
A much improved and slightly more present backstory is in the works. This is primarily what I was thinking about in my off-time, and a wiki detailing the world CT is set in is being made. Attention will of course be paid mostly to the game, but the development of the story is going to be a lot more important.
The eventual development of the PN, renamed the PNF. Oksnoop2, the developer in-charge of their development, will not be returning to the game and in his absence I plan to realize the ideas he--and at times I--laid out for his faction. This will be the project farthest down the road, as I plan to refine the NKG as much as I want to before I shift gears into this different faction. But, it will happen! I am excited to design a new faction.
I will try to maintain a slightly better online presence for the game. I intend on creating more promotional art for the game, and posting more updates on ModDB and the Spring Boards. Development will be much slower now, compared to the first year the game was being made. Life changes have demanded it and I feel it will help the game blossom as it should instead of continuing down its road to slipshod creation.
To herald this news, I decided to fix one of the bigger problems in the game, which was the unruly NKG miners. Now, two different units will handle construction and mining: the old Engineer Support Mech (renamed the Construction Mech) will take over construction of buildings, and the new Mining Truck will take over all mining operations.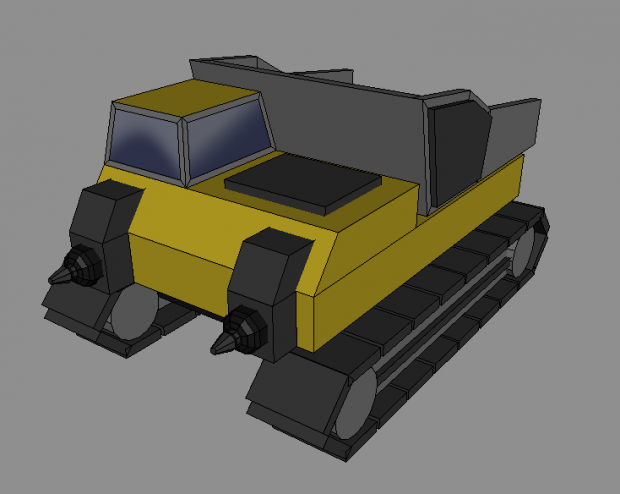 This unit represents a huge step forward for the project. For one, it is a simple solution to a problem which I was wanting an overly complicated solution to. Hopefully I can maintain this disposition to iron out the problems CT has, instead of watching them pile up around me!
Second, this unit is the very first unit in CT to use a .png texture. Thats right! What was otherwise a 1mb .tga is now a ~35kb .png! I finally figured out the process to use .png textures and once these become the dominant texture format the size of the game will decrease dramatically! The game is somewhere around 171mb now, lets see how small it can get!
Finally, it will utilize a very cool script that a member of the Spring community wrote which allows for moving tank treads. It is not quite implemented yet, but I'm sure it will be soon! This'll represent the aforementioned dedication to higher visual standards! Once this script is figured out, all of the tanks will be granted this new heap of eye candy, and I'm sure the game will look so much better with it.
That about wraps it up. I hope everyone can enjoy CT as I continue to work on it! An overhaul of CT's ModDB profile will come sometime in the future. In the meantime, enjoy your gaming :)