A repost from City of Steam Developer Journals
We've been making good on 90% of our player promises, so I'm really happy about the development progress. I'm still aiming for 100%, but some of those things might get delayed till beta (house included). Some of the adjustments just aren't news-worthy anyway, so I've been scrounging for a good topic for weeks. Finally got one!
The player stash is something that I think everybody is going to enjoy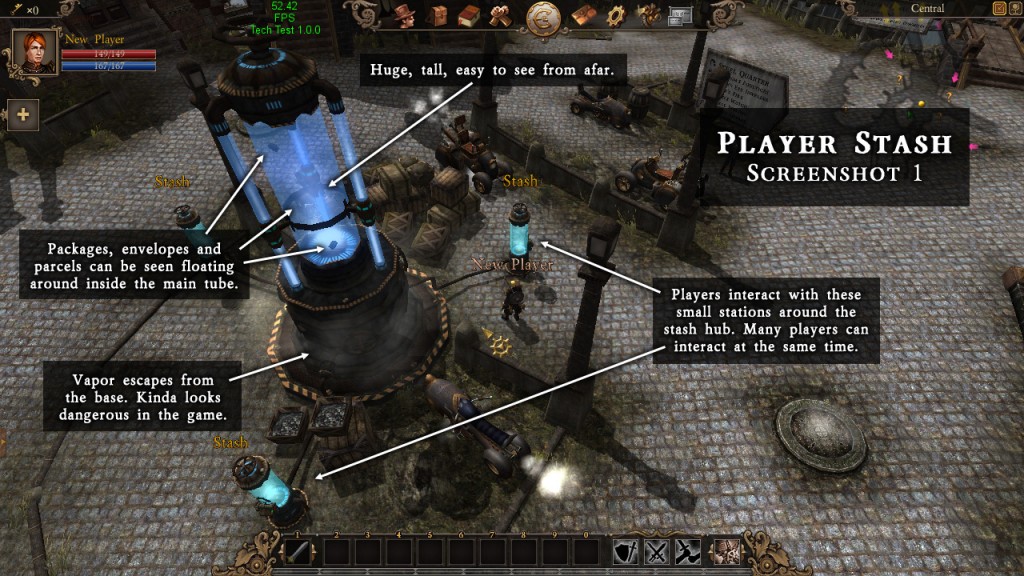 These huge steam-powered machines send packaged mail boxes throughout the city. Think of it like an access terminal, a sort of ATM machine that you can interact with. And each of these hub-and-spoke junctions connects to a secret subterranean dwarven vault. Yes, I said dwarves!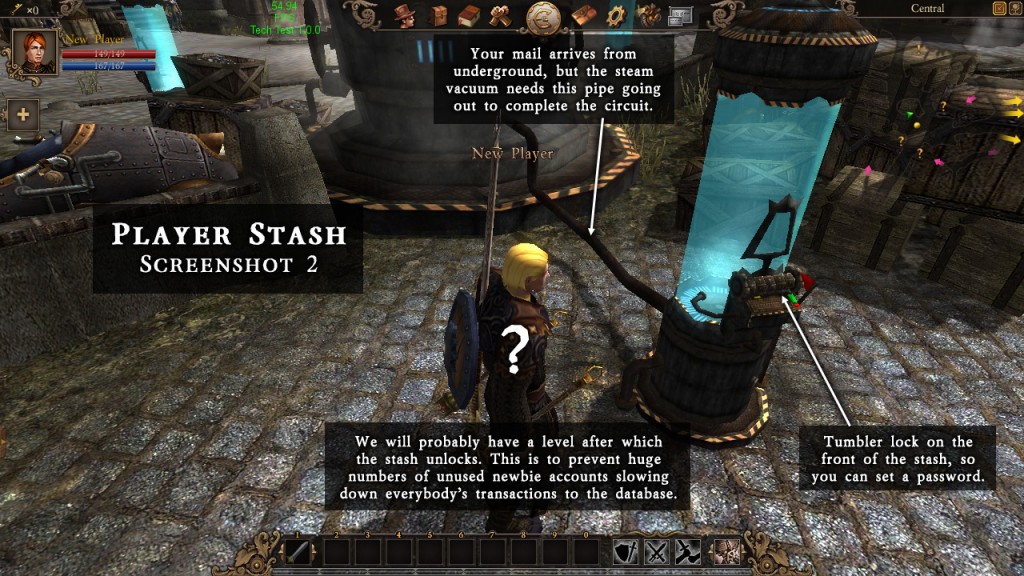 This is one of the most exciting designs I've worked on. Why? It's just a really simple interface, a great functionality that players will love, and it totally fits the "in-game" fiction. Why is the fiction so important here?
Did you ever wonder in other games how the heck your storage chest arrived in the next city before you did? I watched that chest for 20 minutes, and I'm sure it never even moved one pixel! How come my items can teleport to the next city, but I have to take the dusty road? I wanna jump in the chest and use it's infinite world-portal-ness to access anywhere. But sadly, no.
Let's look at the interface for your stash.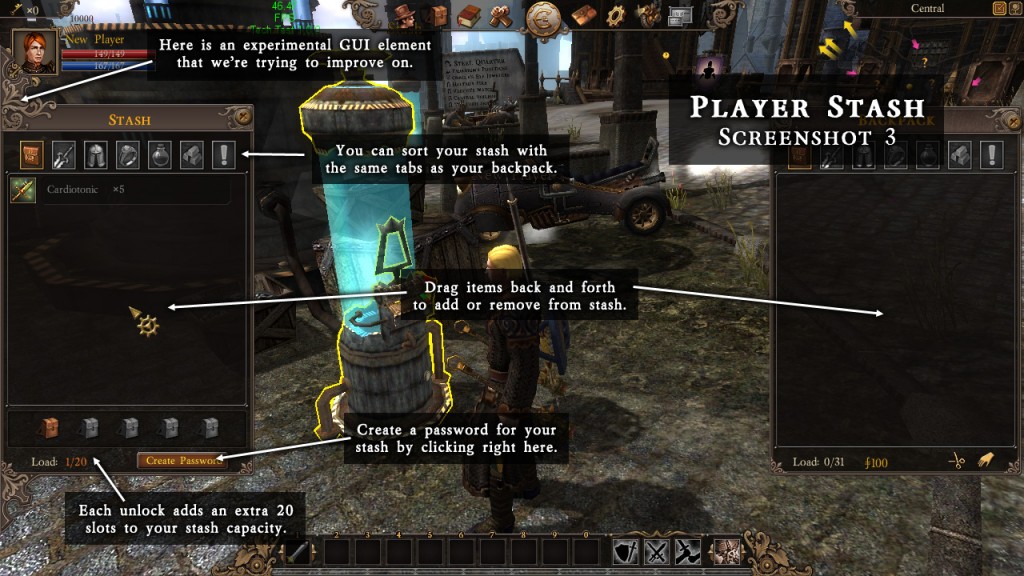 The stash has a certain number of spaces available in it, and can be sorted in the same way as your backpack. You can increase the size of your stash too, but we didn't finish that part yet. Probably be a set size in alpha.
Oh, but the good news is, occasionally you'll find a stash interface in some far-away dungeon place, so you can offload your goods and keep exploring. Then, whenever you're back in the city, you can just withdraw those stored goods and sell them.
All in all, it was an easy and quickly implemented feature that really improved the game during tests. I'm sure it will add huge convenience to the player too.
Feedback? Help?
I really need some help with placing these. How many of these hubs would you like per scene? One stash in each corner? One central stash? One next to every marketplace? Do you guys want to see these in dungeons? Any feedback will be greatly appreciated, and probably affect the positioning of Player Stashes throughout the game world.
Please tell us what you think on the forum post regarding this Dev Journal — here.
Note: The one in pictures above is not set in stone either.