Greetings CardLifers,
We've had an extraordinarily busy week on the CardLife team! We launched the game into Steam's Coming Soon section (which lots of you wishlisted - thank you!), we started work on a new trailer and we made lots of progress towards our next big build for the game. We have lots to talk about this week, so let's get cracking!
New Creatures - Pemu and Direwolf
We revealed our first hybrid creature, the PEMU, last week and the response was really positive. This week we are happy to reveal our second new creature coming to CardLife - the Direwolf. These creatures will appear within the packs of wolves you see in the open world and essentially function as pack leaders. The Direwolf has more health than the standard creatures, can cause more damage per hit and will drop more meat when vanquished to account for the additional risk of taking them on. The Direwolf also drops Dire Wolf Pelt and Dire Wolf Tail when vanquished. The former is a component of the coarse hide and bed duvets recipe and the latter can be used to enchant weapons to give them additional armor penetration. These two new creatures will be live in an update coming next week.
Trailer Sneak Peek
The art team is working hard on a brand new trailer at the moment. This is vitally important for us as the trailer that we launched earlier in the year is very out of date, and obviously Steam gives us an opportunity to attract new players to the game. Here's a sneak peak of the town the Art Team built together over the past 2 days. Say hello to our beautiful buildings!
Incoming Server Wipe
We will have one more server wipe before we launch on Steam early October. This will be the last planned server wipe for CardLife and it's scheduled in for the first week of October currently. That date will be further nailed down the closer we get to it, but in the meantime we highly recommend everyone document their creations in video or screenshots.
Please Wishlist Us on Steam
As mentioned CardLife launched onto Steam's Coming Soon area this week. This was a momentous occasion for the whole team and we wouldn't have gotten this far without the support of all you founders! Everyone of you will receive an opportunity to transfer your ownership of CardLife across to Steam prior to the Early Access launch, but in the meantime we need your help. Please, please, please help spread the word about CardLife to your friends and do us a massive favour and wishlist the game. Every person that wishlists CardLife aids the discoverability of the game on Steam and the more people that discover CardLife the quicker we can grow the community, grow the development team and deploy bigger updates in a faster more polished fashion. Also if you meet us at EGX we'll definitely give you a hug.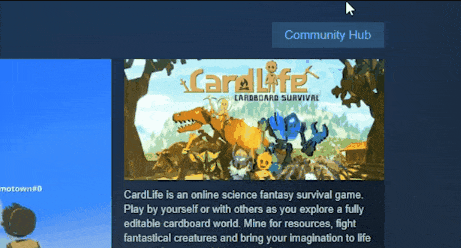 Meet us at EGX
That's right, CardLife will have its second showing at an actual proper gaming event next week! We'll be showing off CardLife in in Birmingham, UK as part of EGX 2018. You'll be able to play the game, talk to Chris and Andy from the community team and pick up some of these super cool game cards too.
FEEDBACK AND QUESTIONS
That's all for this week. Again, thank you to everyone who has wishlisted CardLife so far and those who have purchased the game You all absolutely rock and together we can make our cardboard survival game truly something special.
As always let us know your thoughts about this week's Devblog and CardLife in general via Facebook, Twitter, Reddit, Discord and our Official Forum. We want to make the best game we can and we can not do it without the help and support of our wonderful community.
Thanks,
Andy - Comms Manager