Hello and welcome to blog #118, we have been very busy working on new vehicles and the game itself. But enough of the intro, let's see what's new!
---
Harkonnen Buzzsaw
The Harkonnen Buzzsaw is a fast moving, weak armored early rush vehicle. Equipped with two machine gun barrels and a very large circular saw on which it moves on, this unit is great for early game harassment. Modeled and textured by Venom775.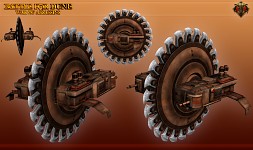 ---
Harkonnen Flame Tank
The Harkonnen Flame Tank is medium amour close quarters vehicle, armed with two flamers and fairly fast moving. This unit deals decent damage to infantry and vehicles alike, also inflicting good damage against structures. Modeled and textured by Venom775.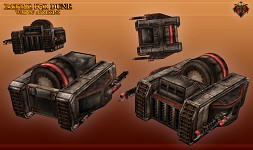 ---
Harkonnen Missile Tank
Another model by Venom775, the Harkonnen Missile Tank is a lightly armored fast moving vehicle. Armed with two missile pods which fire fairly high damaging tracking missiles, perfect for anti air combat. This unit is very effective at long range combat and against structures.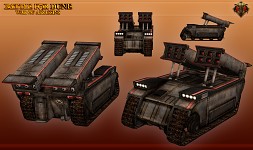 ---
Atreides Sand Bike
The Atreides Sand Bike modeled and textured by Venom775. This unit is lightly armored, fast and equipped with a light, top mounted machine gun. It is a cheap unit effective against infantry and other light vehicles, perfect for early game rushes.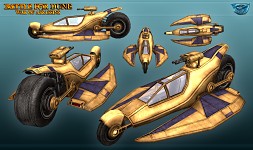 ---
Ordos Barracks
And lastly, Venom775 has been very busy with the new and improved Ordos Barracks exterior. Due to a lot of our buildings being outdated and needed a nice new model, the Ordos Barracks was the first to get worked on. The Barracks is key to almost all infantry upgrades, when lost the House can no long gain higher class infantry.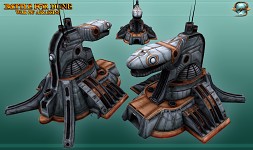 ---
Recruitment
Battle for Dune is looking for modelers, texture artists, unwrappers, riggers and infantry modelers. If you are interested then please either PM me(TeamWolf) here on Moddb, our site saying why you would like to join the team and some recent work or apply in our recruitment section here.
---
What the Thinking Machines met..
This is another end to another blog, we hoped you enjoyed it and continue to follow us here, on our Site, over on Facebook or on Twitter!