Hello and welcome to Battle for Dune: War of Assassins blog 116! We have been fairly busy with the holidays and working on our latest internal build.. And some of what's down below!
---
I have modelled up the walls, currently untextured. Walls are the best defence against outside enemies, protecting your base and keeping people out! Each house will have the same designed walls, made out of Plassteel and a Plascrete foundation.
---
Venom775 has finished modelling and texturing the Atreides Light Infantry rifle. This is a much more advanced version than the Engineer's model, it deals more damage, has a longer range and is slightly more accurate!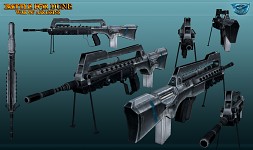 All Atreides Light Infantry will be equipped with this rifle.
---
Tleilaxu Leech and Larvae
Methelina has been busy modelling and texturing the Tleilaxu Leech and Larva!
The Tleilaxu Leech is a biotank that attacks other vehicles by laying it's larvae on and into the vehicle. Once the vehicle's health has been reduced to zero, it will then spawn into a new Leech! The Tleilaxu have engineered them this biotank to travel fast across most terrain, at a cost of very weak armour.
The Larva is a small creature that will be layed onto of an enemy vehicle. Then it will start to work it's way inside it, slowly reducing the vehicle armour and health. The only way to prevent this happening is by shooting it off or repairing it via a repair vehicle.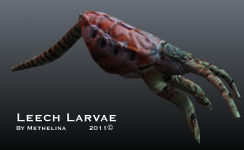 Neither of these units will be in our first release, due to being subhouse units.
---
Atreides APC
Venom775 has been busy modelling and texturing our new Atreides APC. After much talk, we decided to completely remake the the APC due to the older model just not looking like the fully detailed version in the Tlielaxu & Ix cutscene.
So Venom has come up our with this! The Atreides APC is a medium armoured cloaked transport vehicle, which travels at a fairly fast speed. It can carry up to 5 troops at once, including the driver and is equipped with a Anti Infantry Flak Cannon.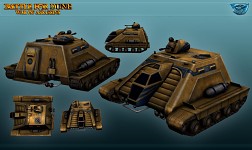 ---
Recruitment


Battle for Dune is looking for texture artists, unwrappers, riggers and infantry modellers. If you are interested then please either PM me(TeamWolf) here on Moddb, our site saying why you would like to join the team and some recent work or apply in our recruitment section here.
---
That is it for this blog, be sure to keep following us here, over at our Site and on Facebook!