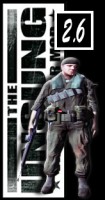 Unsung 2.6 Released
09/08/14
It's finally here !
We set out September 2013 to correct errors and bugs with our 2.5 release, and yet again it exploded to be our biggest release to date. With the help of new, keen and talented team members this time we are releasing something very special.
The unsung Vietnam war mod has evolved and broken new ground in the Arma series. This time bringing you never seen before concepts pushing the engine to its maximum potential.
Most of our place holder models have been updated with host of new Weapons, Planes, APC's , Helicopter variants & New ground units to name a few. A complete faction overhaul , kitted out with new and improved weapons replacing our old and outdated ones carried in from from previous releases. Version 2.6 hosts more new kit for you to explore along with some new and interesting things to find in game.
Whilst our focus has been on intensity and atmosphere, this time it has been taken to the next level. This release will undoubtedly quench the thirst of community members whom want to play a mod that actually takes you deep into the combat where you will feel the sweat on your brow, as swarms of NVA and VC come at you screaming, as you empty you m16 in the thick dense jungles of South East Asia.
2.6 Release Highlights
- A6 Intruder by Aplion
- E2 Hawkeye (operation French point Mod) Reconfigured to "E2-B" model by HC Pookie
- F105 D & F models by Pookie
- A4 Skyhawk C & E models original model by project 82 mod , remodeled and re textured by Pookie and Brainbug
- Mig 19 – By Pookie
- AH-1G new chin turret with mini-gun and grenade launcher combo & new customized load-outs (HCPookie)
- 7 new sampan models (HC Pookie)
- 2 New NVA fictitious PBR Patrol boats (HC Pookie)
- New custom made ordinance Kab250, kab500, mk83, mk84, CBU24B Sadeye, BLU bomblet, AGM12C Bull pup, AGM45
Shrike,GBU8 HOBOS, Mk77 Napalm (Myke)
- New targeting interface and custom load out system for all planes (Eggbeast)
- Added new animated barrels and reload animations to M2's on PBR , m48a3 and Sheridan(HC Pookie)
- Main guns on Sheridan and M48 now have recoil effects animation. ( HC Pookie)
- Added Shell casings to minguns on the uh1 gunship , ah1 cobra and oh6 cayuse (Eggbeast)
- 4 new uh1c variants , M21 , M6 , TOW, ARA (Pookie)
- PBR upgrades new commanders position with working movable searchlight, other lights for driver and front gunner.
- Added new PBR versions the MK19 Grednade Launcher and Zippo versions. (Pookie)
- Added new uns_missile box (eggbeast)
- M105 an M114 howitzers added (vilas)
- Added new loadouts for all combat jets (Eggbeast)
- Updated support module and radio interface ( Columdrum and Von Knudenberg)
- Now able to switch RTO radio sounds off and on in the field (Columdrum)
- Added NEW extraction module (Columdrum)
- Added 4 new military radio chatter files an extra 25 minutes more (Sav)
- New gun sounds to nearly all weapons in arsenal including authentic magazine reload sounds (Sav)
- Added new internal start up and shutdown sounds to the CH46 & CH53 (Sav)
- Lightened texture on A7 navy version fuselage to match Navy F4E (BrainBug)
- M113 & M163 new texture colours (BrainBug)
- New GUI interface for radio support system , added PRC-25 and PRC-90 (Von Knudenberg & Columdrum)
- Massive unit and vehicle faction clean-up and restructure (Eggbeast)
- Major weapon model upgrade (Vilas, Von Knudenberg and Deman)
- New SNR75 Fan Song Radar array (Pookie)
- 2 new Mig21 variants based of Aplions original F version (Pookie)
- New silencer / Knife scripting certain weapons ( Eggbeast )
- Dustoff / Evac module (Columdrum)
- New M113 variants , M2, M60, Zippo, M106 mortar carrier, M1919, ACAV versions with side m60 gunners ( Pookie)
- 3 new Type 55 APC variants ( Pookie)
- Water Buffalo ( Von Knudenberg)
- New CH34 M60 version for usmc and ARVN sides (Pookie)
- New ARVN rangers faction (Bigstone & Von Knudenberg )
- 2 new Islands Phu Bai and Meekong Delta (Showmaker)
- 2 new mobile arty guns m107 and m110 ( Pookie )
- USMC Amtrac (PGI)
- Ch-54 Tarhe heavy lift chopper (Pookie)
- New M-151 willy jeep models (Vilas / Pookie)
- Folding wings on all navy planes -Auto initialised when on carrier deck – (Pookie)
- New animated flight surfaces on planes (Pookie)
- New randomised nose and tail art for uh1 gunships – (Bigstone)
- New random numbering/Pics and clutter items on m113 fleet ( Pookie)
- New Custom hand animations for unsung rifles and SMG's ( Von Knudenberg )
The unsung team have would like to thank the other mods and individuals that have again, generously donated their time and effort to expand the Unsung Arsenal.
Namely,
Our good friends Aplion, Brainbug, Spockvf101 Myke, Vilas ,Jdog, Foxtrop, Kommiekat, Nettrucker and Nightintruder
Also The Operation Frenchpoint Mod, (Special thanks to Cybergirl and Ikår) and Project 85 mod.
Unsung 2.6 Release Video by Von Knudenberg
NOTE: Check out the DOCs folder under @uns --> Docs for how to use our modules and special features or download from here :
A Special thanks to those whom patiently waited and followed our mod. We are sure you will find it was worth the wait. There will be some bugs here and there, however we are setting up a bug reporting thread on Dev Heaven shortly. We will endeavor to correct and errors and bugs in our follow up 2.7 patch.
Please remember to rate us here in mod DB
Good luck out there …. You gonna need it
The Unsung Team
Download Links:
PLEASE READ THE LICENSE HERE
Mega NZ - Installer Version (Recommended)
Mega.co.nz
Mega.co.nz
Mega.co.nz
Mega NZ - Non- Installer version: Mega.co.nz
Armaholic :

Six Updater:
Other mirrors to follow