Trade Secret Art Competition!
3/31 - 4/22
The Trade Secret team would like to formally invite you to partake in an art competition. We want to give the community a chance to offer up their creative input, and more importantly, show off their work!
Over the next three weeks we will be accepting any
of the following pieces for consideration:
Armor Model - Model a full set of armor for the player character to wear!
Armor Concept - Concept an interesting & cool armor set for our modelers to create!
Weapon Model - Model a unique weapon for the character to use!
Weapon Concept - Concept a new weapon for our modelers to create!
Main Character Alternative Texture - Create a new look for our main character!
If the team really likes your piece we'll put it in the game and give you full credit. Offensive or trademarked material will not be accepted. The final deadline is April 22th, after which we will begin reviewing submissions.
Theme Guidelines:
Trade Secret is a 2.5D action-adventure platformer set in a post apocalyptic world deep underground. Society is cut off from the surface and has fallen into chaos; Scavenging & Salvaging are necessary for survival. If you can't build it with your hands, chances are you don't have it.
"Junkyard Hero". Armor and weapons created from whatever can be scavenged. Equipment can use one of three energy types: Clockwork, Hydraulic, and Tesla. Not all items have to use energy, but it is a major feature of the game. If you need further reference here are some of our current Armor/Weapon models.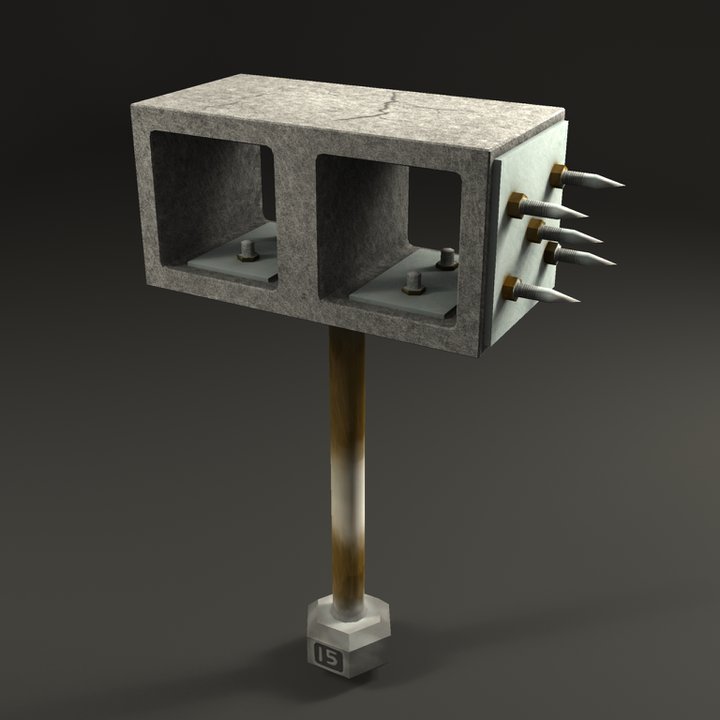 Cinder Block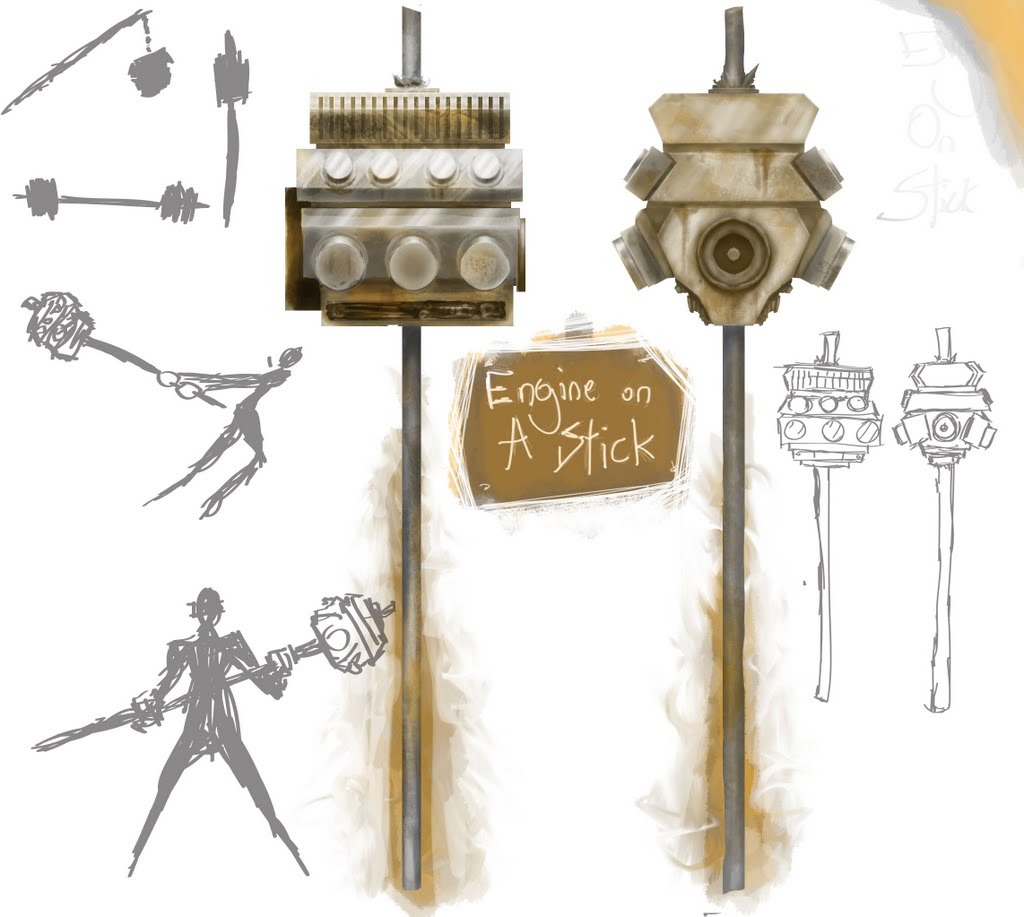 Hammer Engine on a Stick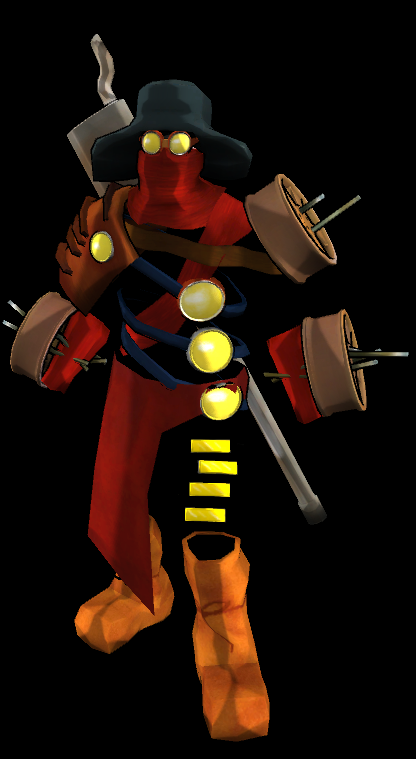 Ukravtaprom Armor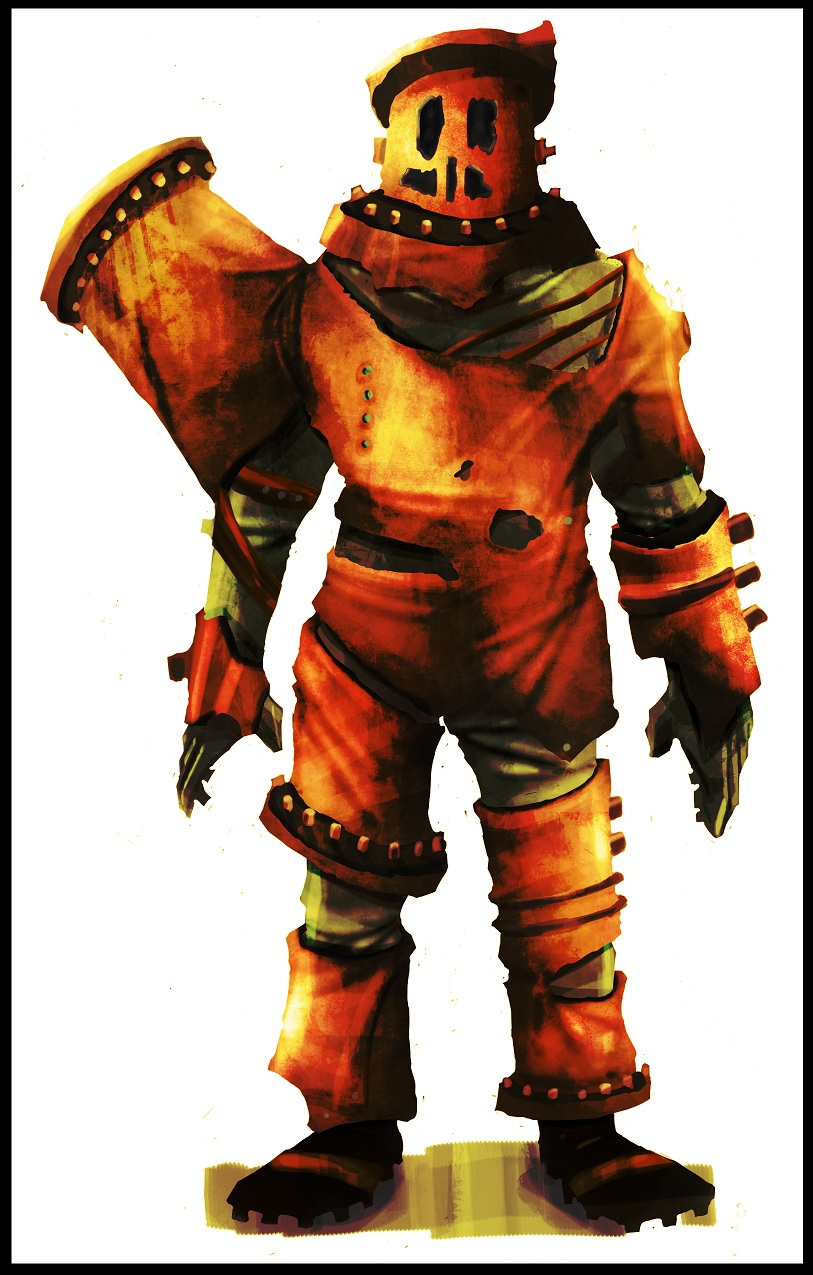 Mad Pipe Armor
Finally, if you are still looking for inspiration, why not play the current version of the game? Check it out at www.tradesecretgame.com
Technical Guidelines:
How big? How many tris? What format? Can I bring my own cake? These questions are answered here.
Concept Art
Please submit your art as a JPEG at a minimum of 200dpi at 1024x1024
Models
Armor under 6k tris.
Weapons under 3k tris.
You can go over by a couple hundred, but be reasonable!
Texture
2048x2048 diffuse
2048x2048 spec, glow, or normal (Only two maps total please!)
(The main character model should be attached to the post)
How to submit:
Once your work is completed, email it to:
TradeSecretGame@gmail.com
Please send the final version zipped with your name in the file name. Zipped submissions must be less than 20mb.
Legal:
IN NO EVENT WILL TRADE SECRET BE LIABLE TO YOU FOR ANY LOST, DAMAGED, LATE, OR UNFINISHED SUBMISSIONS ARISING OUT OF YOUR USE OR INABILITY TO USE THE PRODUCT AND/OR SOFTWARE OR THE BREACH OF THIS AGREEMENT, EVEN IF ADVISED OF THE POSSIBILITY OF SUCH DAMAGES. WE ARE NOT RESPONSIBLE FOR ANY WORKS SUBMITTED THAT ARE TRADEMARKED, PREVIOUSLY COPYRIGHTED OR NON-ORIGINAL WORK. IF SAID SUBMISSION(S) ARE FOUND AND VERIFIED TO BE IN BREACH OF OFFICIAL CONTEST RULES, THE SUBMISSION(S) WILL BE INVALID. ALL ORIGINAL WORK SUBMITTED BY CONTEST ENTRANTS WILL NOT BE RETURNED. WE WILL RETAIN THE RIGHT TO USE YOUR SUBMISSION IN TRADE SECRET AND ALL RELATED MARKETING MATERIALS WITHOUT COMPENSATION TO THE CREATORS.
Prizes:
Winners will be announced on April 29th. Each category may have a single, or multiple winners. Winning art will be incorporated into the game, and all contributing artists will have their name included in the credits.
We will also make a 3d print of any winning models, and send them to the winner.
Concept Art: Concept Pieces will be turned into a model and be textured to be used in game.
Models: Models will be textured and used in game.
Textures: The best Main Character re-skin will replace the current in game texture we use.
You have until April 22th to submit your Armor/Weapon Model/Concept or Main Character Texture to us at TradeSecretGame@gmail.com . If we like it, it will go in the game; if not, I hope you had fun making it & feel free to use it for your own purposes.