ModDB was born in 2002 as a simple way to showcase mods that Scott (the site founder) thought were fantastic. Back then there was no easy way to find mods and Altavista was still the search engine of choice. ModDB quickly became something much more useful then a list of one man's favorite mods, it became a hub for developers to showcase their work to the world and naturally because of this our community was born.
While the site grew into a PR powerhouse it missed that truly definitive list of the best of the best. It created a fantastic site but left us without a way to showcase those who truly deserve to be recognized! Until now that is...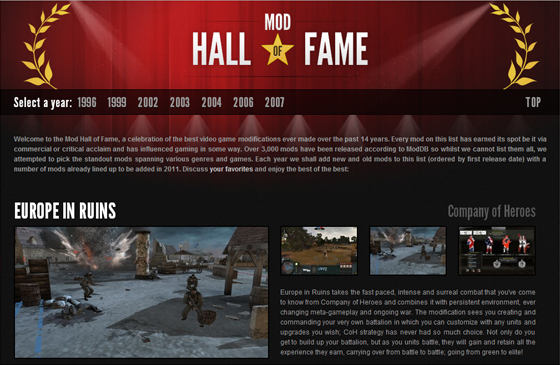 The Modding Hall of Fame is a collection of the very best mods that have graced the Internet, mods that have changed how we approach gametypes, the trend setters that spawned clones both in commercial games and other mods, the mods that cause us to think or re-think how we feel on things and the just plain awesome. These are the type of mods we WANT the world to see, either for the first time or once again!
Each year we plan to add a few spectacular mods to this prestigious list, either new or old but rest assured the mods we do pick deserve to be there. So make sure you check out the site, we would love to hear your feedback on what you think of the website itself and if you have any nominations you would like to see added, after all it's something we built to help you guys out!