Five incredible, best-selling games. Humble Indie Bundle V features five modern masterpieces and their soundtracks. Experience the fear and paranoia of Amnesia: The Dark Descent; the intensity and impact of LIMBO; the zany characters of Psychonauts; the future-retro, audiovisual concoction of Superbrothers: Sword & Sworcery EP; and, for customers who pay more than the average price, the exquisitely crafted action-RPG, Bastion.
Pay what you want. If you bought all these games and soundtracks separately, it would cost around $110. But we are letting you set the price!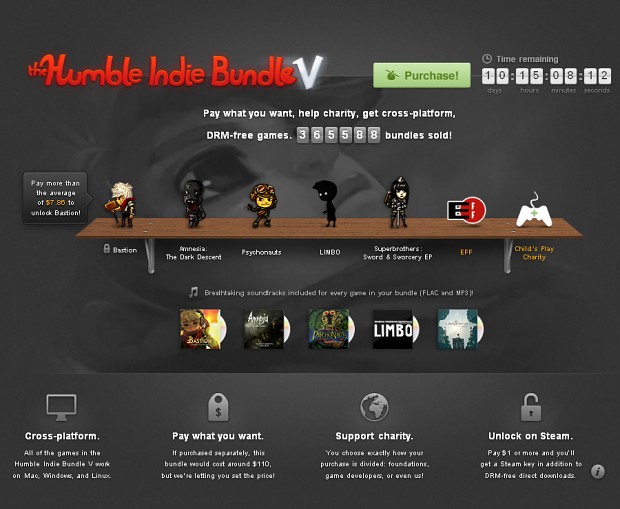 The games work great on Mac, Windows, and Linux.
System requirements are here: Support.humblebundle.com
You can support charity. Choose how your purchase is divided: between the developers, the Child's Play Charity, or the Electronic Frontier Foundation. And if you like this deal, a tip to Humble Bundle would be much appreciated!
The official website: Humblebundle.com
The ModDB Humble Bundle group: Moddb.com
Bundeals group: Moddb.com