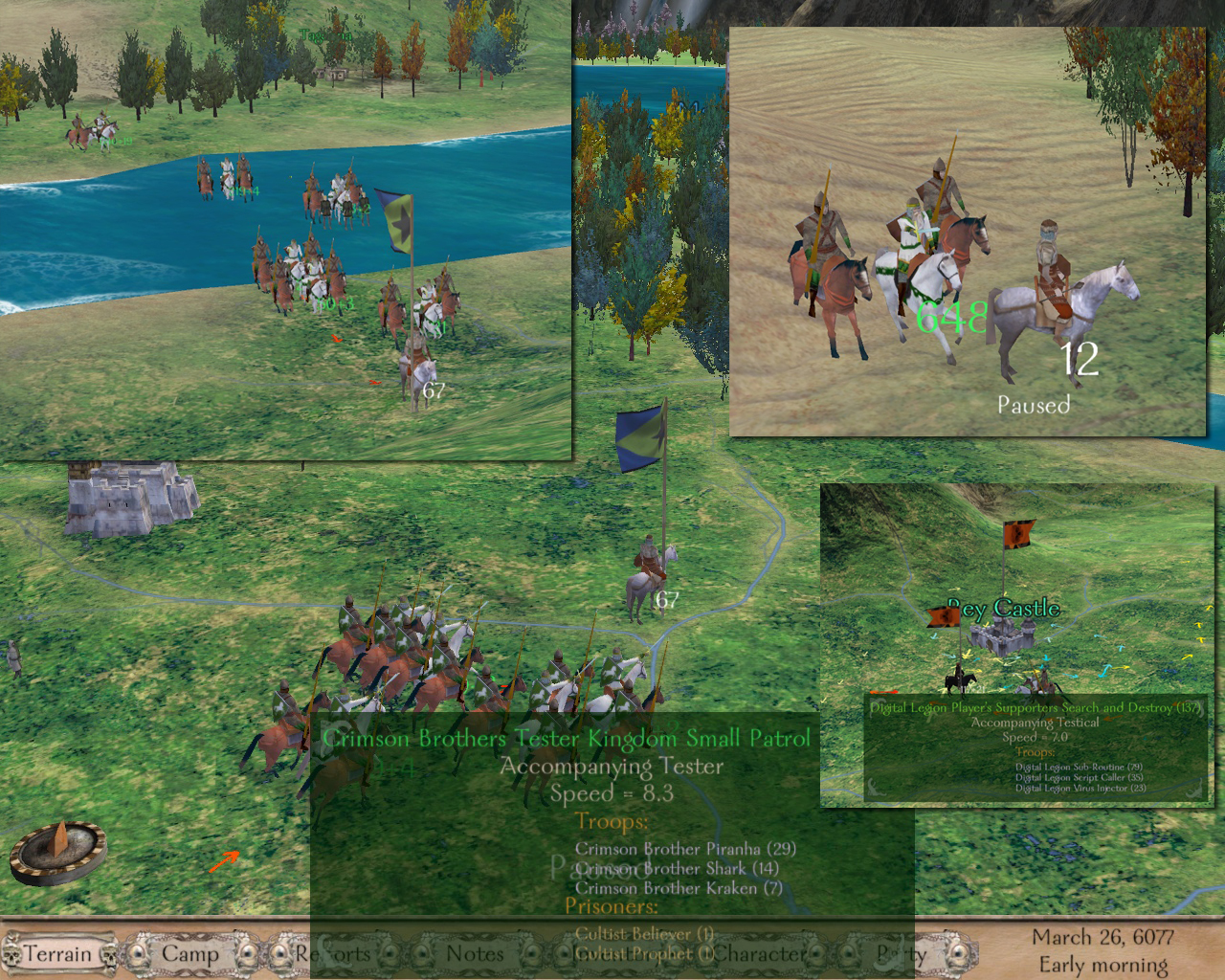 First, what do you need to check out new features?
- you have to be a lord, own a castle or town
- if you are a king/leader of faction you will see full power of new features
If you are just lord with a castle or town, you can establish an Order. There are six orders with different capabilities of their troops. At best you should check it yourself. You can even use scenario, when you command a small duchy and try new features, look at different orders.
Orders have sergeants, knights, paladins and beasts. To know more about orders you should speak to order diplomat.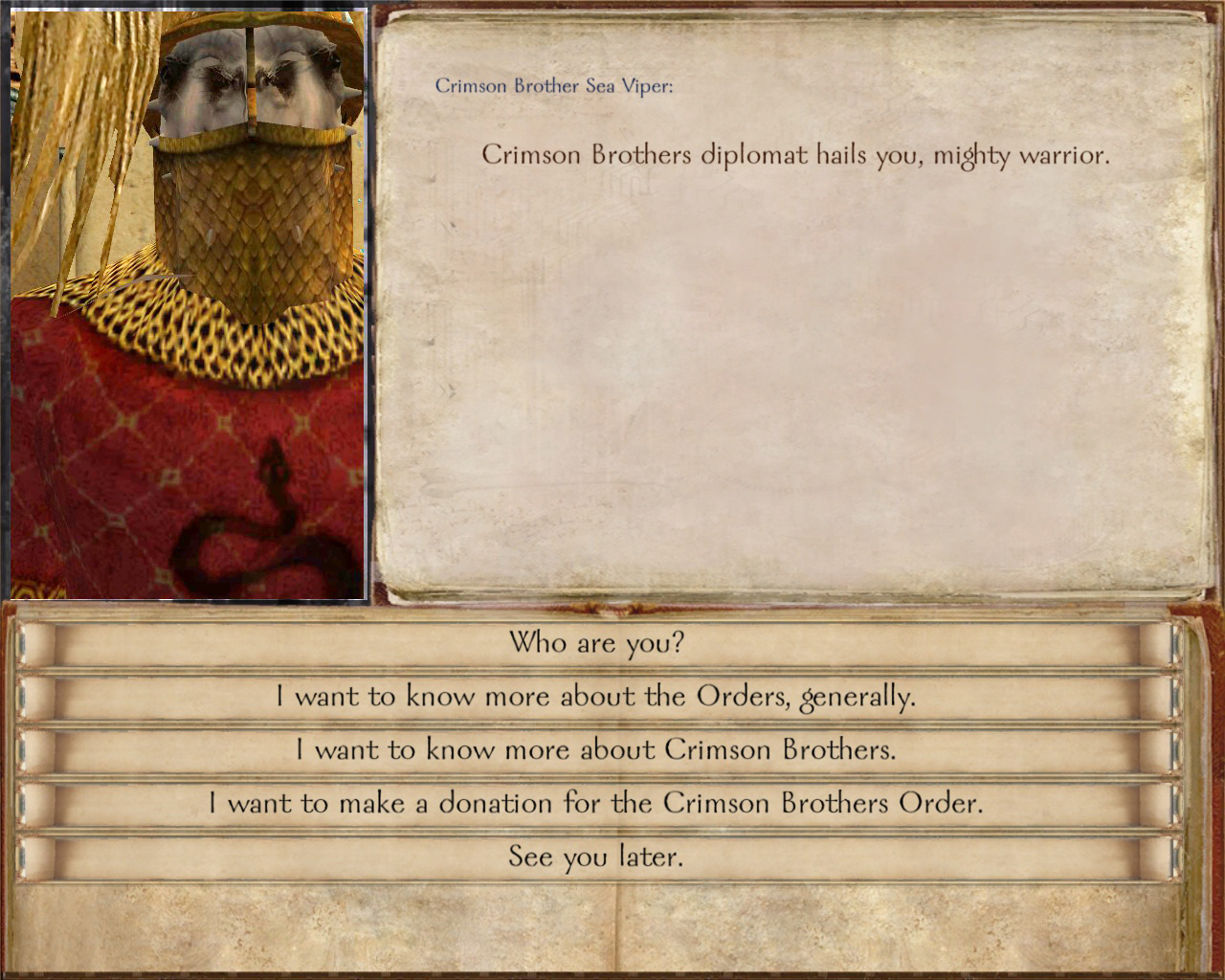 You can ask generally about orders, or ask specifically about any Order.
Beginning from the start. First thing - you need to establish an order in your town or castle. To do it use new option in town/castle menu. You need an order license, you have one at start, more you can buy from merchants or gain by capturing leader of any faction, or a boss. Talk with them, and you'll see new dialogs: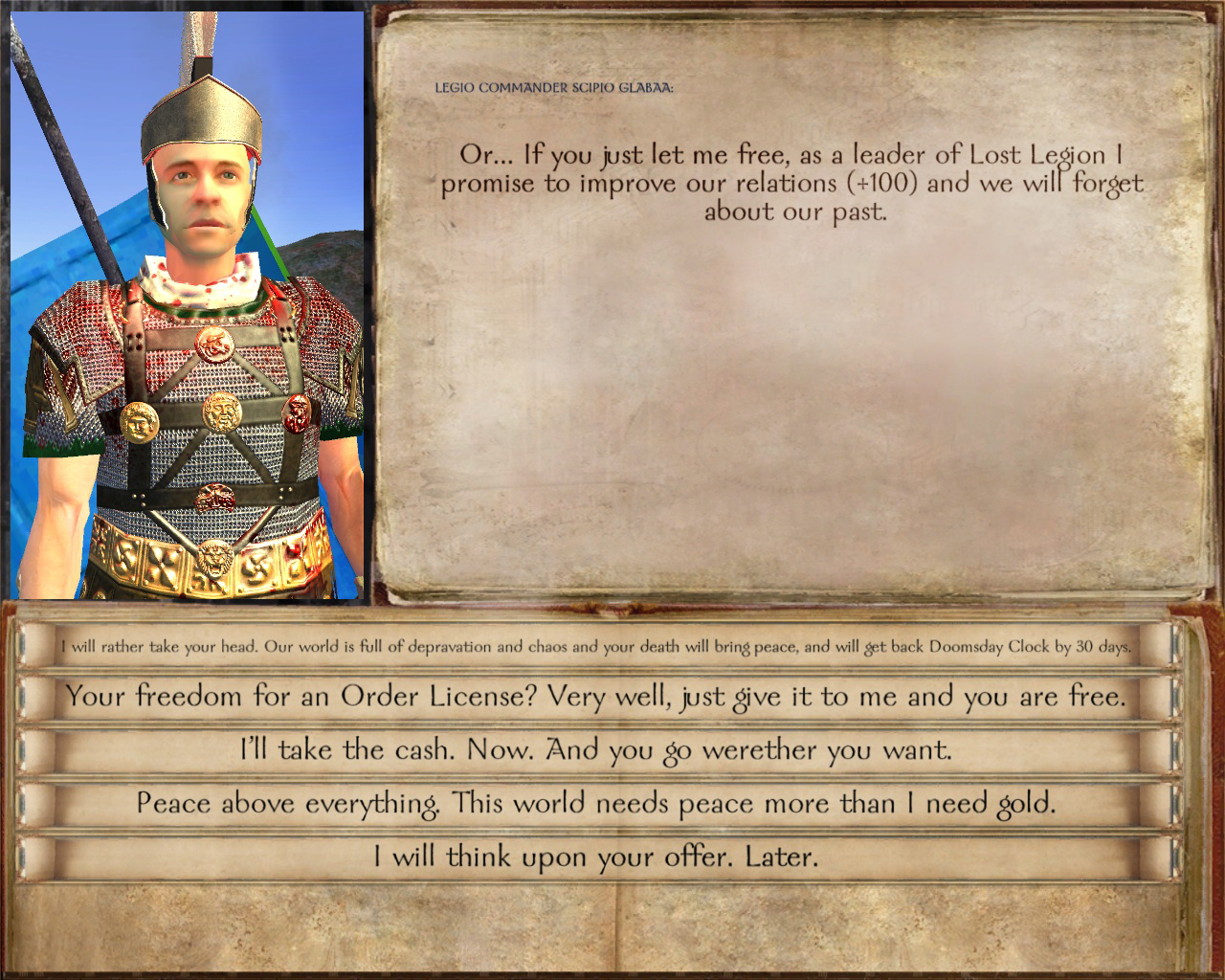 Also, speak with diplomats, they will tell you how to gain more licenses.
Then you have to establish an order. If you have needed relations. You can gain relations by donations, but... at character creation menu you can choose one order that will be at needed (20) good relations.
To recruit parties you need reputation points. Later there will be other ways, but now, the only way to gain reputation is to pay, 'donate' to order.
Theese are most powerful troops ever, so becoming friends with any order isn't cheap.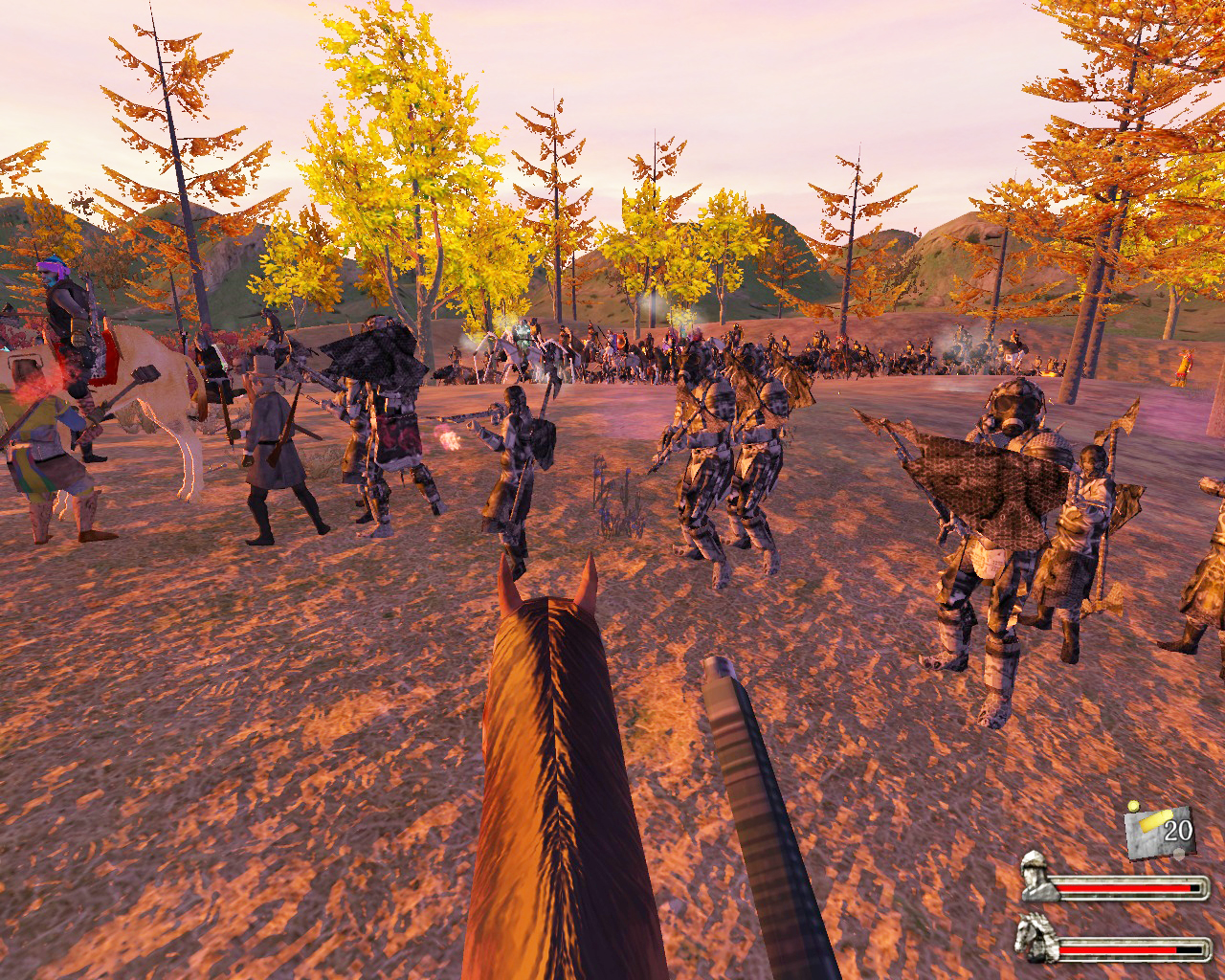 Orders can be upgraded. The higher level - the more troops will arive at your castle or town. At the highest level you will be granted honour of hiring beast - most powerful unit in the game. It has always great stats, but also a weapon that can do areal damage. Of course, there are beasts that are little weaker, then order troops are more powerful. Some beast have better stats, and weaker weapons.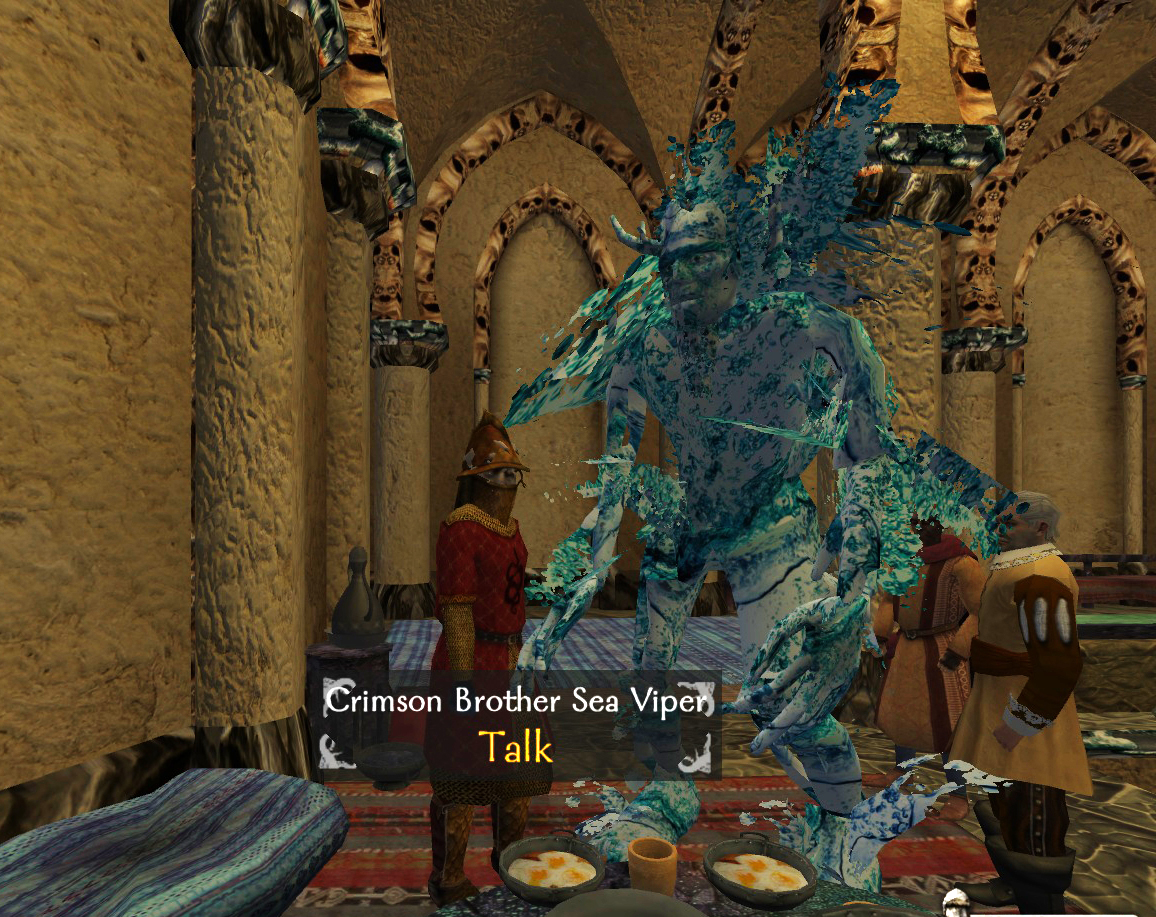 This blue giant is a Crimson Brothers beast, it is a Water Demon. It can fight hand-to-hand, but it's specialisty are water missilies, that can create area damage.
To hire a beast you have to spend Order license. This give you 3 beasts. You can hire them by "manage Order" town menu. Remember - you have to upgrade order to BEAST LEVEL first.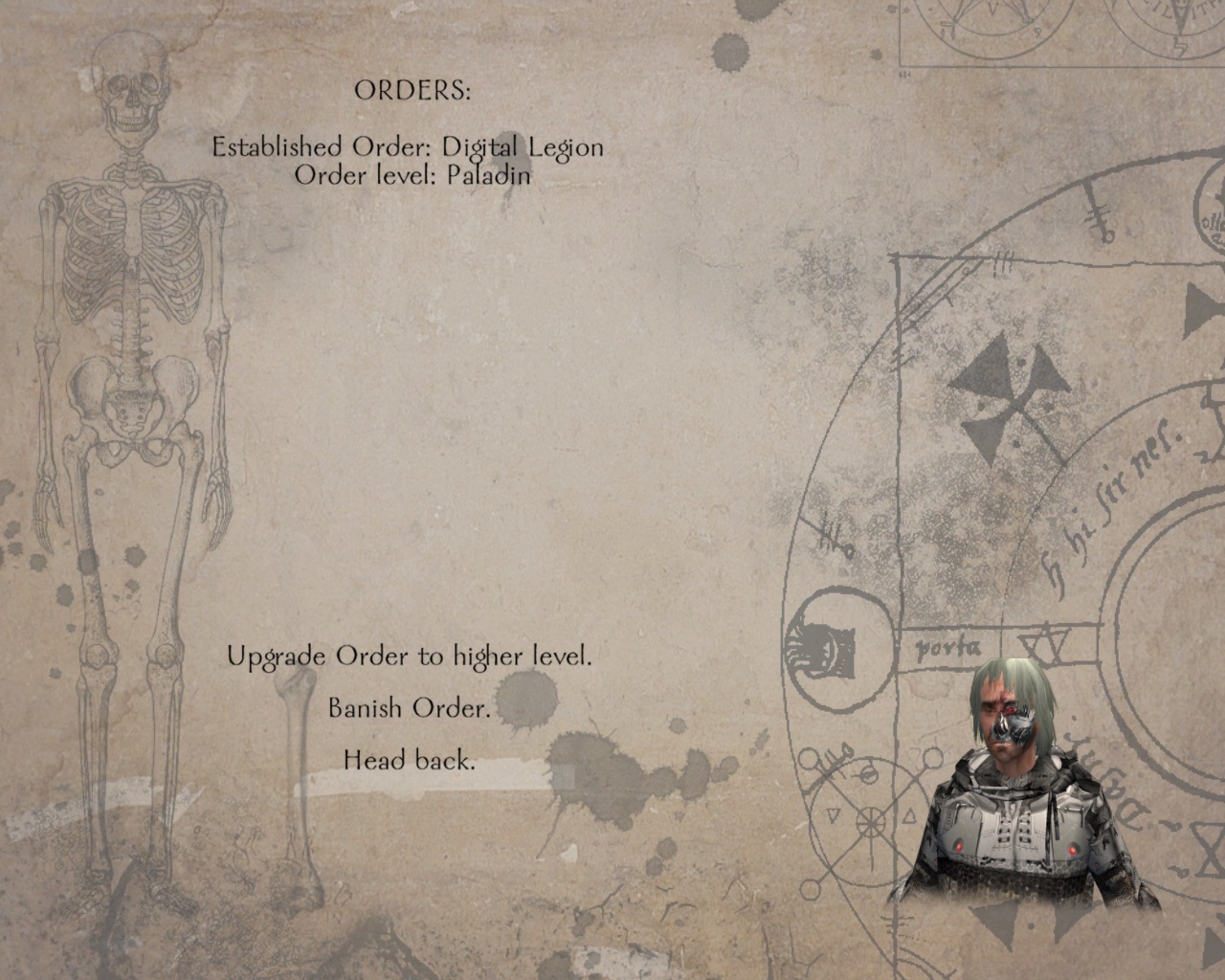 On this picture there is no 'Hire beast option' because order level in this town is to low.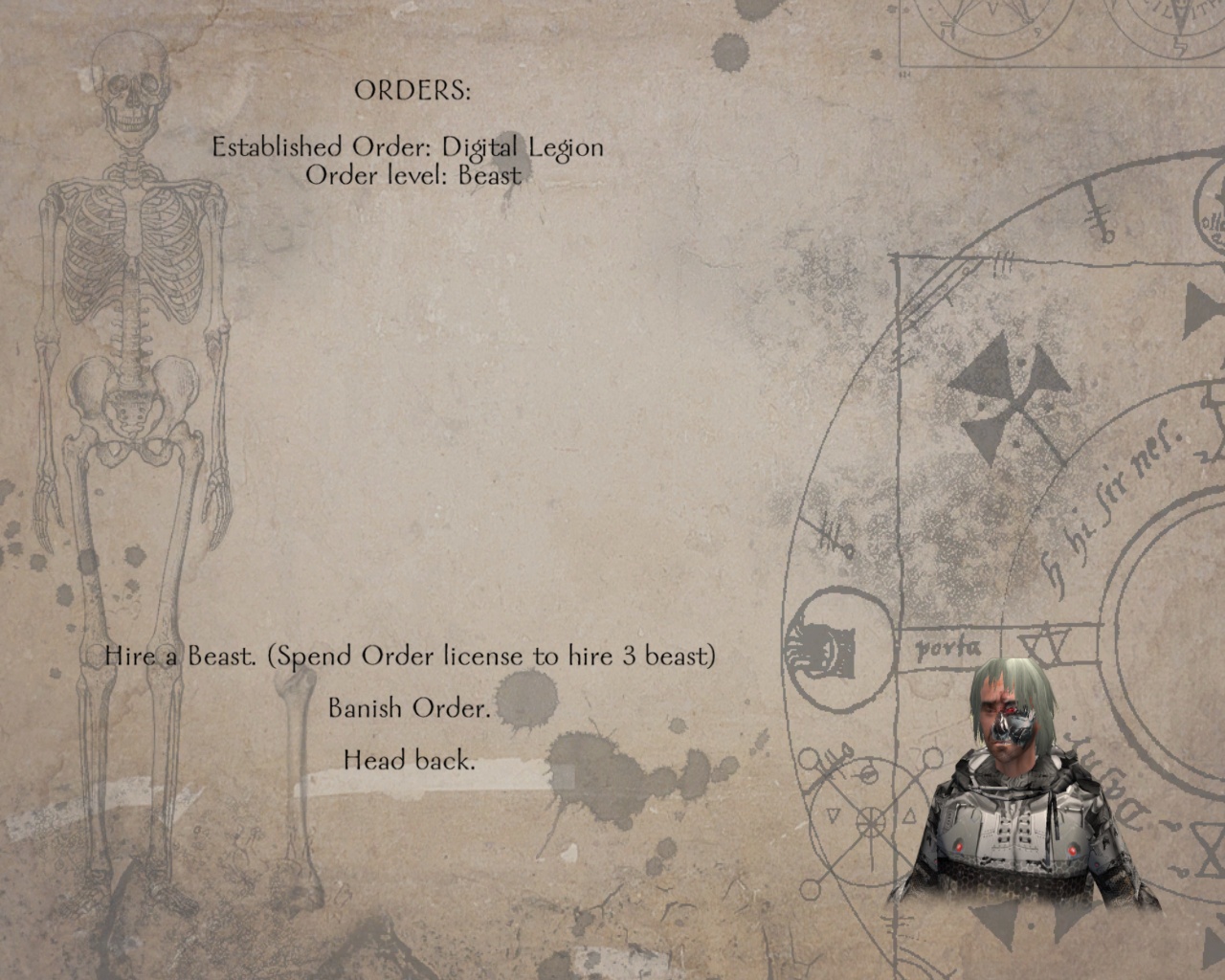 And on this picture, on the 4th level of Order you see 'Hire a Beast'.


On any level however you can hire mercenary party. You need to spend reputation points (gained from donation) however.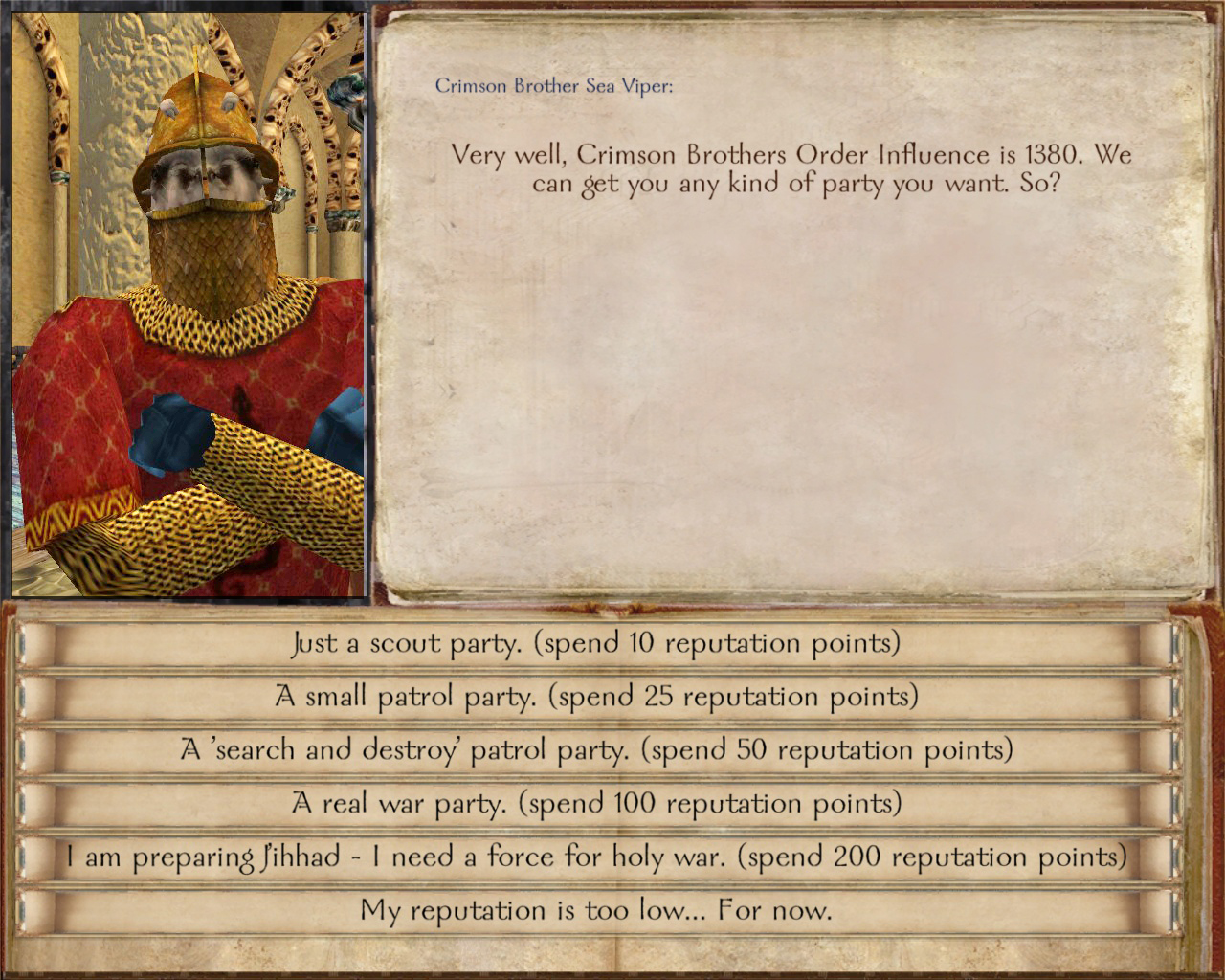 Order parties can be given specific orders.
Every order, is an action that has its target. Also is depicted by agressivness, courage, helpfulness and sometimes range. Low courage means that party will often flee, high - that will not fear even powerful enemy.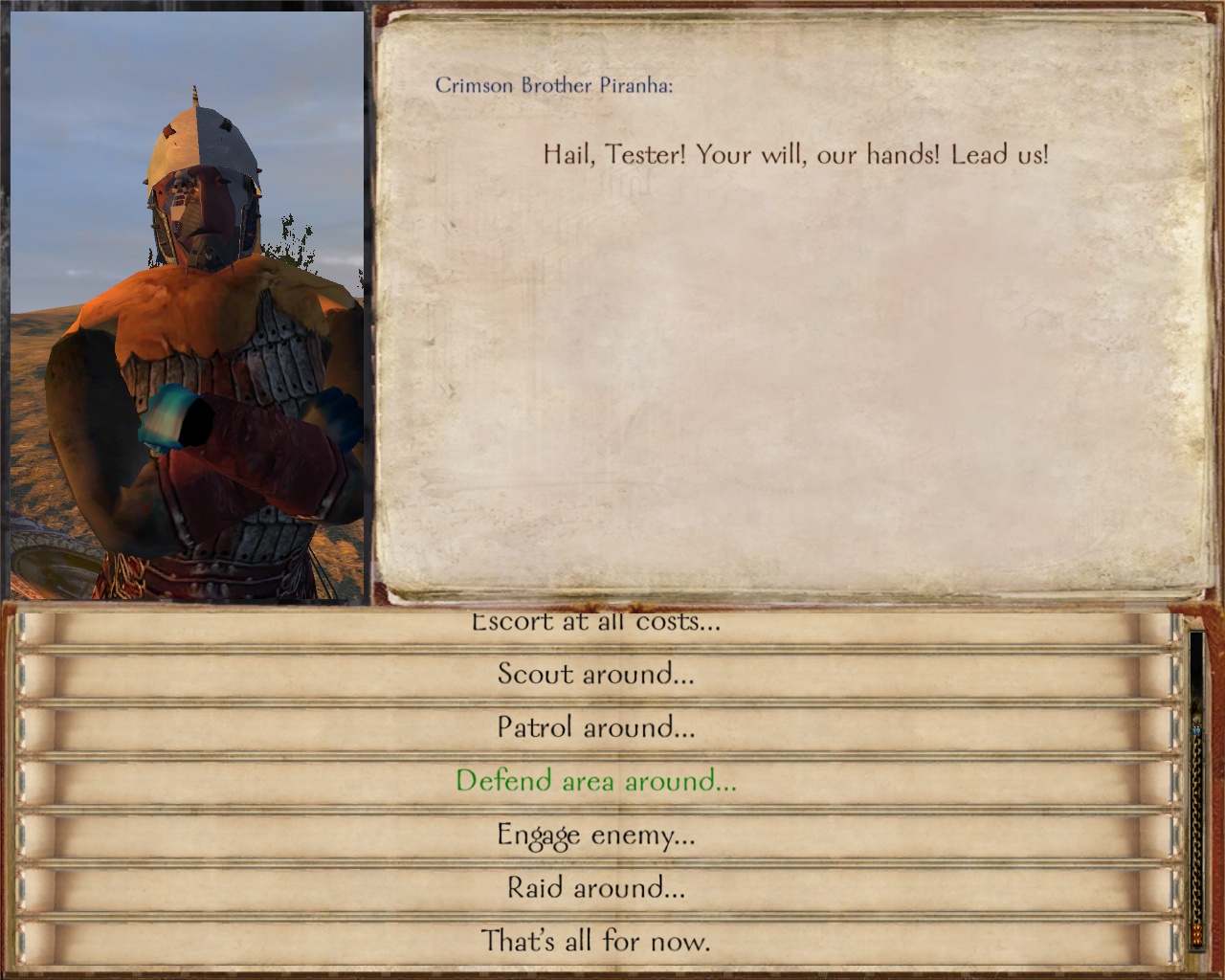 You can speak (just meet any 'your' party on map screen) with your mercenaries.
List of orders: - scouting - escorting - patrol - defend - engage (attack) - raid...
You can give order to escort your or any other friendly party. To learn about rules of engagement just ask your mercenaries.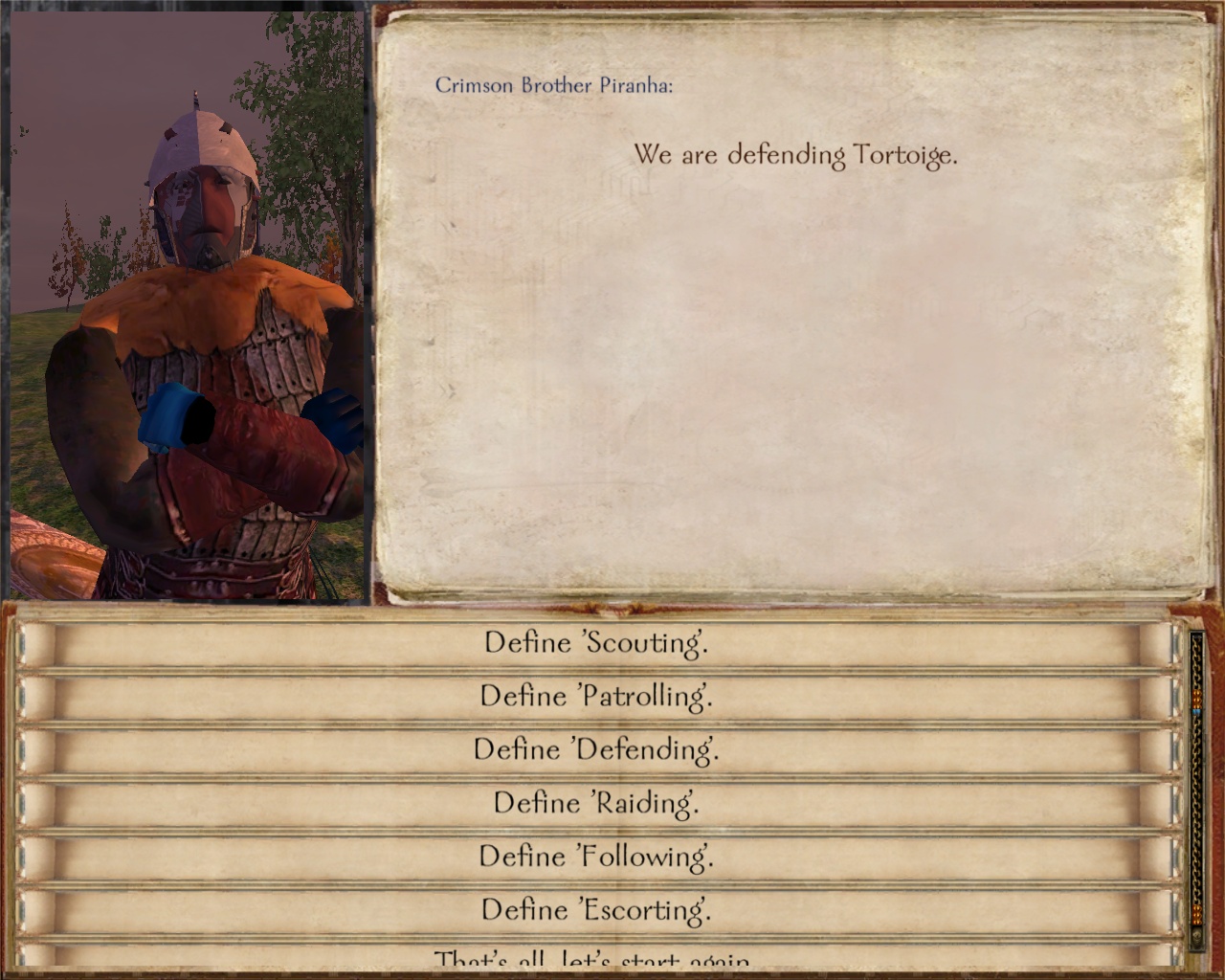 When you choose order, you will be asked to specify the target. For example if you order to attack party, you need to pick up target: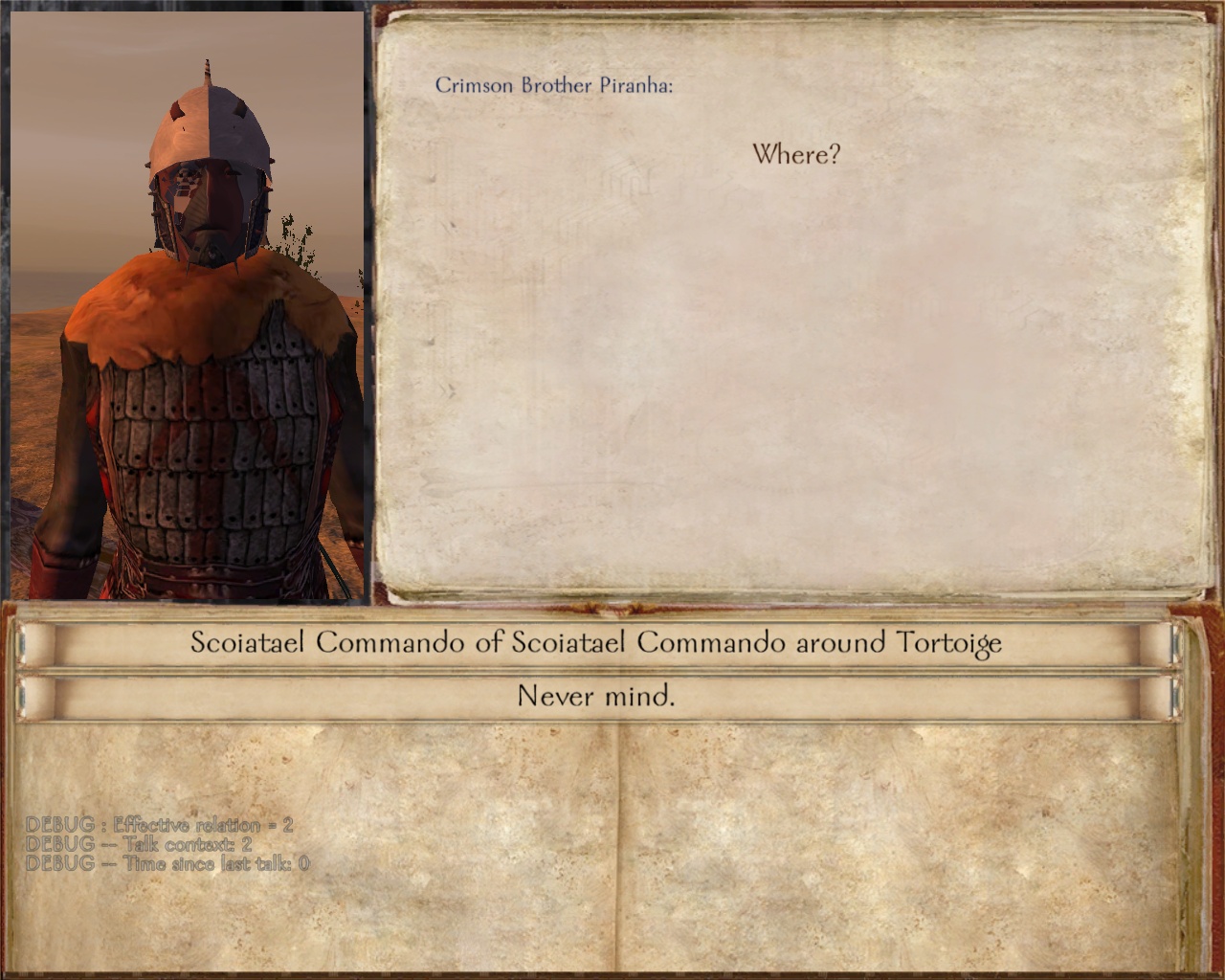 In this way, you can build up whole army of small or medium or even huge parties which will constantly escort you, defend or do anything you want.


However there are limitations. Parties will not help you in sieges, however they will engage any enemy party around you.
When created, party will act on their own, but when you choose secific order you have to keep an eye on it. For example when you give order to patrol certain village, party will do it until end of the game, or you change order.
But: when you give order to engage specific party, after that party is destroyed, mercenmaries will wait for new order. They won't act indepedently.
If you become a leader of your faction you will gain power to give orders even to faction parties like patrols, scouts, or mercenaries.
They have more limitations, you can give them only 3 kinds of orders: scout, patrol or defend. We don't want to create dominance over npc factions, that cannot give orders at all.


Probably in newest version Orders will gather small parties to help their 'owners' wage wars...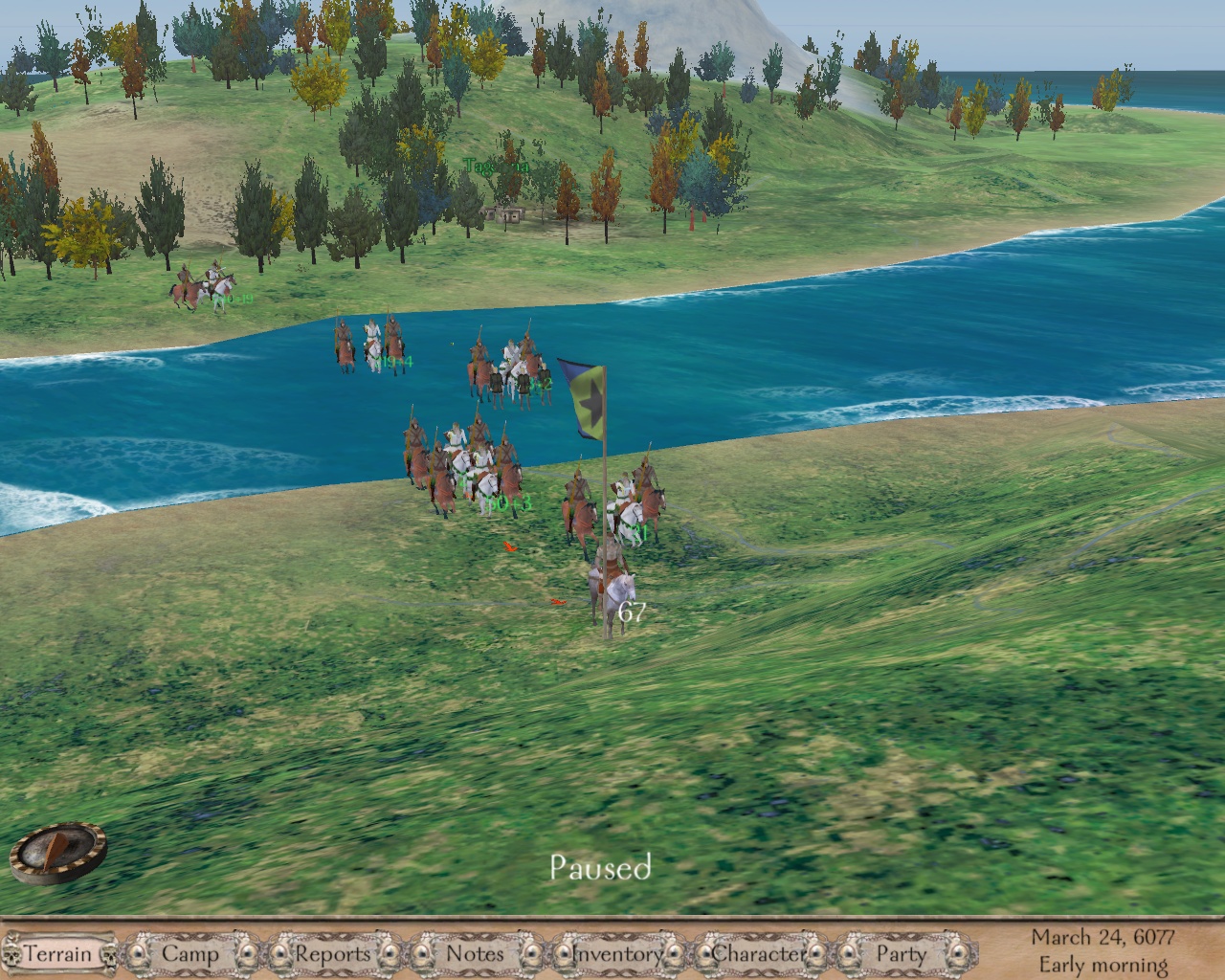 On the screen above - many different parties escorting player. Smaller set to follow - they will run from bigger enemies, and will not so likely attack anything around player. Parties that are set to "escort at all costs" are very agressive and will attack anything in vincinity that can pose a danger.
All orders given by player are scripted by simplified / tweaked AI, which generally is: more helpfull, will more likely help faction lords, and other friendly parties. Have specific agressivness, low for scouting (they will not enage powerful enemies, but are great to hunt quicker enemies), high for raiding, or excorting.
'Defend' order sets low range of patrol (so unit will be close to defended center) has medium agression, but high courage. So party will not run when encounter serious danger.
If you forget what your party is doing - you can always ask them. 'Report' order will give all needed info on current target.
As you see, with new abilities, player can created own flexible hordes, that can attack, patrol, scout, defend, raid any other party. That means, that you don't have to rely so much on other lords parties.