If rainbows could explode I'd bet they would look something like this: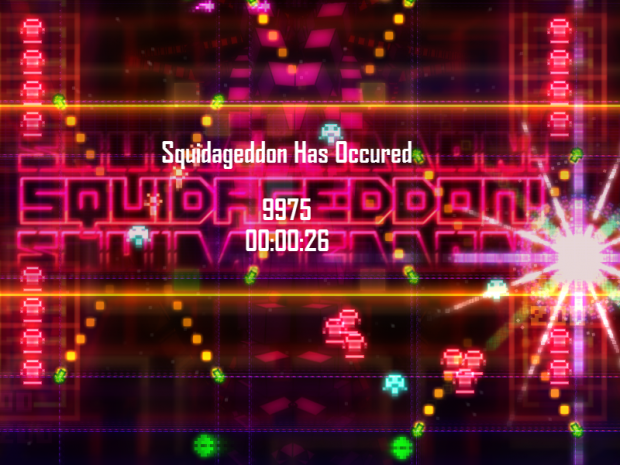 Squid Yes, Not So Octopus: Squid Harder is a game that hard to contain in just images or even video. It's one of those games that has just has to be played live, right in front of your eyes, to take in all of its epileptic frenzy. This video on the left comes closer to capture the excitement, but still doesn't quite do the trick.
The game itself is an arena-based SHMUP that delivers bite-sized sessions with instant and consistent gratification. It's easy to pick up and play, making it a perfect time filler (or palate cleanser) in-between larger games, and the hectic pace entertains with many WTF moments — your screen so jam-packed with eye-popping visuals that you don't even know how you survived.
The big news here though is that the space-faring squid could be headed to the XBox sometime soon, here's some work in progress media:
These new shots boast some new (temporary?) art, but the same zany OMGWTF screen-filled-with-exploding-rainbows moments. Of course, you can check out SYNSO: Squid Harder now on the PC before all your console friends can even get their hands on it!