Here's a little biographical insight into creating just one of the sounds for open Outcast...
The "pot being shot and smashing and clanging" sound (can be heard in the Oasis 1.1 Techdemo) was recorded using three microphones in a little sound dampened enclose in the studio room.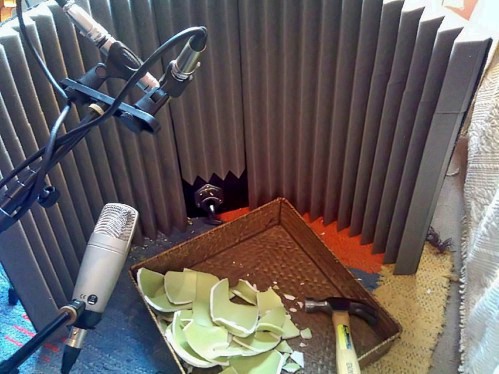 "Three microphones?!" I hear you scream. Simply put, some microphones sound better for some sounds than others. I didn't want to buy another vase, so I multi-mic'd the one vase. Two microphones were setup to record in stereo too, as this can often lead to better sound quality (even when bouncing down to mono, as was necessary in this case).
The sound will be played as mono in game. There are several reasons for this. The 'smashed pot' will obviously have some 3D position in the game world ("it's coming from over there!") and mono sounds are usually the best format for emphasising position. The reason for this is that it can be placed in any combination of speakers at any one time. For example, if the pot is on Cutter's direct right, the sound will come from that speaker alone. If it's directly in front, it can come from both equally. If half way in between, panned to the right by half - and so on. Stereo sounds cannot be freely located so easily, as they actually consist of two sound streams (one for left, one for right) which have to be mixed and placed appropriately.
Another reason for using mono is much simpler - mono sound files use half the space of a stereo file, because there is only one sound stream.
Why not just pull off a wav from a free sound library off the net? Well that's not very creative now is it? Additionally, the quality of such samples is dubious at best, whereas recording from scratch assures at least a level of uniqueness, quality and, hopefully, character (the latter being the hardest to achieve - particularly when OC1 did it so well!). The little details in game audio design afford more to the gameplay than is usually given credit.
Hopefully it's been an eye opener!
DISCLAIMER: We were wearing protective eye equipment when smashing fragile pots or vases and can ensure you that NO vase or pots were seriously harmed during this procedure.