[page=Introduction]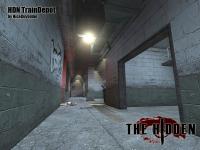 A dark room, dimly lit by the evening sun. You stand out in a long stretch of dingy hallway, men with guns standing all around you, waiting. Your hand rests on the knob, trembling slightly.
You wait.
One second.
Two seconds.
SLAM! You throw open the door, pointing your gun wildly into every corner of the room. Your squad mates fan out around you, firing off rounds into every corner.
But nothing is there. The room is empty, desolate and cold, like all the others before it.
You turn back, following the edgy movements of your still anxious cohorts, when the guy next to you slams into the far wall, spraying blood in his wake. Everyone opens fire in all directions, blasting apart the hallway. One guy is clipped by a stray bullet, dropping to his knees. But nothing is there but the team.
Everyone curses, shaking, reloading in a frenzied panic. Where did the strike come from? Nothing was there! Nothing! Three move off heading south, while the other two take off back the way you came originally, wanting to get the hell out of Dodge.
You don't know what to do. You are frozen in place, when something sails over your head, bouncing along the hallway to land in front of the retreating soldiers, exploding in a fiery ball of screams and pain.
You dive sideways into the room, feeling something slice through the air where your head used to be. You are low on ammo, but you can't see anything. You fire, and fire, and fire, and fire. The walls of the room you back into smoke and buckle under the pounding, but nothing is there, nothing is coming.
The chamber clicks empty.
Nothing is there.
But something is moving.
Moving right towards you.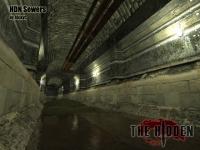 Welcome to The Hidden: Source.
[page=Enter the Hidden]
Simply put, The Hidden: Source is one of the most atmospheric and exciting multiplayer games I have played in years. Forget all of the zombie mods and Counter-Strike clones that are clogging up our game development arteries as of late: this game tries something new and succeeds with flying colors.
Players here are tasked with hunting down the aptly named Hidden, a renegade test subject with a penchant for knives, pipe bombs, and extreme violence. Making things even more difficult for you is the fact that the Hidden is nearly invisible, only distorting the environment around him a la Predator. And you get to stop him. Intrigued yet?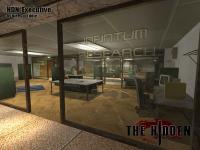 Play begins with a team of commandos spawning at a preset location within the level. All of the levels are rather large, giving both ample opportunities for the commandos to give themselves an upper hand and for the Hidden to stalk around quietly. Each map in the game is an eerily abandoned location, with wind howling in the distance, and the empty derelict buildings looking like places you might have seen in your day to day life, from abandoned train stations to grand office buildings complete with cafeterias.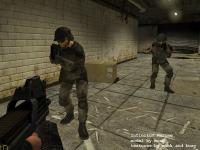 Everyone in the squad fans out, trying to secure the various hallways, offices, sewer tunnels, and staircases that wind their way through the level. It is at this time that one player, either randomly selected or the victor of the previous time, begins his hunt as the Hidden. What follows is a game like freeze tag, but allowing the non-Its to fight back. The squad must kill the Hidden before the time period elapses, or the Hidden must kill the squad.
And that's it.
[page=Guns, Knives, and Killing Those Around You]
It is within this very basic model that the true beauty of this mod shines. In no other multiplayer game I have ever witnessed have I ever found myself so utterly on edge as I do in this one. There is something genuinely scary about turning a corner and seeing the scene in front of you shifting rapidly, moving towards you at high speed. Survive long enough and you might find yourself all alone, the bodies of your squad mates lying all around the level, while you alone try to out-think the person hunting you, who can come from any side at high speed and end your life in a matter of seconds.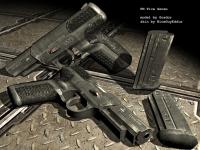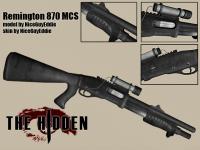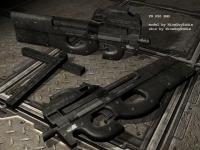 Players on the defensive have a choice between carrying a shotgun or a machine gun to take the Hidden down with, with a pistol as a secondary weapon and last resort you really don't want to end up with. This in itself poses a tactical question for the players from the very beginning: Which is more effective? While the machine gun can spray ammo quickly in all directions, helpful in those panicked situations, it does far less damage. The shotgun, however, is very slow to hit and reload, but it does massive damage on impact. A single well placed shotgun blast can down a Hidden, if you are lucky. But then again, you are aiming at a nearly invisible enemy. There is no extra ammo within a level, nor are there health packs. If you run out, you are entirely without aid, which is why working together with your squad mates is encouraged.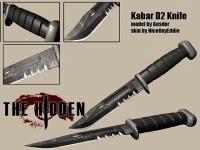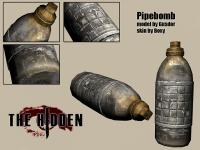 On the other side of the coin, The Hidden has an almost entirely different play style. There is something to be said for sneaking through a level, dodging silently between other players and scaring the pants off of them when you start taking them out from behind. The Hidden is armed only with a knife and three pipe bombs, which is not much when facing a full armed squad of troopers! However, he has a few abilities to his advantage. First, the hidden can "pounce", a maneuver that when rapidly pressed allows the hunter to move at high speed through a level, dodging in and out between the troopers without them even noticing. If the Hidden is quick and crafty, they can use the slow "pig-stick" knife move (think ramming a knife as hard as possible into someone's back) and typically kill his enemies in a single, pounding blow. Otherwise, he can dash around slicing willy-nilly, slicing his enemy's health away bit by precious bit, as long as he doesn't get blown apart in the process.
Or he can just lob in a grenade and send the commandos packing in mere seconds. If they time it right, that is.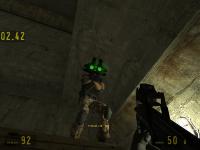 Make no mistake, there is something thrilling about being both the hunter and the hunted, which this game plays off of well.
[page=And then the Bad]
Unfortunately, though, all is not good and golden in the land of stalker killers and those that hunt them. The Hidden is still in a Beta stage, meaning that it is currently host to a variety of bugs that definitely need to be addressed in later builds.
At present, joining a game can occasionally be difficult. Memory errors have a tendency of jumping out at you the moment before you join a game. But even more problematic are some sticky animations, mainly in regards to the Pig-Stick that the Hidden does. This move takes time to wind up and hit, meaning that the person playing as the Hidden needs to rush up and run into the back of a targeted character exactly when this move finished in order to pull it off with maximum effectiveness.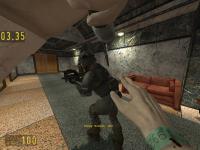 WHAM!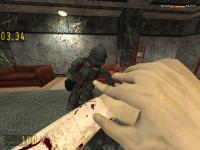 Dead.
But, at the moment, this animation can occasionally stick with repeated use, still pulling off the move but not actually moving the hands of the Hidden, leaving the person playing without any real clue as to how far along in performing the maneuver the Hidden is! This makes timing pretty bloody hard. And let us not even mention the occasional match-up issues, like a Hidden not being selected for a round, or the Hidden becoming victorious after killing some players but not others.
[page=But, Why Recommend It?]
Yes, these are problems, and yes, they need to be addressed. A new version has been in development for some time now, with some promising looking screenshots below. But in the meantime, you know what? When you add all of the little problems up, they don't even compare to the experience that comes with playing this game. If you scour the community, you will find no other mod like this that pulls off what it sets out to do so effectively. It is a brand new multiplayer experience, the likes of which you haven't yet tried, but definitely should. Play this one and I guarantee you will never look at Half-Life Deathmatch the same way again.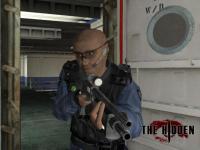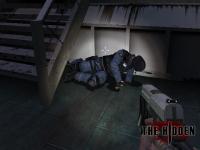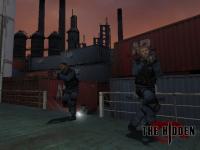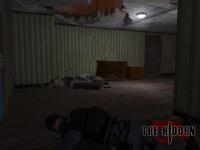 All images taken from The Hidden: Source official website and ModDB profile.