Randomiser Features and Details
This tool randomises elements within the game Rome Total War.
Along with randomisations the randomiser also offers in-built tools to easily view information about the current randomisation - unit stats, faction relations and cities owned etc.
Latest release: v1.8-alpha
Available Options
1. Random unit size (soldier count)
2. Random unit stats
3. Random unit sound
4. Random training (discipline of the unit)
5. Random ground bonus (stat bonus on certain terrain)
6. Random ownership (which factions can recruit the unit)
7. Random attributes (unit abilities and effects)
8. Random treasury (starting gold)
9. Random ai (faction campaign personality)
10. Unlock factions (unlocks unplayable factions)
11. Random Cities (distributes cities to factions based on proximity)
12. Voronoi Empires (distributes cities to factions based on a voronoi grid)
13. Raging rebels (increases the rebel spawn rate)
14. Mighty Empires (populates all the cities for each faction, and adds units to armies)
15. Random attitudes (randomises faction relations)
16. Total War (forces all factions to start the game at war)
Tools
Currently there are two tools built into the randomiser. The EDU viewer and the Strat viewer, both can interact and allow the viewing of the current randomisation set-up. These tools are useful for checking the current generation for a faction you may be interested in or just for your own curiosity.
EDU Viewer
The EDU viewer allows the viewing of unit details/stats and has options for filtering and highlighting information of interest.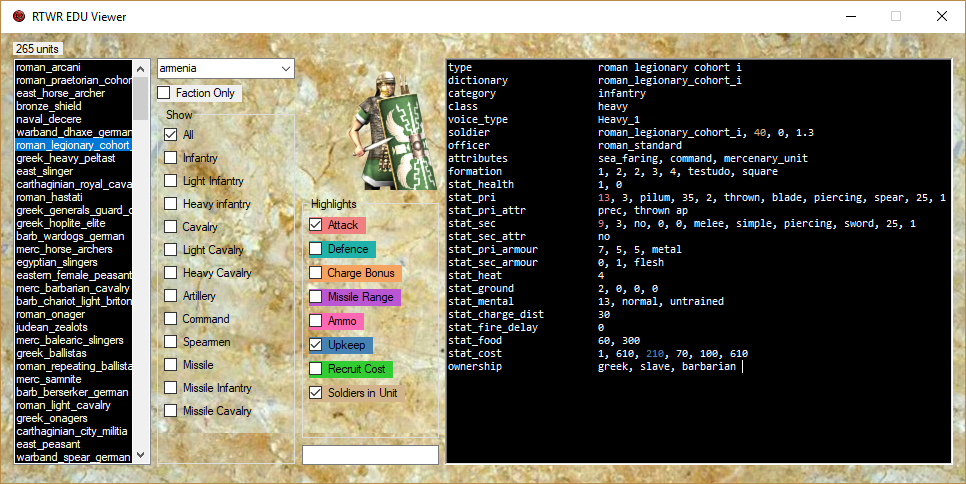 Strat Viewer
The Strat viewer shows information about the different factions, including army and city lists. A relations map viewer is also included - this displays the diplomacy of the currently selected faction.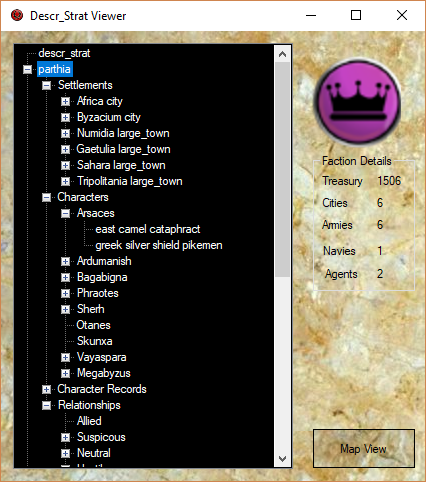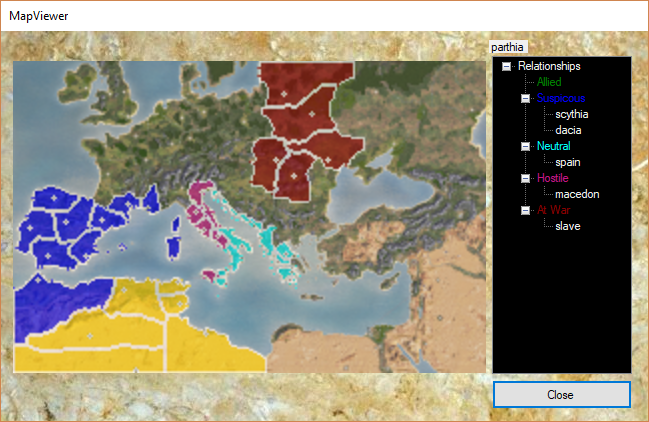 This was just a quick rundown of what the randomiser can do! I hope you all have fun and if there's any problems please report the issues to my Issues page!