Planned Features :
-Play as any of the Human realms such as Orlais, Tevinter or Ferelden, as the declining Dwarven kingdom, as the roaming Dalish clans, as the mysterious Qunari society or even as the Inquisition itselve!

-Experience the perks and perils of wielding the power of magic, experiment blood magic and dark secrets...
-Face the chaos brought forth by the darkspawn and the Blights or use this chaos as a ladder in your lust for power...

-Manage the political forces which try to thrive and dominate within your realm, manipulate The Landmeet in Ferelden or play the dangerous Grand Game of Orlais...

-A whole map covering both surface and underground Thedas, from the sweet hills of the Hinterland to the Anderfels wasteland...

-A host of new events to immerse you in the setting, relive The Joining, become a Grey Warden or be forced to marry to the best geneticaly partner the Ben-Hassrath found for you, engage the Antivan Crows to get rid of some annoying rivals...
-Remake history, play as an Fereldan noble during the Fifth Blight or a Tevinter Magister during the fall of the Empire and the First Blight or play as an historical character and try to crush the fereldan rebels as King Meghren or try to conquier the Imperial Thrones as the Duke Gaspard De Chalons !
-Go on your way for adventure, leave all your titles and lands behind, play as an adventurer, find legendary items and cover your familly with endless glory ! Dozens of magic items to discover !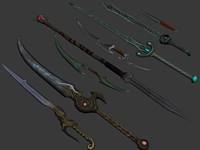 We will work hard and as fast as possible to deliver you the best CK2/Dragon age hybrid experience possible.
All this will be possible thanks to the incredible universe created by Bioware and the fabulous game of Paradox Interactive.
I see you guys in the next WIP article ! :)
NOTE : I own none of those pictures and claim no rights on it.