(Newest on top)
Picture of the Week 0050 - Week 49 December 2011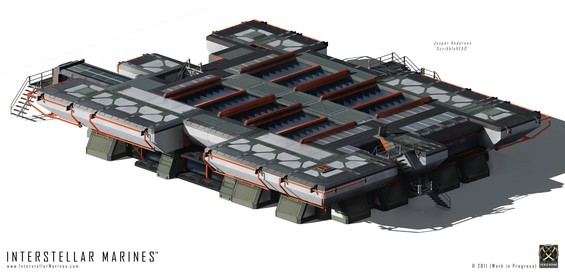 Our beloved conceptual artist Mr. Jesper ScribbleHEAD Andersen have materialized a detailed concept of what our larger exterior complexes will look like at some point in Deadlock. We now have what we have always looked for; Avatar meets Danish design! :)
Picture of the Week 0049 - Week 48 December 2011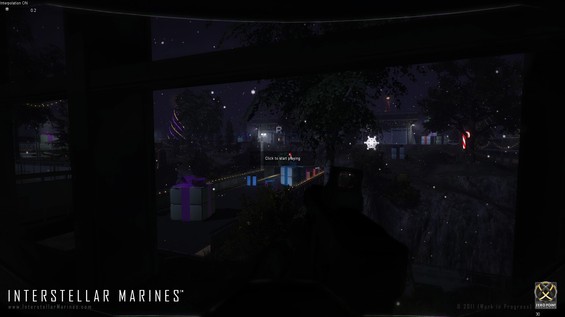 It's finally the 1st of December! Other than that; No comments! :)
Picture of the Week 0048 - Week 47 November 2011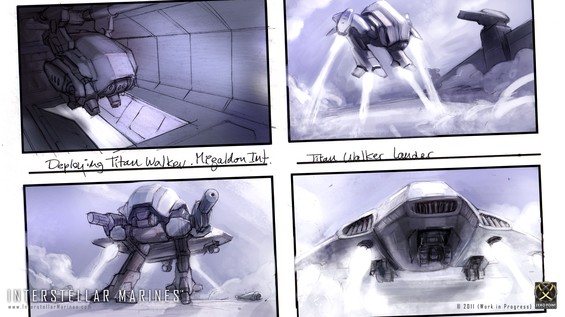 Another slice from our IM: Prologue storyboard; In most hot zones its standard ITO procedure to deploy a Titan Walker at three down and locked. Equipped with exposable landing jets the Titan Walker performs a quick LZ recognizances and provides support while the Megalodon dropship lands.
Picture of the Week 0047 - Week 46 November 2011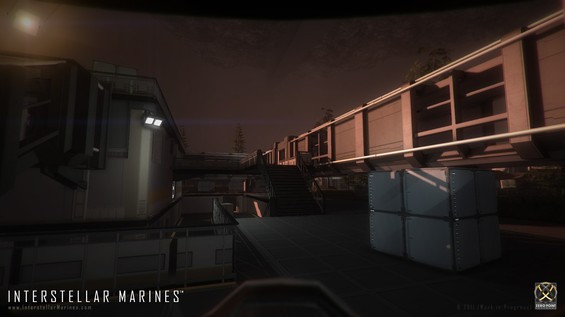 This "late" Picture of the Week is taken near the "new" Area B on the Combat Range 1 Deadlock map, which has just gone through its 3rd Iteration internally. It's really exciting for us to slowly materialize where we'll soon be fighting each other in tense close quarter tactical combat!
Picture of the Week 0046 - Week 45 November 2011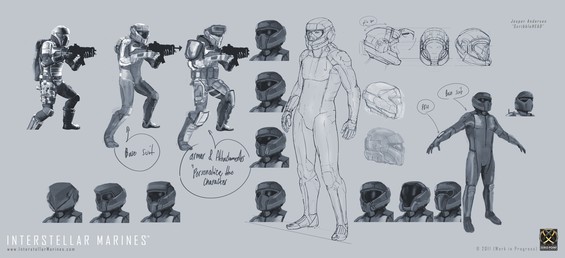 If you thought that the ITO Zero Environment Combat Suit would forever be one size fits all, well think again! :) We've internally started iterating on tons of various Interstellar Marines customization options, which will allow us all to personalize our preferred outfit within the standards of the ITO Special Forces.
Picture of the Week 0045 - Week 39 September 2011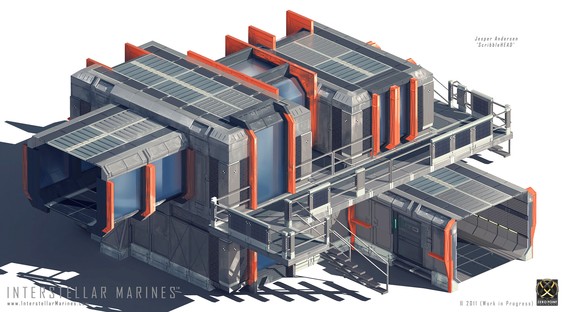 Everybody that's been following the Open Door Development of Deadlock, knows that we're taking "this" to a whole new level and although we've shown a bit of level design using the modules we created during Running Man; This image shows how we've envisioned the training modules to look like in their next iteration, illustrated beautifully by our very own Master ScribbleHEAD! :)
Picture of the Week 0044 - Week 38 September 2011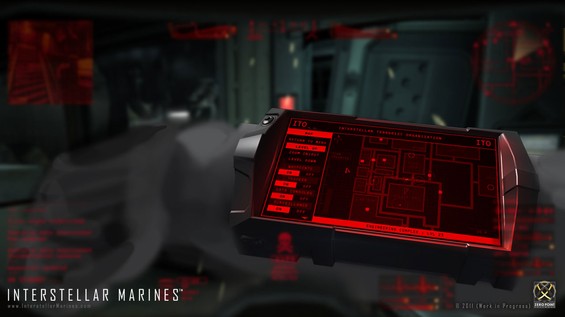 Although it's not on the top of our current "to do" list, we're really looking forward to implementing the tactical PDA; which features loads of interesting tactical gameplay and options. Here you have the PDA in one of its early proof-of-concepts and if you can guess the game in the background, I'll work naked, all day tomorrow! .. (not really) :)
Picture of the Week 0043 - Week 37 September 2011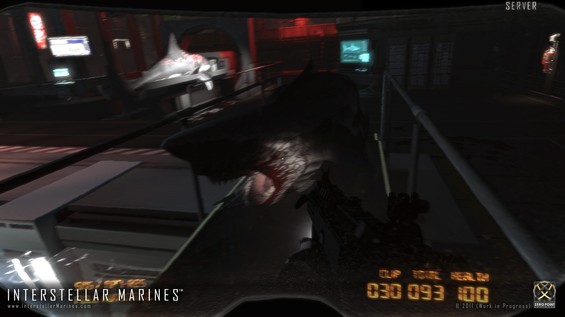 Yesterday I booted up our old Publisher demo (first time in a long time) to show ScribbleHEAD some of our early ideas and environments. Nostalgia struck and I just had to post a screenshot from the Carcharodon Carcharias Scanning Areas deep inside Orbital Research Station Xeno-13. (It's "Magazine" not "Clip" :))
Picture of the Week 0042 - Week 36 September 2011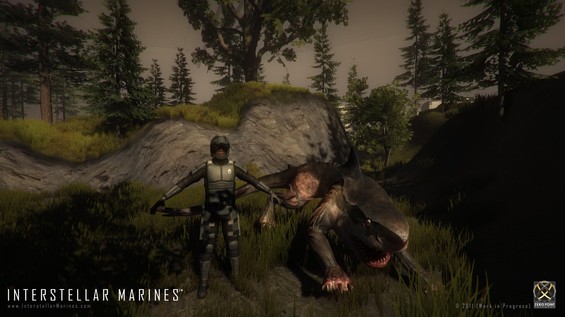 Grrr! .. We still have a long "road" ahead of us when it comes to establishing and setting up our artificial cave terrains and vegetation; so we thought we'd share a picture of two friends posing in the woods! :)
Picture of the Week 0041 - Week 35 August 2011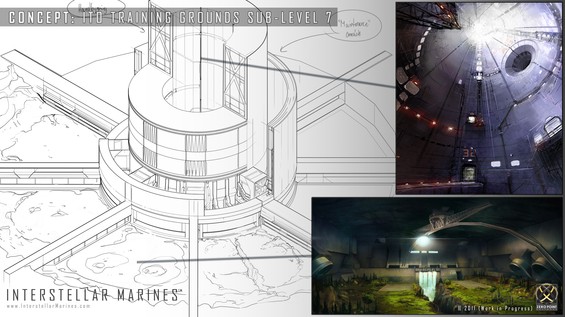 Blueprint overview detailing how we're envisioning the various artificial training cave arenas and sub-levels of Deadlock to be structured. The facility blueprint and the cave concept comes from the hand of ScribbleHEAD and the silo concept is one of Cottas earlier pearls.
Picture of the Week 0040 - Week 34 August 2011
Bit.ly " class="thickbox">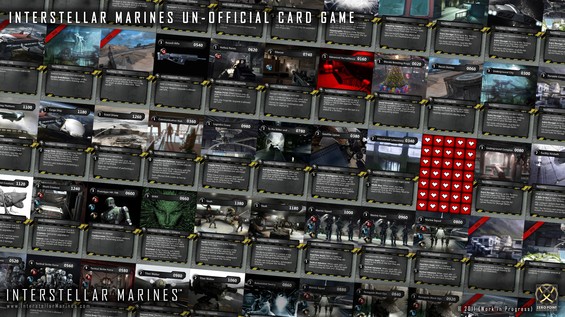 Multi genius wonder-kid immovable object meets an unstoppable force and properly secret superhero Mr. Daniel Windfeld with the unfortunate username AnusCondus have created a kick-ass un-official (might as well be official) Interstellar Marines Card Game. We tribute and honor his hard work and wish you guys and girls hours of fun! :) - Download the Interstellar Marines CARD GAME from our Forum
Picture of the Week 0039 - Week 33 August 2011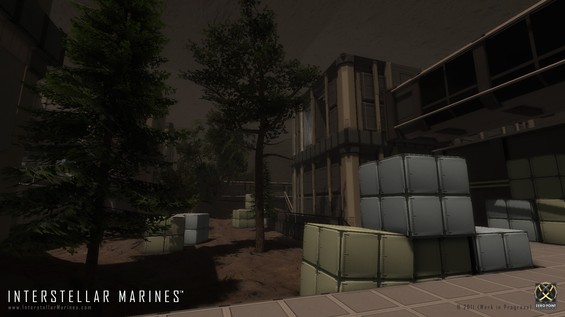 First vegetation test on one of our artificial cave maps (previously used to test a toggle-able day and night lighting prototype). Thanks to the power of Unity, we've been able to get a good head start on environment vegetation, after purchasing a few cool packages in the Unity Asset Store and we're all pretty excited about the potential detail and variety it presents our environments.
Picture of the Week 0038 - Week 32 August 2011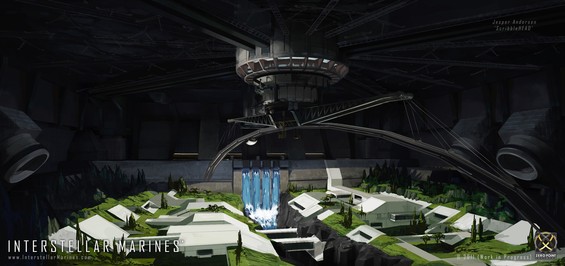 We're finally back from vacation, booting things up with a special Picture of the Week, from the magic hand of Mr. Jesper Andersen (Aka ScribbleHEAD) which have sent us a few concept tests, based his interpretation of our Art Direction for the artificial caves of ITO Training Grounds. We love all his ideas and are very much looking forward to iterating the concept further in close cooperation with what is already established by Mr. Von Cotta.
Picture of the Week 0037 - Week 24 June 2011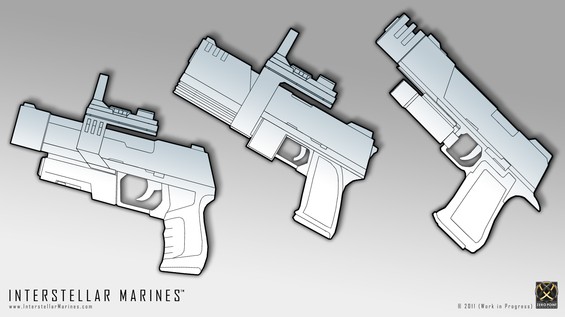 Nostalgia-trip; three initial pistol concepts I did (hence the low quality) back in 2003 when Nics, Gert and I was slowly getting started. From left stable, 3-round burst and high caliber models. Heavily inspired by real-life counterparts,can you guess which?
Picture of the Week 0036 - Week 23 June 2011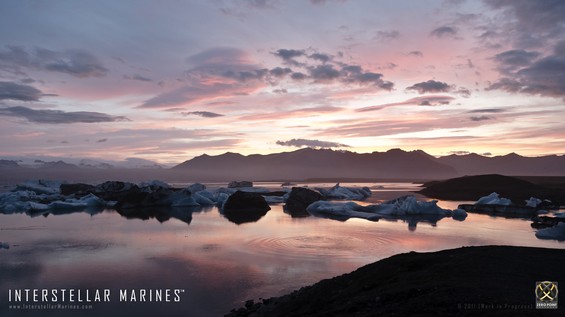 Out of this world! Heks and Nics just returned from Iceland with tons of research images, each more beautiful than the next!
Picture of the Week 0035 - Week 22 June 2011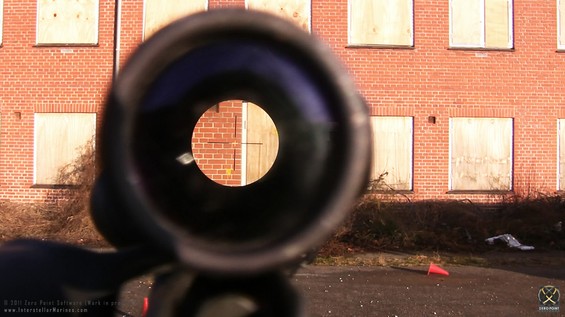 A while back we where invited to "play" terrorist & hostages in a training session of the Danish Frogmen Corps (Our version of the US Navy SEALs). Besides getting a proper reality check that we'll never forget, we also got the chance to study various cool equipment, including this Reflex Sight; This is how sights in games should look like! :)
Picture of the Week 0034 - Week 21 June 2011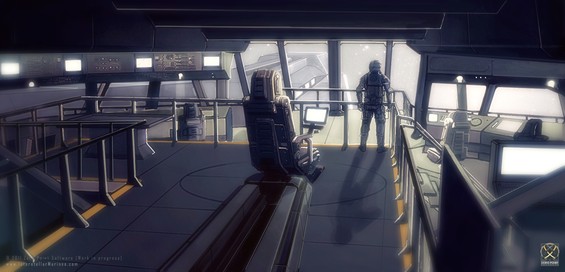 Commander-in-Chief on "Project IM" General Sebastian Travis standing on the bridge of AIV Kitty Hawk getting his morning coffee while listening to the daily candidate progress-report from 'SARA'.
Picture of the Week 0033 - Week 20 May 2011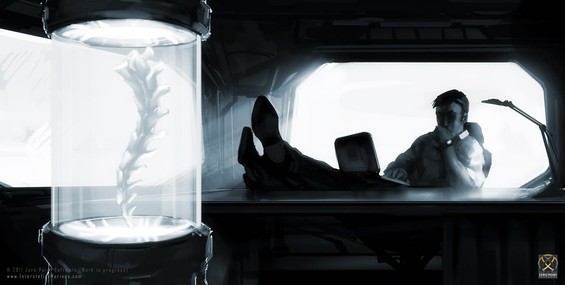 Jack Torillo setting at his desk, lonely, trying to get his head around a data-report from 'SARA'. Torillo is ITO's Chief S.E.T.I. Researcher and the 'father' of the Interstellar Marines program: "It's not a matter of if - It's a matter of when! .. and for that we need to create a new breed of soldiers capable of protecting humanity against all threats of the unknown!"
Picture of the Week 0032 - Week 19 May 2011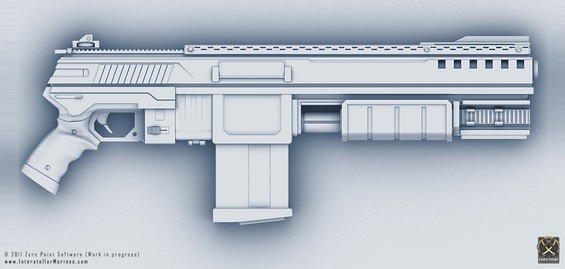 You might already know the Meikyu 2.1 "Rhino" Tactical Shotgun "available" inside The Vault as well as in another POTW concept posted earlier and here is our beloved shotgun 02 again (still have two unrevealed shotguns models) in form of a high polygon render to quietly hint that this baby will be part of our Deadlock inventory eventually .. and like a famous Corporal once said: "I like to keep this handy... for close encounters!"! :)
Picture of the Week 0030 - Week 17 May 2011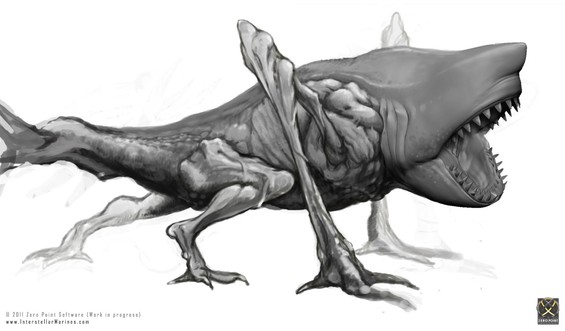 Back when our team included concept artists they could always play around with the shark creature concept, if e.g. idling. This iteration (we called it "chicken legs") was spawned by our beloved Mr. Munk to great amusement on the team ... and actually inspired ideas centered around the fact that, maybe not all creature fabrications is perfect all the time. (Like they say: "Don't *beep* with mother nature")!
Picture of the Week 0029 - Week 16 May 2011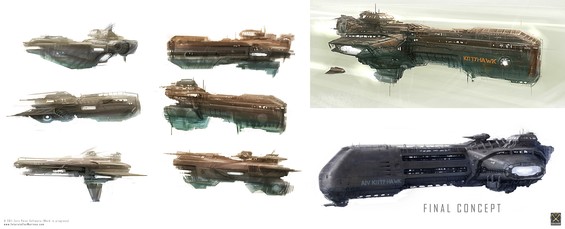 In last weeks SITREP, ClaymoreMD asked "What are those things above the Titan walker? Looks like alien ships / weapon designs :-)" ... Well, it's actually a few early concept thumbnails of the mighty AIV Kitty Hawk creatively spawned by our old concept god Mr Von Cotta.
Picture of the Week 0028 - Week 15 April 2011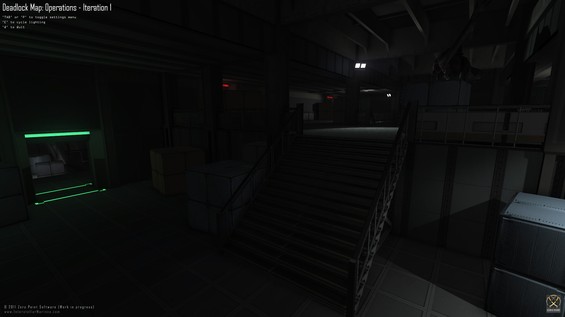 I guess this means no one has found our ever present "easter eggs" inside iteration 1 of the Operations map?. In the future if you haven't seen the Sharks you haven't seen it all! :)
Picture of the Week 0027 - Week 14 April 2011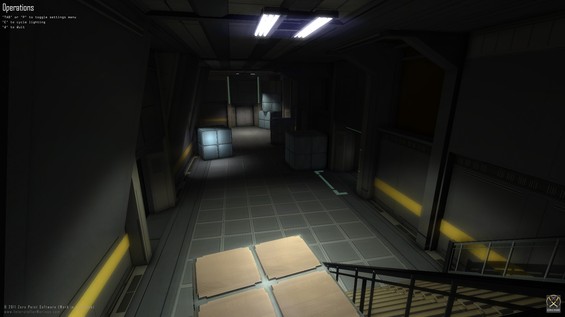 Operations map from Running Man getting a rework for Deadlock and we want you to be with us all the way starting with this "work in progress" image and very soon inside the map in Unity running around gathering a lot of creative feedback!
Picture of the Week 0026 - Week 13 April 2011


Screens from a Unity prototype which will be online soon - here I push deferred lighting to the limit in my attempt to faking real-time Global Illumination (In-direct lighting) on the map called Hangar from Running Man.
Picture of the Week 0025 - Week 12 March 2011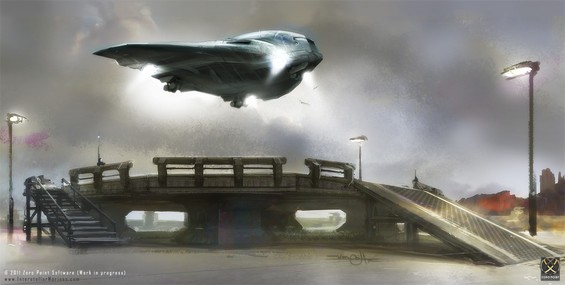 Somewhere in the Mojave Desert, South Nevada USA, a Megalodon class Dropship is seconds into dust-off, with full thrust on all VTOL exhausts, lifting off violently from one of the top-side launch pads of ITO's Training Grounds. Estimated wheels-down in 40mins inside Docking Bay 2 of AIV Kitty Hawk.
Picture of the Week 0024 - Week 11 March 2011



When Nicolai, Gert and I started Zero Point Software back in 2004, we immediately began brainstorming on our company logo (while playing around with modding in UT2004) .. We love our current logo, but still feel a lot of nostalgia looking at these early logo iterations.
Picture of the Week 0023 - Week 10 March 2011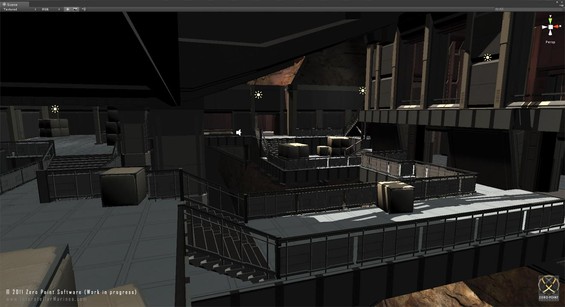 This weeks POTW is an early dumb of a map in-development for Deadlock, internally codenamed RiftWars. The map is created by Jess Rahbek (Our beloved Level Designer on Running Man). RiftWars is a small intense map (4-8 player) comprised of platforms, walkways, bridges and small hangars all exposed around a big underground grater.
Picture of the Week 0022 - Week 9 March 2011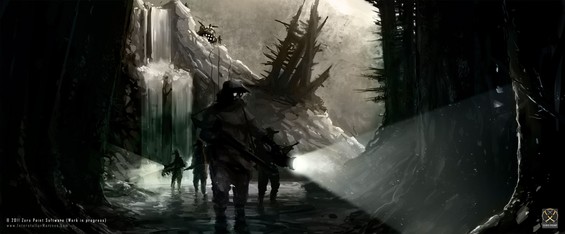 Jack Torillo and his research team on an expedition deep inside the northern forests of quadrant 24, just 50 clicks from ITO's colony on Valhalla.
Picture of the Week 0021 - Week 8 February 2011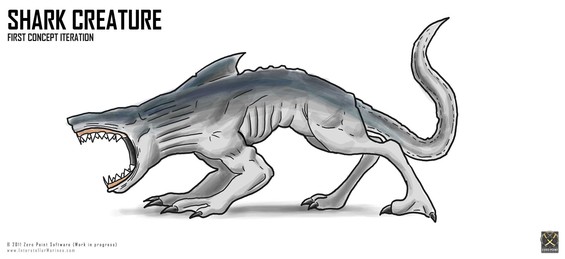 The rules for Picture of the Week is that there are no rules. So, here is one of the first concepts of our genetically engineered Carcharodon Polemos (Shark Creature) .. "Laugh it up fuzz-ball!" :)
Picture of the Week 0020 - Week 6 February 2011



First in-game environment test created back in 2004 (UT2003) of the twin docking bays and maintenance areas inside the Attack and Insertion Vessel class space carriers. We are so looking forward to recreating this in full next-gen glory in Unity sometime in the future.
Picture of the Week 0019 - Week 5 February 2011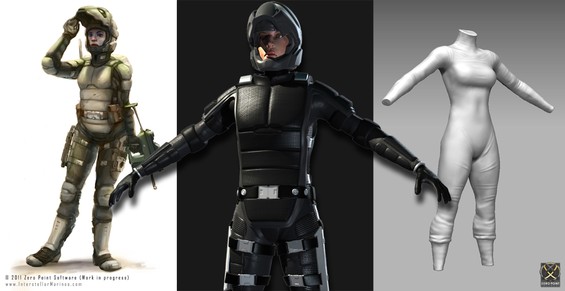 Todays Picture of the Week was an easy choice (Thanks Serinaxoxo) as we've seen a few post floating around regarding if you get the option to play as either a Female or Male character in Interstellar Marines. YOU are the protagonist in IM and just as important you decide how to play and NOT us!
Picture of the Week 0018 - Week 4 January 2011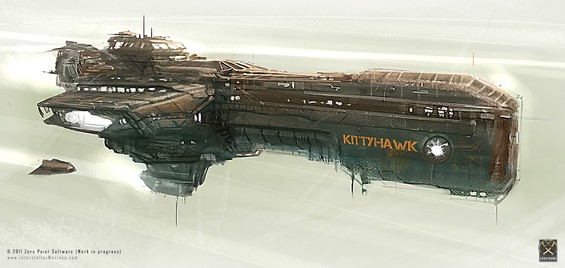 The AIV Kitty Hawk space carrier (Attack Insertion Vessel class) in one of its early concept iterations. The twin docking bays holds Megalodon class dropships on a 24-7-365 standby for deploying two Interstellar Marines fire-teams anywhere in the solar system!
Picture of the Week 0017 - Week 3 January 2011


Each time we start work on a new environment for the game (in this case a scientific medical center) we immediately try to define the look and feel of the environment by creating an initial Moodboard by "borrowing" various research images. This allows everybody assigned to materialize the environment to be on the same page before the real conceptualizing begins.
Picture of the Week 0016 - Week 2 January 2011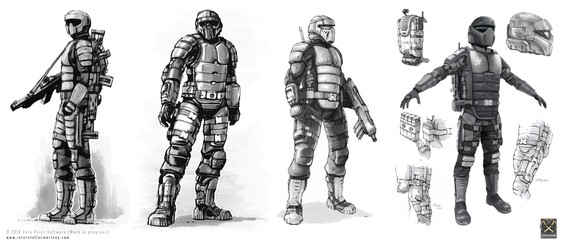 Over the years our IM "Zero Environment Combat Suit" have been through a lot of iterations and note that this image only shows the latest and most recent and with the equipment customization envisioned for the full game we're still a few expansions and adjustments away. I guess all good things comes to thous who wait! :)
Picture of the Week 0015 - Week 1 January 2011


Assault Rifle 003 in Unity and the second hidden Easter Egg available inside our special Xmas level (which we'll make publicly available later this week) .. We really can't wait to make this baby playable with all its exciting extensions!
Picture of the Week 0014 - Week 52 December 2010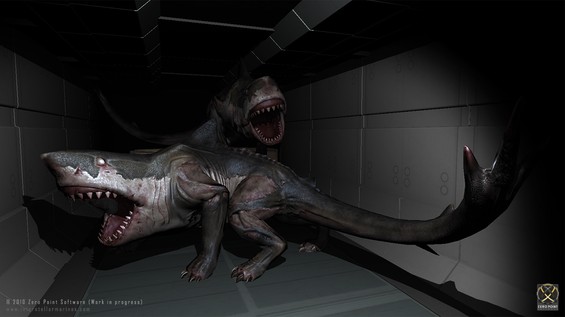 When we created our special Spearhead and Frontliner Christmas present in Unity 3.1 .. we only had time to implement a few small Easter Eggs. One of the Easter Eggs is a black corridor with two Shark Creatures and with a bit more time we would have created a nice little shock effect to ruin your sleep! .. With Christmas coming every year, no doubt we'll get a second chance! :)
Picture of the Week 0013 - Week 51 December 2010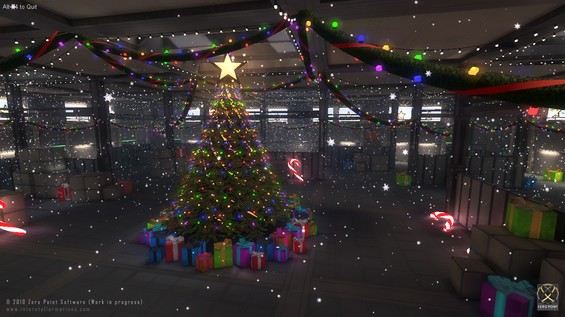 Merry Interstellar Christmas from Zero Point Software. Screenshot from our special Xmas present level build on Unity; a fun playground for getting up to speed with the many new wonderful features of Unity 3.
Picture of the Week 0012 - Week 51 December 2010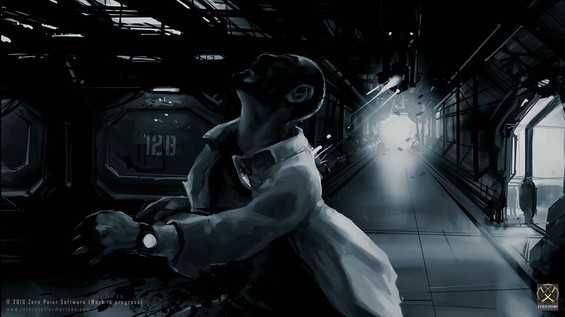 SARA has been neurologically designed to protect humanity against all threats of the unknown even if it means killing a few innocent people in the process.
Picture of the Week 0011 - Week 50 December 2010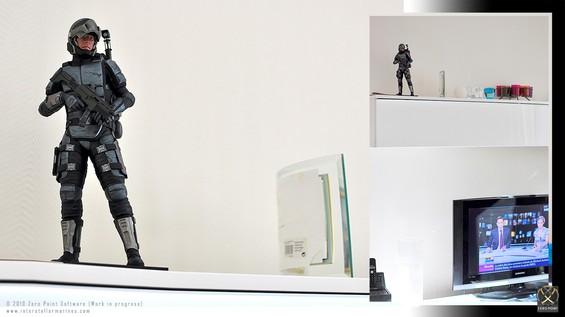 We recently found a few images sent to us by Stol2K; the lucky winner of our legendary Interstellar Marine model .. which we gave away back when we launched the community site last year. We miss you so much and really hope to some day be "able" to create a whole family of detailed miniature models of all the primary characters in IM.

Picture of the Week 0010 - Week 49 November 2010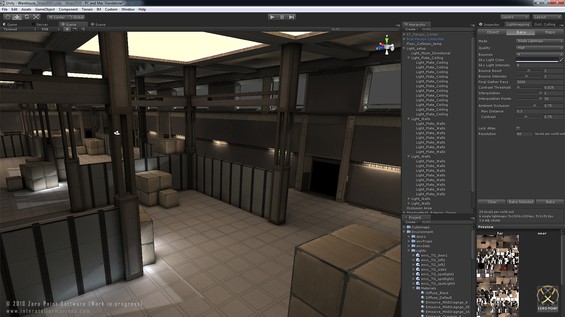 Early dump of our first attempts at giving the lightmapper in Unity 3.1 a run for its money. The lighting setup consists of 1 directional light with all secondary illumination achieved with emissive materials. The bake took approx. 3 hours (i7 Q720 1.6GHz) based on the bake-settings shown to the right.

Picture of the Week 0009 - Week 48 November 2010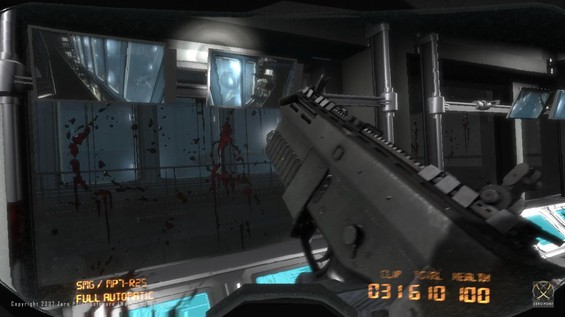 The players have managed to clear their way down to a barricaded control room overlooking the giant Carcharodon Carcharias water-tanks. Biological research is still under complete AI lock-down and it'll take a manual systems override to gain access to the flooded basements of Operations and further down to the stations mainframe.
Picture of the Week 0008 - Week 47 November 2010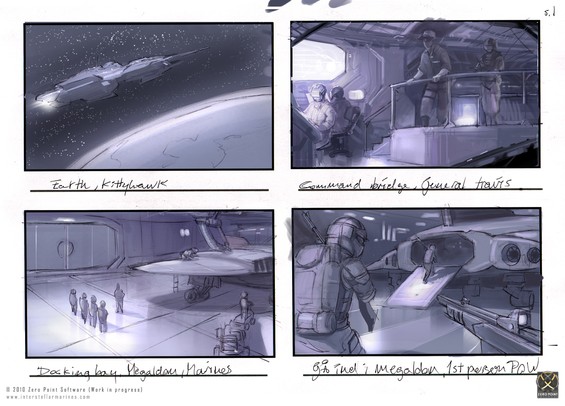 A few slides from an early storyboard we've created to visualize the moments envisioned for our ambitious coop campaign called IM: Prologue, which allows players to experience the back story leading up to "IM: First Contact"; the first full game in the Interstellar Marines trilogy. Prologue is unfortunately still tucked away in a drawer because its too expensive to realize at the moment!
Picture of the Week 0007 - Week 46 November 2010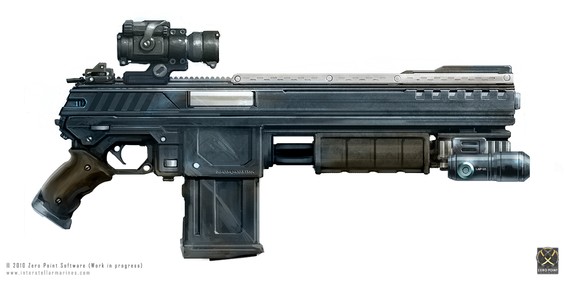 Near final concept iteration of the Meikyu 2.1 "Rhino" Tactical Shotgun, shown here with Effective Range Scope and without buttstock. "I like to keep this handy... for close encounters!"
Picture of the Week 0006 - Week 45 November 2010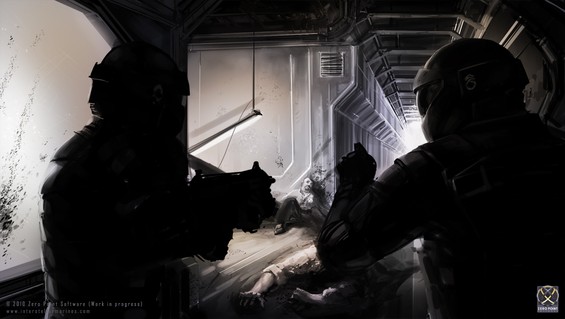 ITO AI 'SARA' has Genetic Research under complete security lock-down, trapping all survivors and allowing all virus infected scientists to kill everybody still alive on-board orbital research station X13!

Picture of the Week 0005 - Week 44 November 2010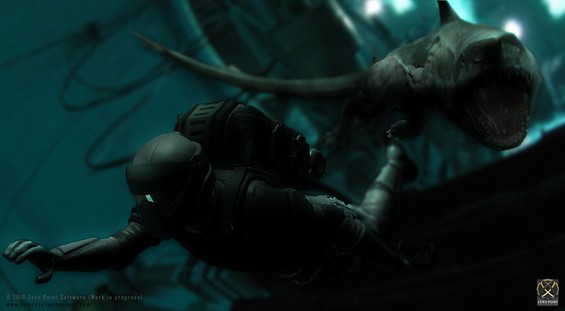 The Carcharodon Polemos is mankind's most deadly killing machine on land, but if you ever encounter one underwater, You'll need to be somewhere else!
Picture of the Week 0004 - Week 43 October 2010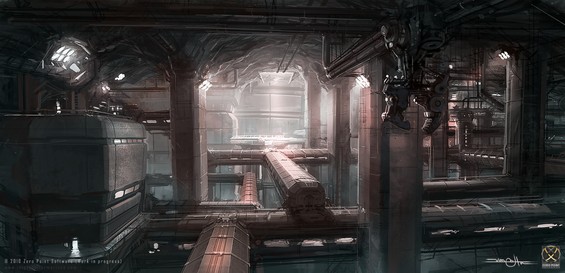 ITO Strategic Command have close to unlimited funds when it comes to constructing the most advanced high tech training facilities for the candidates of "Project IM"!
Picture of the Week 0003 - Week 42 October 2010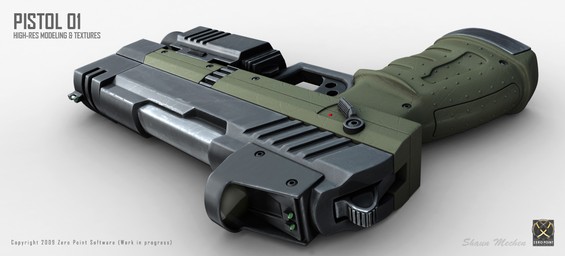 The pistol 01 concept is a very precise and reliable sidearm!
Picture of the Week 0002 - Week 42 October 2010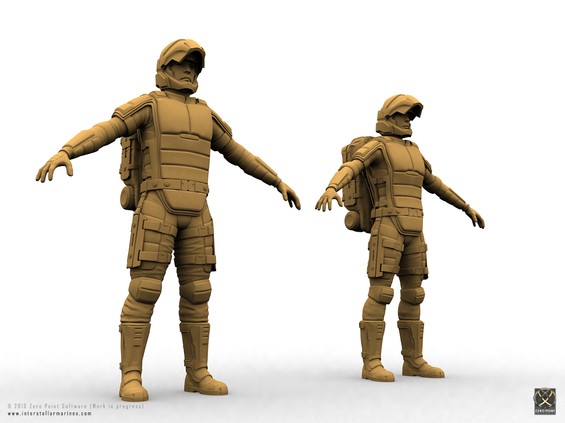 Male and Female in standard Interstellar Marines zero environment combat suit. Sorry, no Lara Croft chest available with this special forces equipment!
Picture of the Week 0001 - Week 42 October 2010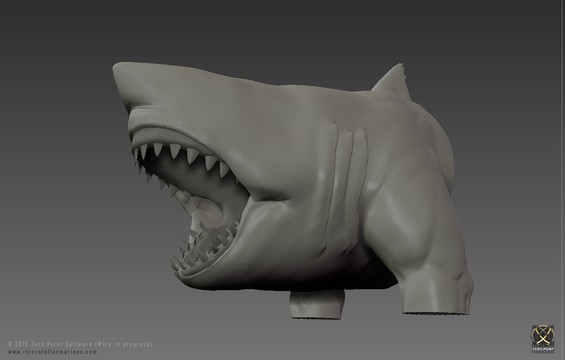 First Picture of the Week is a high-res modeling render of our beloved Carcharodon Polemos (Shark Creature) from when Bokaja modeled the latest iteration of this genetic experiment!