PCFormat magazine article, issue #234, click to enlarge: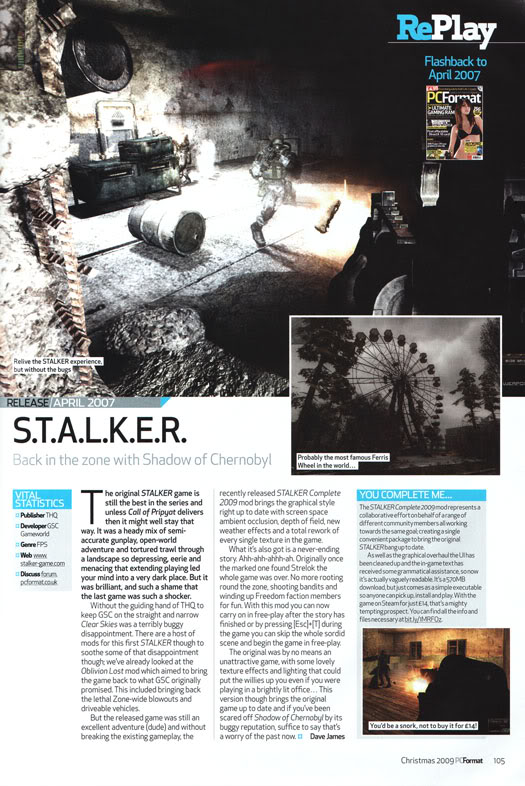 It's been a long year of hard work and high hopes, let's look back and do a quick overview of what gaming journalists had to say about STALKER Complete mod in a year 2009:
There is an argument to be made that we shouldn't get so hung up about graphics, but in a game so based around exploring a unique environment, graphics are truly part of the experience. And this mod definitely improves that experience.
Despite the size of the overhaul (some 900 new textures, a whole new sky and weather system…) It's impressively subtle – you're not slapped around the face with new!new!new! but rather no longer feel as though you're playing a game from 2007. It looks and feels fresh and modern. Lighting – the new day-night cycle's particularly spectacular – and textures are what's most lovingly touched by the hand of mod, but on the non-graphical front much of the in-game text gets a more grammar-friendly rewrite and the HUD receives a much-needed overhaul. There's also a ton of bugfixes in there. So, perversely, it's an amateur effort that makes the host game more professional. Highly recommended for Stalker vets and newbies alike. Go get.
Oh – and you can also 'dress' NPCs by giving them new clothes. Fashion parades in the Zone: whoda thunk it?
While it would take a magician to repair the game's myriad AI glitches, STALKER's graphics are more easily improved. And boy, can they be improved.
This is the "STALKER Complete 2009" mod (released last month), which does an admirable job of making the game look like it was, well, made in 2009. New textures, new lighting and new weather effects help get the game looking ship-shape, and while this won't improve any of the game's more fundamental flaws, you can at least enjoy the sunset while wondering how your waypoints disappeared.
S.T.A.L.K.E.R. Complete 2009 is a super-mod, combining a ton of existing mods, ironing out incompatibilities along the way - with the goal of bringing STALKER "up-to-date".
It's a significant set of graphical upgrades paired with some bug fixes and only minor retouching of the core gameplay. It's billed as "vanilla 2.0", an attempt at making a better "vanilla" STALKER experience rather than trying to alter the game.
I never played more than an hour of plain-jane STALKER, so I can't speak to gameplay changes. But the graphical changes are immediately smack-you-in-the-face obvious. It's stunning. Whereas looking at old STALKER made me think of, well, a 2007 eastern European PC title, the texture and shader upgrades in STALKER Complete 2009 made the place instantly come alive.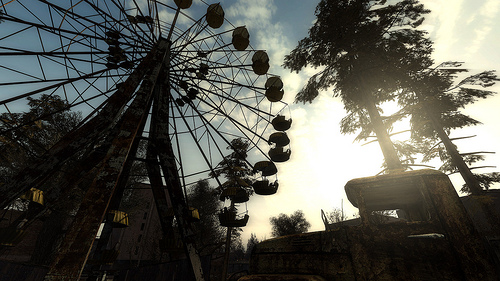 Stalker Complete 2009 combines several modifications that improve Stalker: Shadow of Chernobyl in matters of graphics, gameplay and atmosphere.
Stalker Complete 2009 for Shadow of Chernobyl: ...better graphics
Stalker Complete 2009 including patch v1.31 is 550 MiByte big and combines more than 20 modifications. Primarily the collection delivers extremely detailed graphics: Overhauled textures with Parallax Occlusion Mapping and detailed Bump Maps, additional particles, Screen Space Ambient Occlusion, HDR-Rendering, Depth of Field and Motion Blur bring the X-Ray Engine to its limits. Furthermore there are new sounds, a minimalistic HUD and more changes.
The other rather more significant change that modders have made has been to the balance of combat. Many players noted that enemies didn't seem to go down easily enough, taking more than a couple of shots to the head with weaker weapons. Such balance issues have been addressed, and it's now possible to play the game tweaked to rather different expectations of weapon physics.
Most impressive of all is that it's now also possible to play Shadow of Chernobyl with an entirely overhauled texture set, which can be found online. As mods go this is one of the most subtle imaginable. It does not attempt to change the atmosphere or effect of the game world, but simple to enhance it. 900 new textures, an improved sky and weather system, and the introduction of expanded graphics options make this one of the most exquisitely beautiful experiences ever to grace a gaming system. It also includes the sleep and hunger systems, along with a mass of small tweaks. I would argue that this is, finally, the finished and complete version of Stalker - as good as it could possibly have been on release.
Stalker didn't manage to be as multi-pronged as something like Deus Ex, nor as all-encompassing and variable as something like Fallout 3. It will always sit in the second row in any parade of classics, but it is nevertheless a masterpiece. A cold, unearthly thing, which only a certain kind of gamer will ever love. If you have even the slightest interest in This Sort Of Thing, you owe yourself a trip to the zone.