About the Series
This article is part of a series: Maps of the Desert War. In this series I explore battles and operations that took place during the WW2 North African Campaign form my upcoming game Attack at Dawn: North Africa. The maps are FREE TO USE (we only kindly ask you to credit us when you do so).
Wishlist the game and try our free demo on STEAM: Bit.ly
Subscribe to our YouTube channel and watch how we play the battles described here:
Youtube.com


Intro
After defeat in battle of Gazala, Allied forces retreated westwards. At Marsa Matruh they have put up some restistance, but soon they continued their retreat towards El Alamein line. This line was meant to be a series of defensive boxes stretching between El Alamein and Qattara depression, but at the moment of their arrival the only finished segment was the El Alamein box.
General Claude Auchinleck, Allied C-in-C decided to stop the Axis advance at that line. He distributed his remaining units between sea and Qattara depression in a series of fortified positions. And behind them the remaining armour and mobile forces were kept in reserve.
At his immediate disposal he had mostly elements of divisions which fought at Gazala line, reinforced by several fresh units:
1st South African Division - defending El Alamein box and the terrain just south of it towards Ruweisat ridge
50th Infantry Division - defending Alam el Halfa ridge
2nd New Zealand Division - defending centre of the line
7th Armoured Division - in mobile reserve
1st Armoured Division - in mobile reserve
18th Indian Infantry Brigade - defending the position west of Ruweisat ridge
9th Indian Infantry Brigade Group - defending the forward southern flank
9th Australian Division - arrived on 5th July as reinforcements

Rommel's forces were close on their tails. After astounding victory and capture of Tobruk, which provided them with highly prised port and fully stocked supply depots, Axis forces went into chase after the routed enemy. Almost without rest they have reached Marsa Matruh, forced the Allies to retreat once more and now they were at the doorstep of the Nile Delta. However, their forces were depleted and tired. 90th Light Division could only muster around 1.700 men, and the entire Afrika Korps had only 55 tanks left. The men were physically and mentally exhausted after month-long combat. These depleted armies would now clash at the narrowest point before the Nile, in a see-saw battle of will and material.
The Axis units engaged in this battle were the remaining elements of the following divisions:
15th Panzer Division
21st Panzer Division
90th Light Division
Armoured Division 'Ariete'
Armoured Division 'Littorio'
Motorised Division 'Trieste'
Infantry Division 'Brescia'
Infantry Division 'Trento'

The First Battle of El Alamein was a month-long series of attacks and counter-attacks along the entire frontline. This article and series of maps will show the initial phase of the battle, in which the Panzerarmee 'Afrika' planned to encircle the El Alamein box and push through this line.


The Battle
1 July
Rommel knows that speed is critical for repelling the British from their last defensive line. He plans to execute a feint attack towards the southern flank of Eighth Army, while attacking in the centre. He intends to bypass the boxes at Deir el Abyad and El Alamein, and encircle the Eighth Army. 90th Light Division is to move around the El Alamein box, and then attack towards the sea to cut it off. 15th and 21st Panzer Divisions are to manoeuvre around Deir el Abyad and attack the frontline Allied brigades from the rear. The plan is simple, and resembles his previous offensive at Marsa Matruh. But 90th Division runs into 3rd South African Brigade defences at El Alamein box and gets stuck. 15th and 21st Panzer Divisions run at 18th Indian Brigade box at Deir el Shein and attacks it. British send 22nd Armoured Brigade to support the Indian infantry, but they can't prevent it from being overrun by the end of the day. An ill-prepared and poorly supported Indian brigade had drawn the entire weight of Rommel's two panzer divisions, and blunted the offensive power of the Afrika Korps.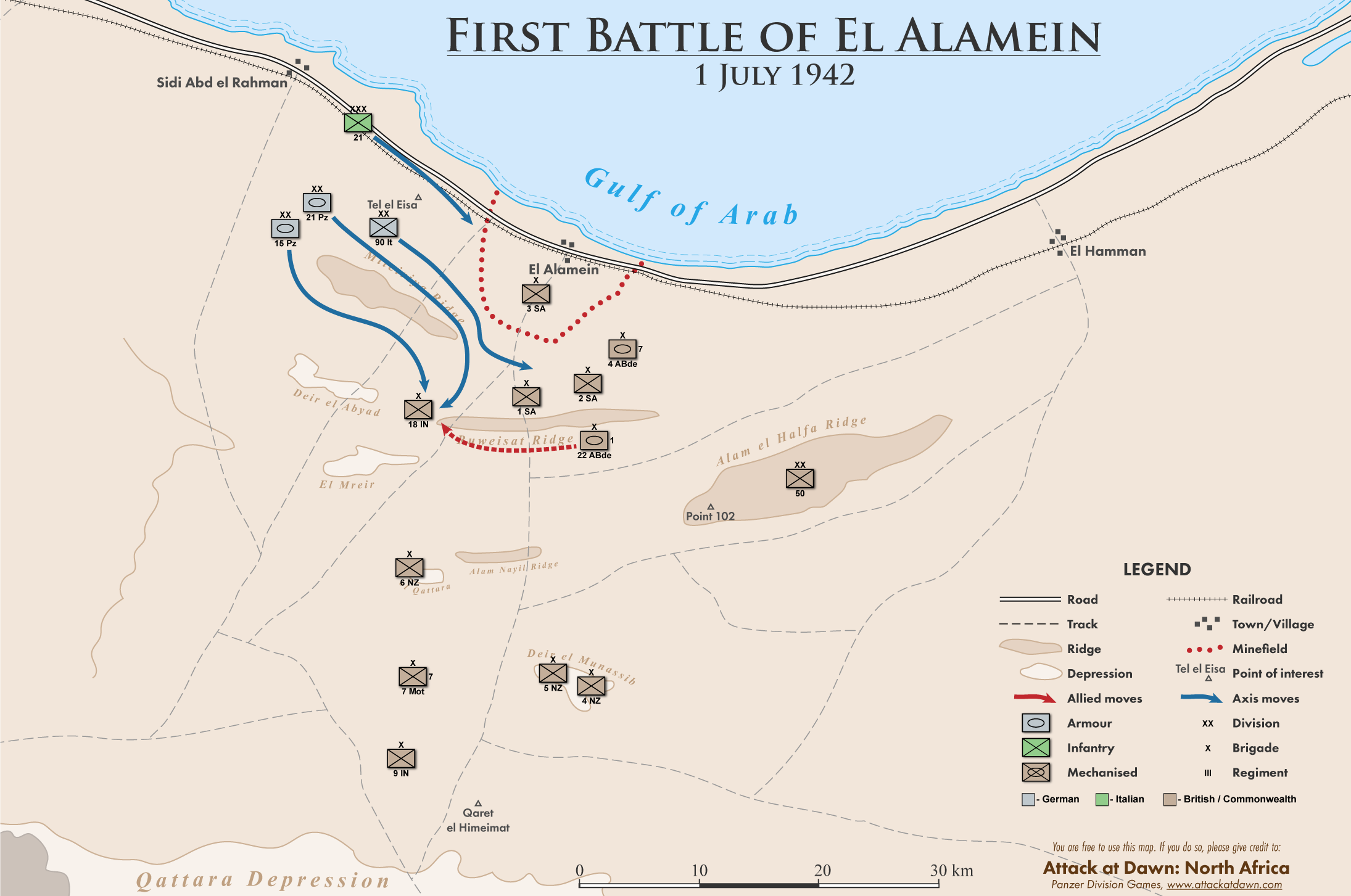 2 July
German divisions south of El Alamein are ordered to attack eastwards, in an attempt to push through the Allied line. Allied defence of Ruweisat ridge is lead by 'Robcol', a scratch force of guns and infantry improvised from the remnants of 10th Indian Division, helped by 4th and 22nd Armoured Brigades. They prevent the Germans from getting through. Meanwhile, the 2nd New Zealand Division and 7th Motorised Brigade redeploy to the south, while Italian forces are coming in from the east. The Desert Air Force is putting out a great effort to halt the Axis.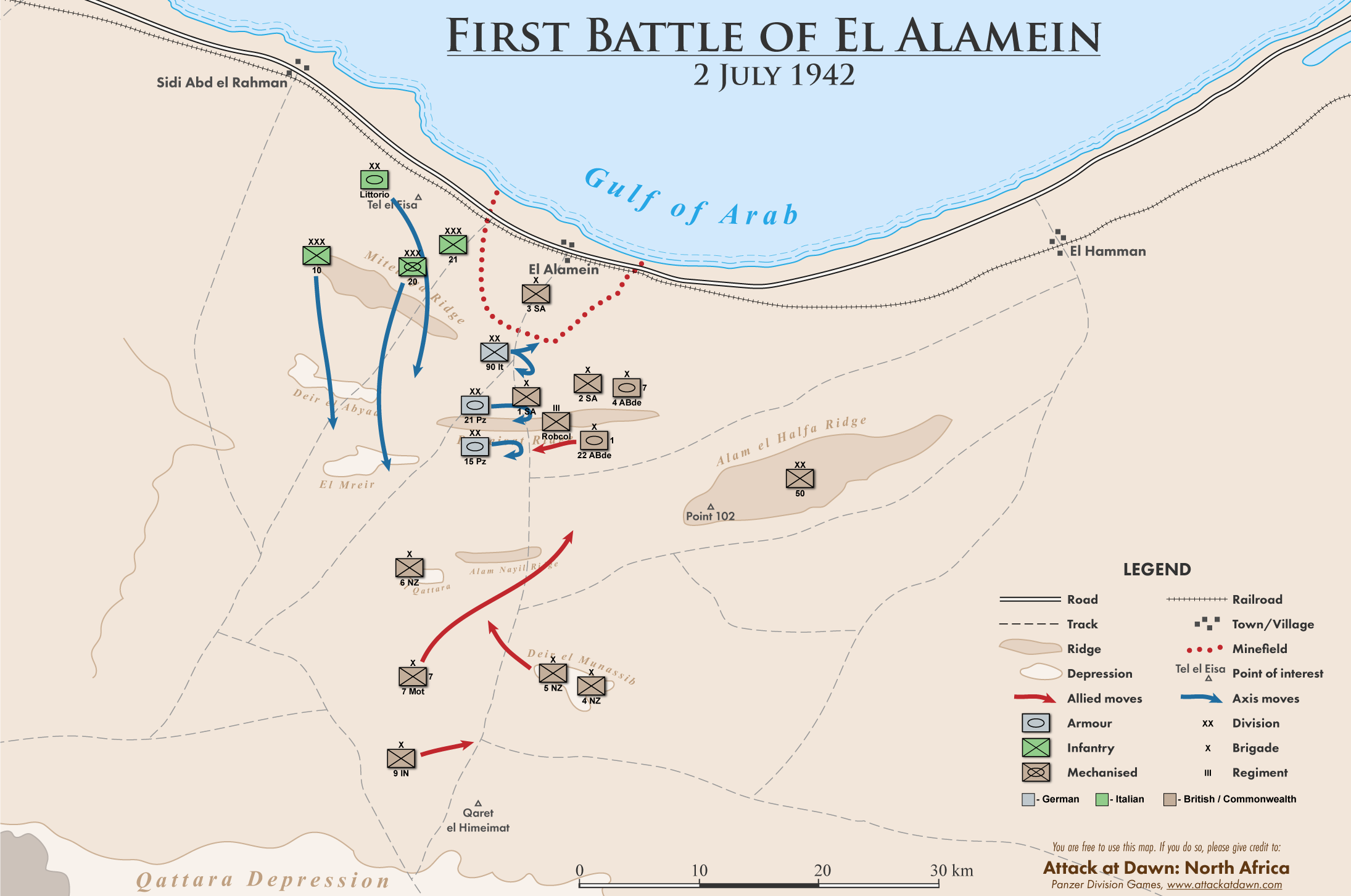 3 July
90th Light Division is ordered to hold the position, as it is completely exhausted. Panzer Divisions continue to attack Ruweisat ridge, but again achieve no progress. Italian Armoured Division 'Ariete' manoeuvres south of Ruweisat Ridge, but is attacked by 2nd New Zealand and gets heavily damaged, losing all artillery and all but 5 tanks.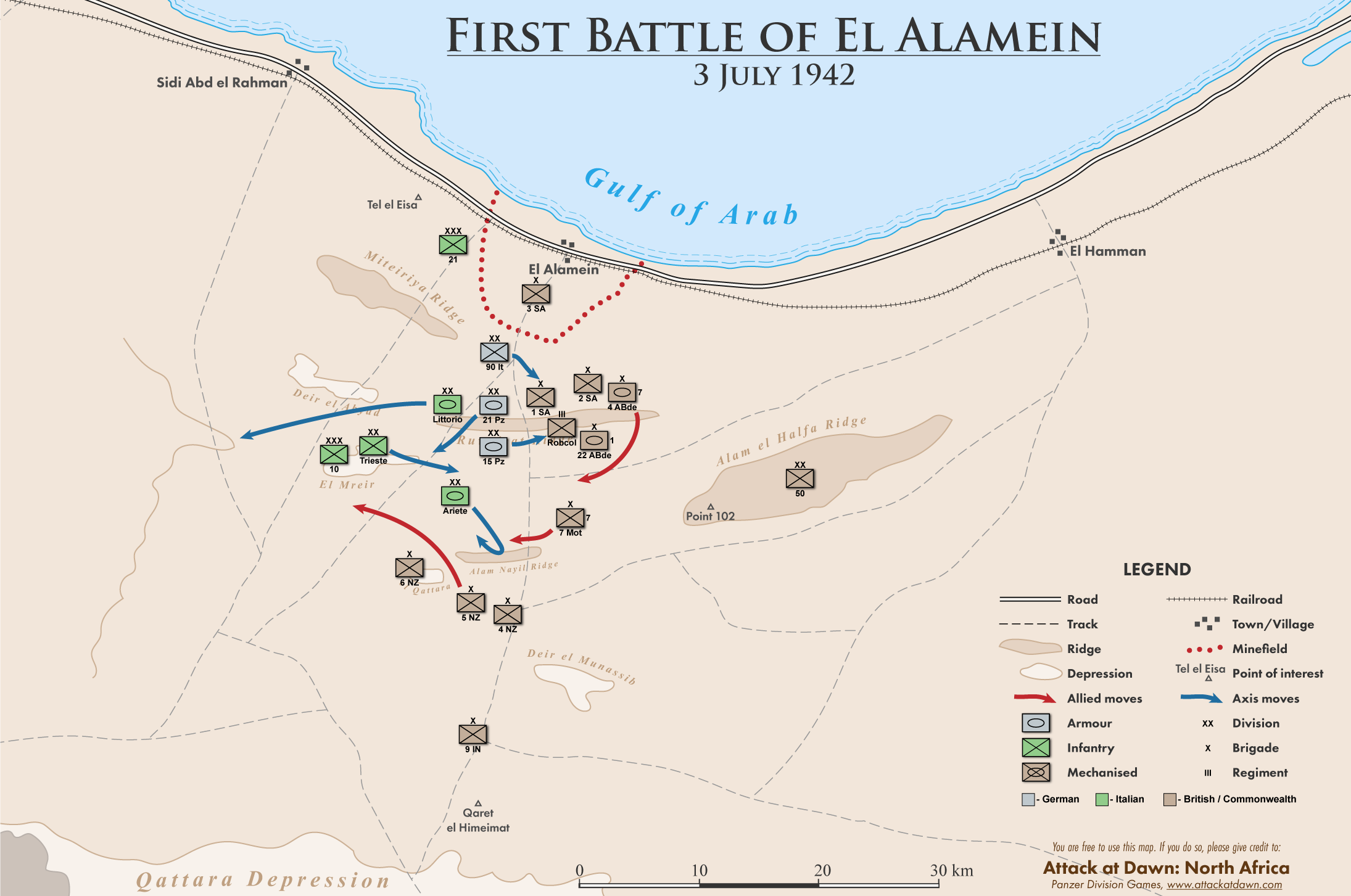 4 July
Panzerarmee 'Afrika' is short of ammunition, and surrounded by enemy troops. 15th Panzer Division has only two rounds per gun and the whole Afrika Korps has 36 running tanks. Its tired troops are occupying positions with no fixed defences or minefields, waiting for the non-motorised Italian infantry to arrive to strengthen their defensive lines. Throughout this day the two armies skirmish along the line, with no significant advances.

5 July
After one day of rest, 2nd New Zealand resumes its attack north-west and threatens the Axis rear at El Mreir. Infantry Division 'Brescia' prevents them from reaching their target and the Allied attack is stopped. The 9th Australian Division arrives from the coastal road and starts deploying in the area. Rommel decides to rest and regroup his forces before continuing the attack. As his German divisions number around 1.500 men each, he expects to remain on defensive for two weeks. However in the weeks ahead, Auchinleck will not let the Axis rest and will launch a series of counterattacks. The situation will not change much and by the end of July both armies will still face each other at the El Alamein line.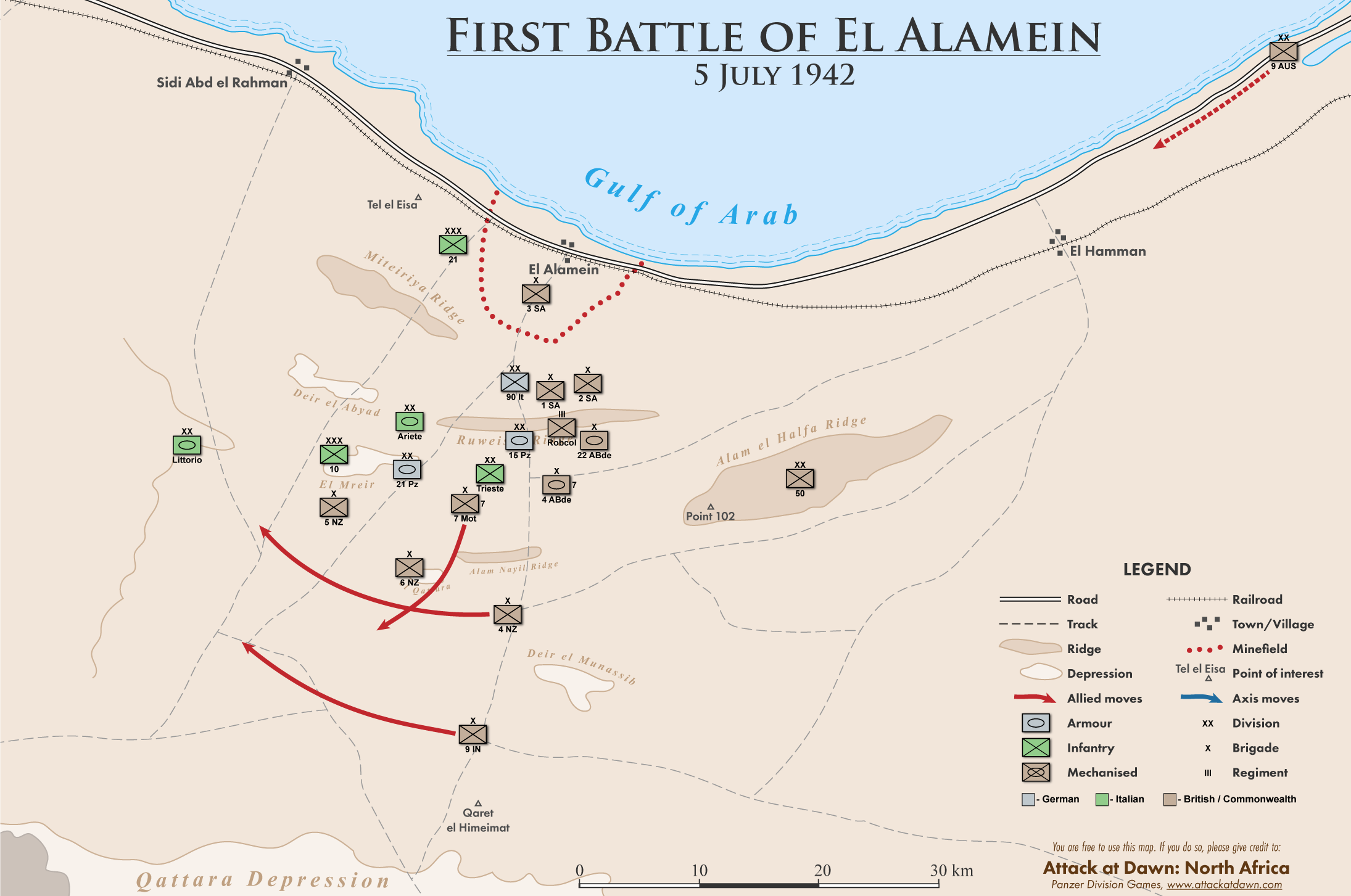 Sources
Le Operazioni In Africa Settentrionale Vol. II Tobruk (Marzo 1941-Gennaio 1942)
Stato maggiore dell'esercito, Ufficio storico, Mario Montanari. 1993.
Pendulum of War: The Three Battles of Alamein
The Overlook Press, Niall Barr. Woodstock & New York, NY, 2005.
The Crucible of War: Year of Alamein 1942
Paragon House, Barrie Pitt. New York, 1990.
The War in the Mediterranean and the Middle East Volume III. British Fortunes Reach their Lowest Ebb
Naval & Military Press, Major-General I. S. O. Playfair; and others. Uckfield, UK, 2004.
Panzer Battles
Spellmount Limited, Major-General F.W. von Mellenthin. Stroud, UK, 2008.
Battle Orders: Rommel's Afrika Korps, Tobruk to El Alamein
Osprey Publishing, Pier Paolo Battisteli. Oxford, UK, 2006.