Welcome back Commander.
Today we take a closer look at a new faction that has recently emerged - calling themselves the Forsaken, they are a small but highly aggressive group composed solely of mutants, humans who somehow survive Tiberium toxemia at the cost of becoming human-Tiberium hybrids.

Very little is known for certain about the Forsaken. The faction seems to have been founded and is largely populated by mutants who managed to escape Nod concentration camps, banding together as a natural means to survive. The Brotherhood is known to have rounded up and even artificially "breeding" mutants for their cyborg program, apparently in favor of the mutants' higher tolerance of pain and lower rejection to cybernetic prostheses.
Viewing themselves as a band of outcasts, the Forsaken bow to no-one and use any means necessary to get what they want. They have been raiding GDI- and GloboTech-protected settlements, even decimating armed convoys. This makes it clear the Forsaken are a force to be reckoned with.
To better understand and counter this threat, we will disclosing various Tech Buildings the Forsaken use to carry out their operations. Capturing these structures is advisable as they can be a great asset on the battlefield.
All Forsaken buildings seem to share one common feature: they are all energy-independent – in other words, they don't require power to operate.
---

Forsaken Hovel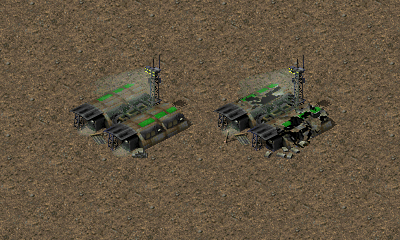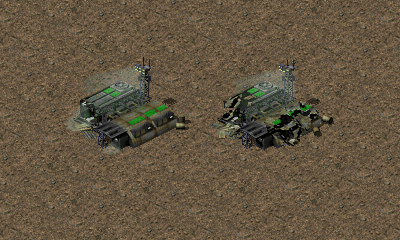 The Forsaken Hovels are former military buildings that were abandoned at the end of the First Tiberium War, and later discovered and refurbished by the Forsaken. Due to their general lack of resources, the Forsaken are forced to make use of everything they can find, and so these barracks come in various shapes and sizes. One half of the hovel acts as the Forsaken's barracks, accommodating and training their militia. The other half acts as bestiary housing malformed lifeforms that they've managed to bend to their will.
Capturing a Forsaken Barracks will allow you to enlist their mercenaries.
Function:

Infantry Production

Armour:

Average

Forsaken Factory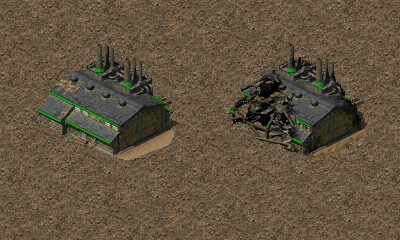 These old factories and warehouses have been recommissioned and retrofitted by the Forsaken to enable production of even their heaviest vehicles. They are surprisingly resilient despite their age.
Capturing a Forsaken Factory will allow production of Forsaken vehicles.
Function:

Vehicle Production

Armour:

Heavy

Forsaken Command Bunker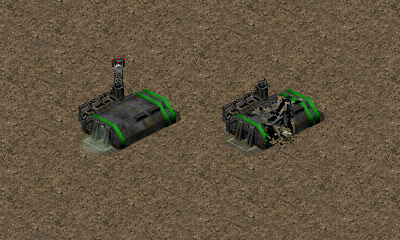 These fortified military structures are used as temporary command outposts by Forsaken warlords, officers and special forces.
Capturing a Forsaken Command Bunker will allow production of high-tech Forsaken units and calling for a Forsaken Ambush, where a team of mercenaries will arrive and attack the chosen target from underground.
Function:

Unlocks Tech, Superweapon
Superweapon: Forsaken Ambush

Armour:

Heavy

Forsaken Sentry Nest


One of the most common Forsaken structures, these ramshackle bunkers are the primary Forsaken defensive structure. They can take a quite bit of pounding before going down.
Some Sentry Nests have been spotted with an anti-armor cannon installed on top. Caution is advised when approaching these defenses.
Function:

Defense

Primary Weapon:

Machine Gun

Armour:

Average

Scavenged Defenses
The Forsaken are also commonly seen utilising defences from the last war.
---
This concludes the briefing. Good luck, Commander.

Follow us around the web!