Excessive Plus for OpenArena
Oa.goquake.com - Official Site for the OpenArena version of Excessive Plus.
Dedicated to assist players and admins gain competence and skills rapidly.
This site is managed by WaspKiller and WaspBeast (the lead developer of Excessive Plus).
The Official Site for the Quake III version of Excessive Plus remains at ExcessivePlus.net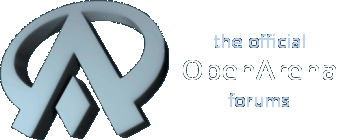 Excessive Plus (E+) is the fastest, most explosive 3D Action/Shooter (FPS) Mod in the world.
And It works with OpenArena.
If you have never seen E+ take at look at the following Instructional and
Tournament/War VIDEOS.
Despite the statement above, E+ does not have to be fast or explosive. Unlike most Mods, E+ contains a powerful scripting engine that can alter its game-play in almost unlimited possibilities. E+ can behave exactly like baseq3/baseoa (right down to the last setting and physics). To test this, setup a server and load the baseq3 config or ask an Admin to demonstrate this for you. Similarly, it can imitate Defrag, CPMA, etc. And unlike those Mods, E+ has an active development process and versions designed specifically for Quake III
or OpenArena.
By WaspKiller from WASP CLAN - Wasp.goquake.com
Info from the official OpenArena forum :
openarena forum - Openarena.ws
download excessvieplus oa - Wasp.goquake.com
Notable features:
- Can be used as a server-side-only mod, without requiring the client to install any pk3 (client modifications are highly encouraged tho, specially for gametypes specific to Excessive Plus).
- Over 400 options to configure almost any aspect of the game, using a custom scripting engine that doesn't polute the oa engine with lots of new cvars.
- Improved unlagged support, notably full unlagged for projectiles on close range.
- Crontab and rotation script-based systems.
- Bans system (not as advanced as 0.8.5 OA admin module tho).
- Server-side script-based map modification.
- Bright skins.
- Matchmode for competitive gaming, including referee support, locking and specklocking, round warmup, timeouts, red and blue spectators and more.
- Customizable HUDs.
- Multiview demos.
- Ingame stats.
- Player aliases database, and countries information.
- Several "fancy" effects, like names, scoreboard, hitsounds and voice/radio chats.
... and a lot more!
Using excessiveplus for an openarena league :
Excessiveplus.net - forum: using-excessiveplus-for-an-openarena-league
Oa-cl.ucoz.org - excessiveplus-openarena-league site