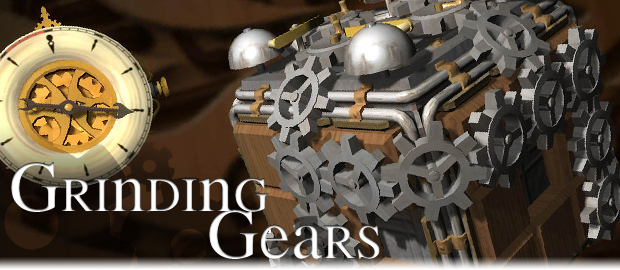 On the surface, Cogs may appear to many as just another average puzzle compilation. A closer look, however, will reveal that this Lazy 8 Studios creation is more than just the sum of its parts. A full 3D puzzler in every sense, Cogs combines various familiar puzzle mechanics presented in an original and elegant packaging. It's the orchestration of all these elements in perfect synchronization that ensure you'll be turning your own gears for hours on end.
From an aesthetic viewpoint, Cogs establishes a fully 3D interface with impressive craftsmanship. Menus convincingly rotate into place with steam-powered machinery, gears whirring and clicking along the way. It's all put put together with the same love and care you'd expect from a professional clocksmith and the atmosphere it creates makes it feel like you're sitting at a tinkerer's workbench. There's not many a game that proves a delight to just navigate the options menu. The fact that developers have taken the time to realize this demonstrates how they have taken every aspect of the game into account.
At the heart of the matter, Cogs incorporates puzzle elements that have been present in many other games. It's the way that the game combines all of these elements together within a 3D environment that makes it shine. Many levels will have you racking your grey matter in order to find an efficient way to complete a double-sided, cubed or even cylindrical puzzle. If there's anything to complain about at all, it's the feeling that the developers maybe didn't explore those aspects enough. Though they do a great job of mixing the puzzle elements and managing the difficulty curve, the twists on old favorites that they do introduce seemed to be short-lived and don't pop up often enough.
Whether you're connecting pipes to route steam to it final destination or shifting around cogs to construct a simple melody, the puzzles themselves employ enough of a variance to keep you playing. It's subtle, but the differences from one puzzle to the next are enough of a hook to generate a "just one more" state-of-mind. With over 50 separate ones to unlock and added challenge modes, there's more than enough to keep you busy for a few extended sessions. Add to that the ability for users to create, and share, their own 3D puzzles and you have a game that presents a great value for anyone not afraid of a cerebral challenge.