The "Cold War", despite its length is not often the focus of strategy games. In a large part, this is due to the complexity of modeling the multi-dimensional proxy wars between the USA and the USSR and trying to get across the idea of the brinksmanship and mutually assured destruction. Universally lauded board-game Twilight Struggle successfully brought this long-simmering but never quite boiled conflict to new players and Strategy Mill's Terminal Conflict attempts to follow a similar path.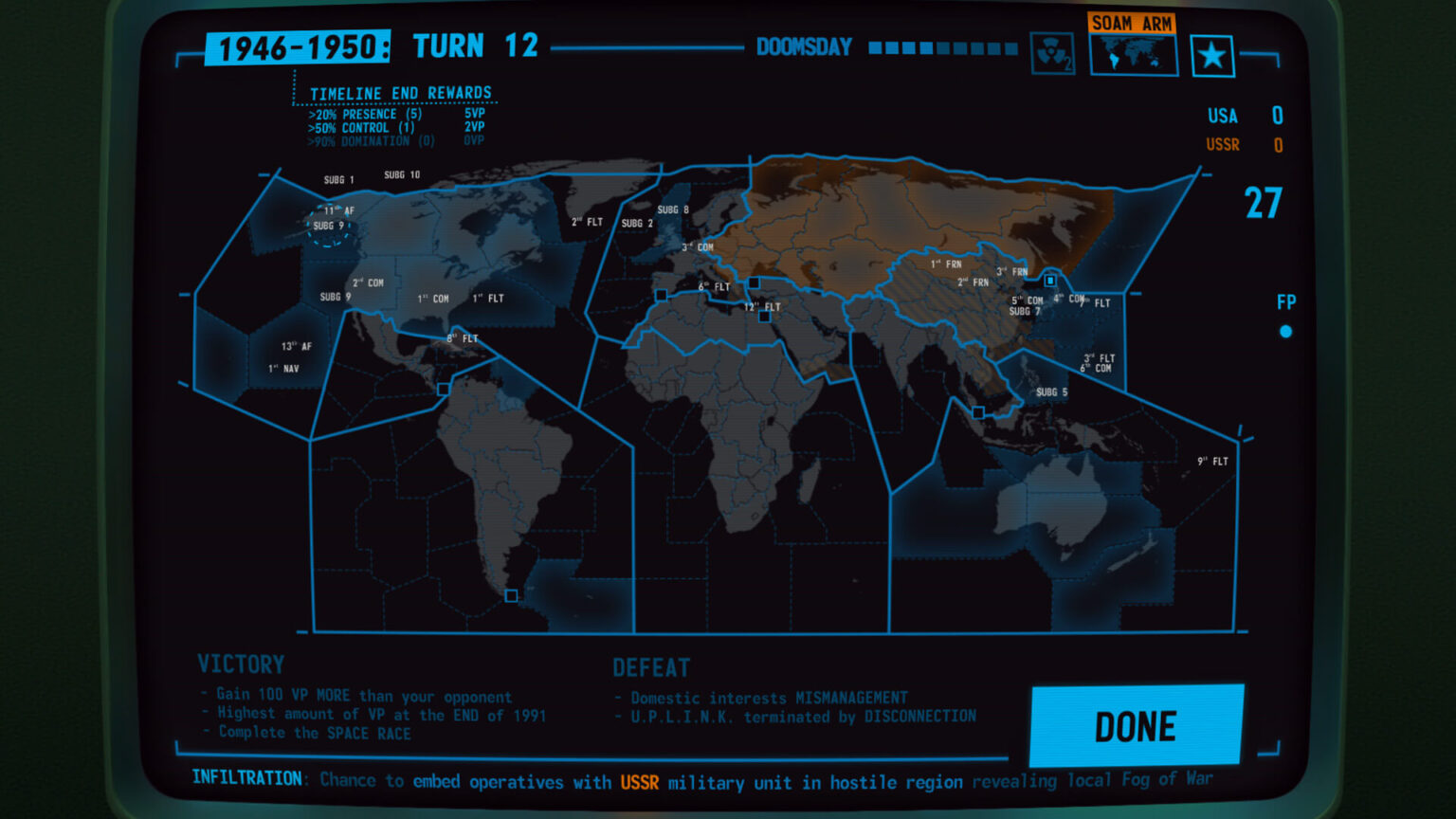 Terminal Conflict pitches the player into the cold war from its beginnings just after the end of the Second World War all the way up to the fall of the Berlin wall. The game features a small suite of tutorials that will brief the player on the game's stark by design UI and the various units that you'll employ across the game, from conventional armies to individual leaders and spies. The player is then pitched into the campaign, though there are other options that are unlockable as you go.
The first thing a player will likely notice when playing Terminal Conflict is the game's intense, hacker-style interface. Cast in blues, greens, and muted oranges, the game uses a lot of text and apes the look of the old DOS-style interfaces. For some players, this will be catnip and for others, this will be hugely off-putting and for everyone else, I suspect it will get an impressed nod of the head.
The game also has its own "friendly AI" to help you out. MIRVIN, introduced during the tutorials, will offer bits of advice and friendly comments as you play and comes across a bit like Wheatly from Portal 2, though not as funny. There's a subplot in the game about MIRVIN but this doesn't really feature that heavily into the gameplay.....
Read the full Terminal Conflict review on turnbasedlovers.com