Hello again! Last time I talked about the parameters of the character in Lost Scavenger and settled on the health of our unfortunate hero, who is forced to starve, freeze, get sick and suffer in every possible way in the vastness of an unfamiliar and ruined world.
Now let's move on to hunger, thirst, and fatigue. Hunger and thirst constantly decrease over time, dropping these parameters below 25% leads to dehydration and exhaustion. These effects have an extremely negative aftermath on the character's health parameter. As in real life, the character dies within a week without food or water.
Nutritious food, in addition to quickly restoring the hunger scale, can add a positive effect that temporarily slows down the rate at which this parameter falls. In turn, poorly cooked, missing or simply unpleasant food for the character imposes negative effects.
The character can quench his thirst in any puddle, but the use of non-disinfected water increases the intoxication. When you hover over the status bar of interest, the factors influencing its rise or fall will be displayed.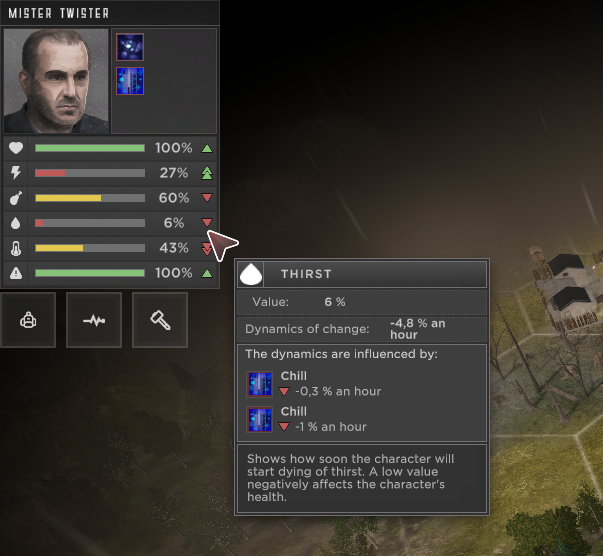 There are several ways to get safe water for drinking and boiling over a fire is the easiest of them. You can also find special water disinfectants, find sealed bottles of clean water, or order lunch at the settlement.
Stress. Its level is also one of the main parameters of the body. It characterizes the psychological state of the player. When he experiences the negative effects associated with trauma, meeting the needs of the body and external influences of the environment, stress begins to accumulate. Dangerous situations and unexpected encounters can also negatively affect this parameter. When the stress level reaches its critical values, the player begins to experience the effects of psychological disorders, which negatively affect the speed of energy replenishment, the speed of actions, etc. Having received a nervous breakdown, the player can break loose in dialogues with other people, which will not in the best way dispose him to the interlocutor.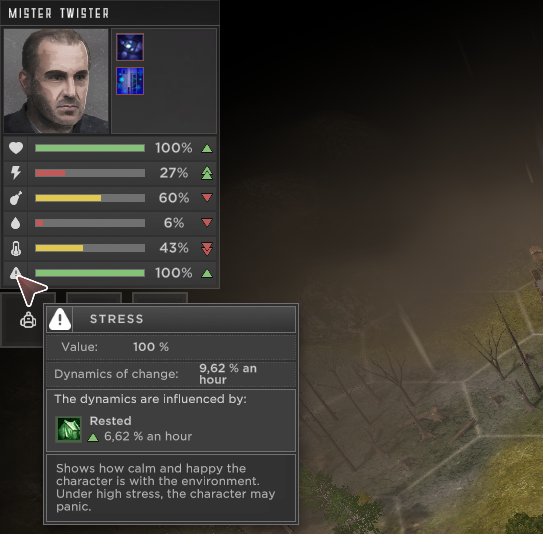 To replenish this parameter, you need to minimize the negative effects affecting the character. A good way is to relax in the taverns of the settlements or to take soft drugs.
That's all for today! Keep abreast of your parameters, each of them is very important and neglecting them will be a big mistake ...
The game itself can be viewed at the link and, as usual, I am glad for constructive criticism, questions, in general, all kinds of feedback :) Thank you for your attention!