Warlords Battlecry 3 never had a powerful RPG element. Your hero always seemed pale in the campaign, and there were little choices to make besides allying with some races. Well now this changes with the TPC implementation of Campaign Dialogues.
While you are traveling around Etheria (on the campaign map or into a battle scenario) you might meet people of interest with whom you wish to talk to. It could be anyone, from Lord Bane to a beggar, and the effects could be anything, from gaining a powerful artifact to loosing a purse of crowns.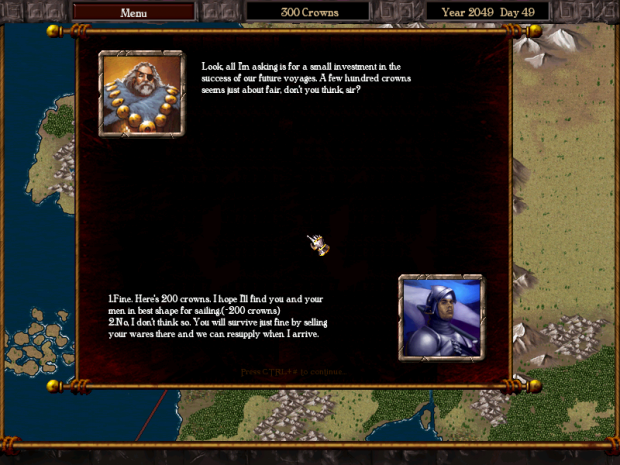 How does it work? Firstly, the dialogue must be triggered by another action (or no action). To name a few: you moved a unit to a square, you obtained an item, you completed a quest, you are in day x of month y of year z, you have discovered a new location, you have x crowns in your deposit, you have a specific companion, you are allied with a specific race, you have killed x, you have a race specific characteristic (mortal/ immortal, good/ evil, etc.), you have made a dialogue choice, you built a building and others.
Once the trigger is activated (i.e. the condition(s) is/are met), your hero is engaged in a conversation or a series of conversations with multiple effects.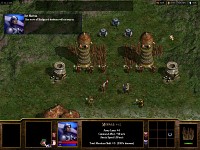 If it is in a scenario, the original Warlords Battlecry dialogue screen pops up. While it might look like nothing has changed, all the TPC magic happens behind the curtains. Such a dialogue can have plenty effects such as: giving orders to units, units changing loyalty, terrain modifications, weather alterations, objective updates, journal entries, activating other actions, retinue improvements, quests access, crown manipulation and more. Obviously, making decisions at micro level (scenarios/battles) affects the whole campaign at a much larger scale than the original version was with its only condition: win-lose.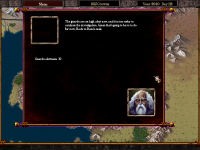 If it is on the traveling map, a new panel opens up, working similar to the original Warlords Battlecry dialog pop-up. While the scenario-only effects are obviously unavailable here (eg. move a unit, change weather), some extra variable manipulation ones may kick in. This allows the creation of text-based quests, such as The Herueth Investigation in Chapter 1, in which Duskshroud, the protagonist, must find out what happened to the city without arousing too much suspicion to the guards (i.e. keeping their alertness below 10).
Leaving many of the hero's choices in the hands of the player (that's you!) will create a strong bond between the two and will give color to the character's personality, increasing the Role Playing part of the game.
What's more, this feature is mod-friendly, meaning anyone can make their own dialogues using just a basic text editor and the manual provided. Adding a storyline to your own scenario has never been easier. Get it all in The Protectors version 0.6 and later.