Building Block Heroes - Mechafolk Factory
Now we're starting to get into the heart of Mechafolk territory! In this week's feature I discuss the birthplace of all Mechafolk, the Mechafolk Factory.
Description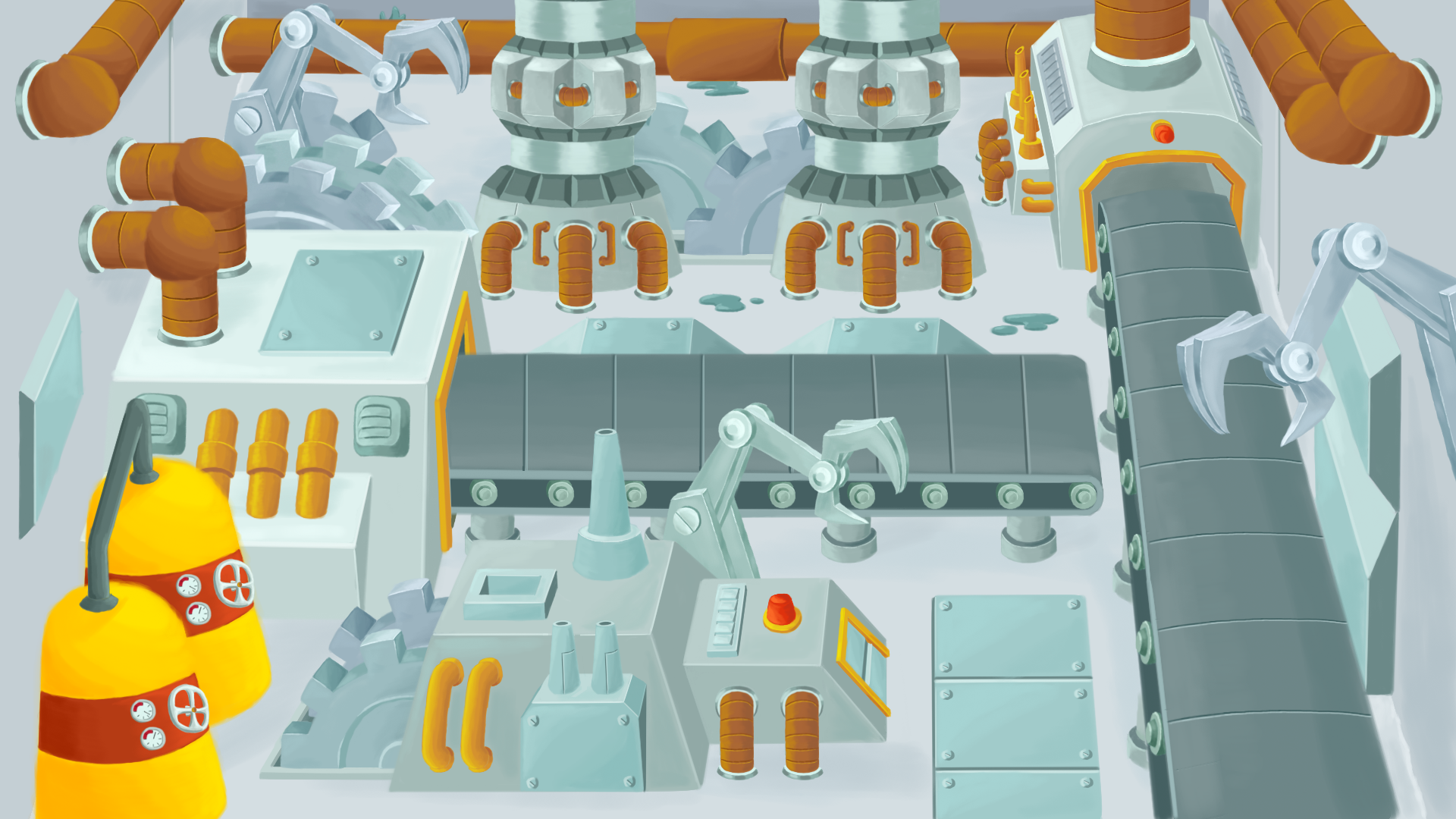 The Mechafolk Factory is a large-scale industrial zone from which all Mechafolk are assembled. The Building Block Heroes find themselves winding around large conveyor belts and cranes, taking care not to slip on the patches of oil on the ground.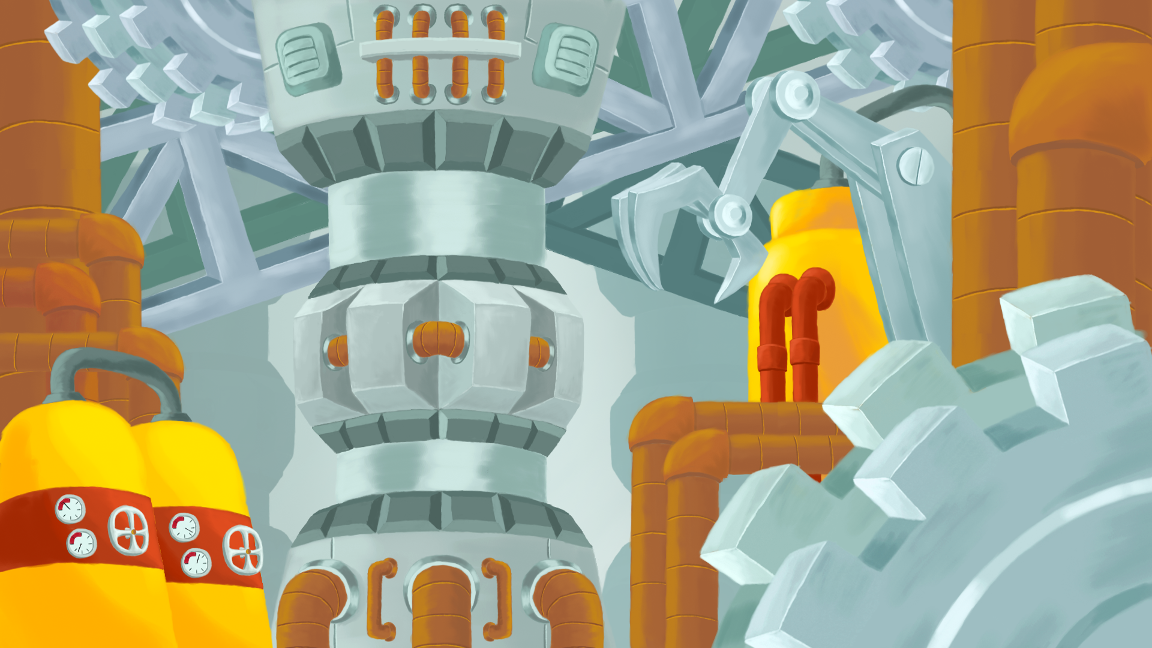 The Mechafolk Factory introduces moving blocks, which have a nasty tendency to ruin everything the Building Block Heroes have built. Moving platforms display one to three green arrows on them, which denote how many spaces they will move and in which direction. After a certain amount of time, the glowing arrows turn from green to red.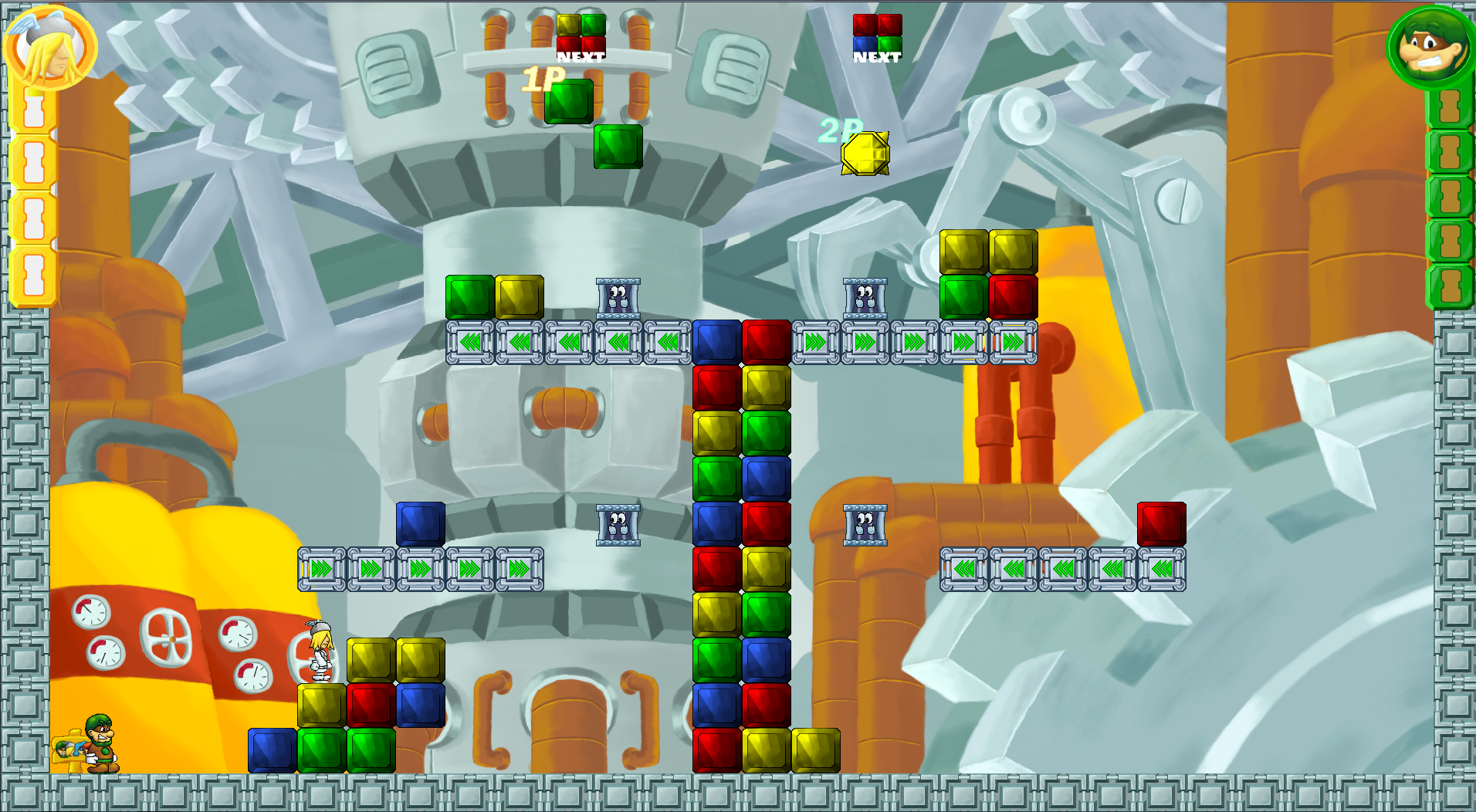 Once the blocks are "armed", the player is given the chance to place the block currently under his or her control, providing an opportunity to prepare for the sudden movement of the level. The blocks were originally supposed to move immediately, but for gameplay purposes it was deemed to unfair to the players to have everything suddenly shift without warning.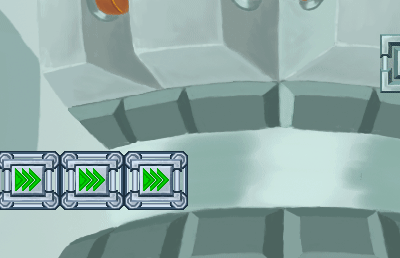 Thankfully, the Mechafolk Factory employs a streamlined shipping process that sends out completed Mechafolk as soon as they are finished, meaning that there are no enemies in any of the Mechafolk Factory's levels. The only one present is the area's boss, which launches attacks based on colour rather than simply smashing things.
This boss likes to wind himself up before he attacks. As the screw on his head gradually twists upward, the screw body turns into whatever colour will be targeted next. Eventually, the screw drops and destroys all on-screen blocks of the same colour. This can be especially painful if the Building Block Heroes have been relying too much on a single colour to work their way around the level.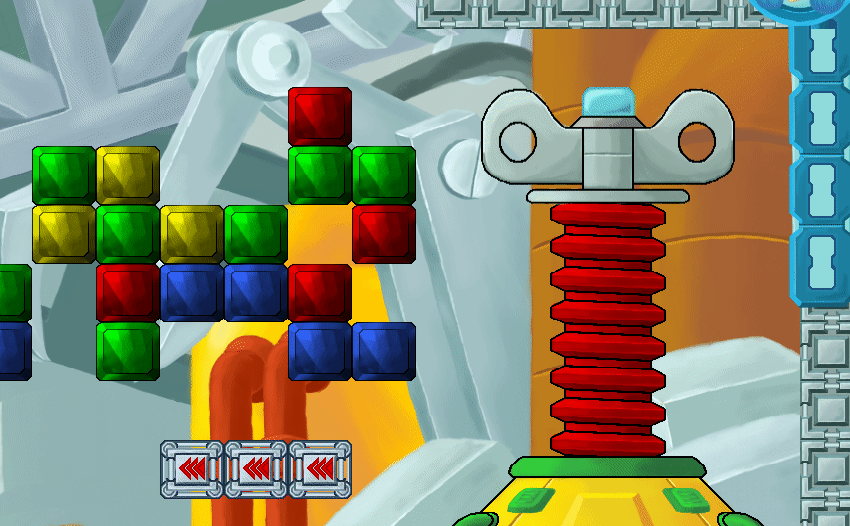 Design
Like the Mistypeak Mountains before it, the colour scheme of this area was one that had to be chosen carefully. A mechanical factory necessitated lots of grey, so I added hints of blue, green, and purple in order to mix things up a bit. Still, I didn't want a single colour to dominate too much, so I added copper piping for contrast.
As a general rule, I try to have the boss sprites match the overall colour scheme of whatever area they reside in. However, because this boss attacks based on colour, I deviated from that rule to include all four colours of block into its sprite. This gave me an excuse to throw in some yellow gas tanks into the scene, because then there would be some precedent for them rather than having them stick out for no reason.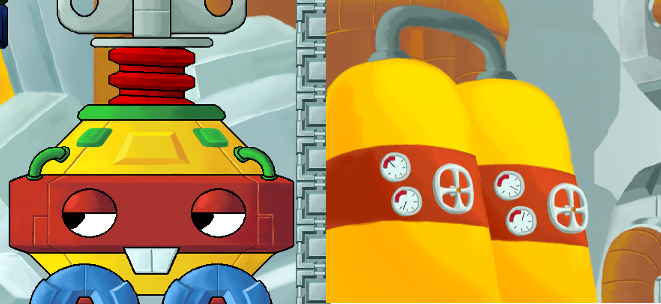 The resulting thumbnail thus contains an enormous amount of contrast while still feeling mechanical.

The background music was meant to sound kind of industrial and workman-like, so I started off by composing a strong bass line, complete with a fast-paced percussion track. Once it came time to compose the melody, I chose to rely on heavy brass coupled with saxophones and honky-tonk pianos. This gave the track a funky-sounding blue-collar vibe, which I felt captured the feeling of "men at work".
Let me know what you think! The levels in the Mechafolk Factory were very fun to build and test, although people playing the game might hate me for it.
Feel free to follow me on social media as well if you're interested!