Artifact Overhaul

When I first started on the creation of Redux, I aimed to combat a number of different issues that I saw as being 'flaws' in an otherwise fantastic game.
The first of these was Realism - the main reason I created Redux.
The second was Atmosphere - a feature I thought was lacking in Call of Pripyat, compared to Shadow of Chernobyl.
The third was Items - I thought there was a severe lack of different food, drink and medicinal items in the game.
The fourth was Artifacts, and that's what I'm going to talk about now.
Artifacts have been one of the biggest features in the S.T.A.L.K.E.R. games since the very beginning. The products of the fabled anomalies in the Zone, Call of Pripyat by default contains over twenty different artifacts, if you include quest-items.
This is certainly a pretty respectable number, that I don't contest, but the main flaw with the Vanilla artifacts is that they're boring.
Vanilla artifacts cover ten categories, including radiation, hunger, health and more.
Each category has two or three artifacts which affect it (with the exception of radiation and hunger), and are usually +2, +4, +6 or +3, +6 to resistance, for example, 'Stone Flower' provides +3 Psi Resistance at a cost of +1 radiation.
All of the artifacts follow predictable, boring patterns, as shown in these images: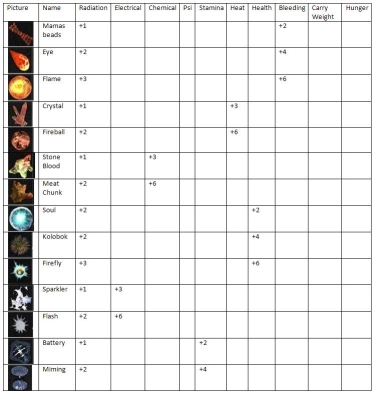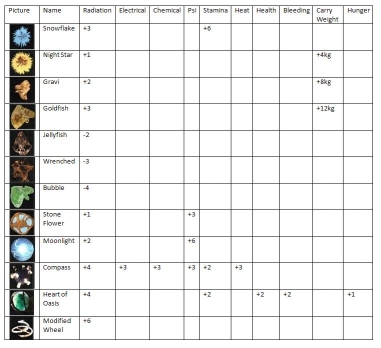 What I am doing in Redux, is throwing this out of the window.
No longer will all artifacts trade one resistance for a dose of radiation, or absorb radiation with no side-effects.
You'll no longer be able to pile two 'Bubble' and three 'Flash' into your SEVA suit and become invulnerable to Electro anomalies, or any other anomaly with a similar setup.
Over fifty artifacts in total will be available, with completely different effects, one might emit radiation but grant resistance to heat, as well as allowing you to carry 2 more kilograms.
Another may absorb radiation, but decrease carrying weight, and make you bleed more. There are many, many possible variations, and you'll just have to scan them down to find them out.
I hope this article has been informative, and has let you see how I feel about the current system.
Check back again soon for another article!
- Beacon