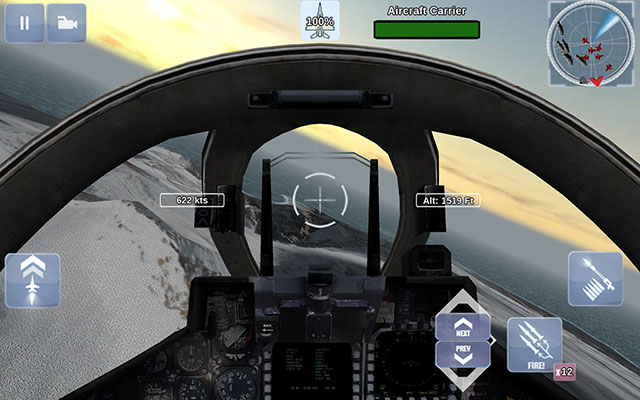 FoxOne Advanced Edition is a special release of the action flight sim released last year by SkyFox Games. It contains many new features added following the community feedback, as well as new content (2 new missions and 2 news airplanes), improved User Interface for gameplay and a more balanced game progression.
The single most striking feature, which basically turns it into another game, is the option to switch to First Person view instead of only the third person view of the previous game. In this view, the player has the cockpit and canopy framework, and each cockpit and framework matches the real world aircraft depicted. Some real aircraft have really thick and heavy canopy structures limiting the view, and to keep the game visually authentic, these characteristics are kept! Which also adds to the challenge. But we also included a Full Screen first person view, without the cockpit parts getting in the way.
The cockpit view can be better seen in the video below:
Youtube.com
Another very important new feature is the option to select Full Controls, ie the player can roll the plane upside down and real aviation maneuvers such as the Barrel Roll, the Split-S and the Immelmann turn, which is shown at 0:21s of the video above.
It also includes two new planes: the F-18 Super Hornet (a two-seater version with the VF-103 US Navy squadron colors) and the Tornado GR4 with the German Kriegsmarine colors. And finally, two new missions and a new campaign progression, where the canyon runs are now optional and not required to beat the campaign.
Finally, there are many other features, most of them added following community feedback, such as the Missile Warning sounds and the Retry Mission option. Having said so, we would like to say a huge 'Thanks!' to the community feedback and base of players who contributed immensely for the polishing and enhancement of our action flight sim framework.