W
ell it's been a long time since we posted a news update from the looks of things, time I changed that I think! Here on the Twisted Insurrection team we have been working extremely hard on all sorts of modding criteria especially coding (which does not count as a public update in my books). To make up for the lack of media and what-not I've collected a bunch of new screenshots for you to check out, have a look!
(Click the images to view them in actual size)
While I (Aro) and My Co-Leader, Lin Kuei Ominae have been working hard on the coding and our other priorities, that hasn't stopped us from fulfilling our other Twisted Insurrection duties. I myself have been hired as a Global Moderator and Promotor of the C&CGuild which is eating up a lot of my time I have when I get home. On the plus side, I've been talking to some older Twisted Insurrection staff members whom are finally making their come backs. Droke being one of them offered to render me some more textures for terrain, which means I've been working extremely hard on TMP files, the other day I got over 250 TMP tiles done in one day! On top of those TMP tiles, I've redone a lot of Twisted Insurrection's old Urban graphics including roads and urban additions, the result:
On top of the tons of terrain that we have produced, there is a new Nod unit posted for public viewing, the Nod Cannon Cyborg: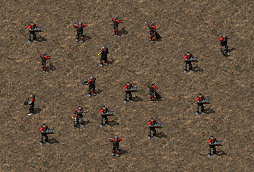 Cannon Cyborg (Cost : 800): Commonly named the 'Cannon' Cyborg, they are armed with an anti-armor laser cannon similar to that of the Eclipse Tank. While not as effective as Eclipse Tanks in the field, Cannon Cyborgs are extremely durable and will always be one of the last units standing in a firefight.
Primary: Anti-Armor Pulse Cannon
Requires: Hall of Faith
Creation
Cyborgs are the combination of living tissue and machine. Most of the early prototypes were created from mutant prisoners, but the majority in service today are volunteers who were offered the change to continue to serve the memory of Kane even after their natural life has expired. The subject is lobotomized and then altered with several Tiberium based treatments. Many subjects do not survive the deliberate mutation of their flesh and die before receiving a single cybernetic augmentation. Those that survive then have roughly 65% of their body surgically removed, the remainder is then grafted into a heavily armored mechanical exo-skeleton. Many more subjects die during surgery but those that are successfully grafted into their new body are then linked with Nod's main governing AI. Then only after going through many diagnostic checks are they fitted with their weapons.
The Cyborg creation is heavily followed up by the Inner Circle, however long-term Kane followers tend to frown upon the cybernetic experiments as they do not believe this was Kane's true legacy.



Now a few additional things:
- We've decided we're going to definitely add a third theater alongside Temperate and Interior, we are however unsure on what we want this new terrain theater to be. This is where you guys come in. If you're interested, you can vote for already stated suggestions or even suggest your own idea for a theater. To vote and to post your ideas go to this forum thread, sign up and give your votes!
- Now, regarding a release. We have discussed this thoroughly in the Temple of Nod, and have come to a conclusion. There will definitely be a release of some sort this year, hopefully very soon this year too. We are however not sure what this release will consist of. We'd like to get everything finished and finalized so you can enjoy Twisted Insurrection to it's fullest potential once released, but I'm aware a lot of you don't want to wait that long so if we don't complete Twisted Insurrection 100% before a set date, we will release a Twisted Insurrection beta for you all to enjoy, equipped with Skirmish modes, online modes and of course, a playable campaign.
- A few more songs have been added to the Twisted Insurrection Soundtrack and some more have been edited or completely redone. I will re-upload the Twisted Insurrection: Original Soundtrack as soon as possible. I will make a news post once the new version is up for download!
- More work has been done on the Twisted Insurrection Website. We are also looking for somebody whom is experienced in website development to take care of the site for us, it's difficult to juggle the website in with our current busy schedule...
- Last of all. I would like to thank all of you whom voted for Twisted Insurrection to get us to the Top 100 Upcoming mods in the Mod of the Year awards. We now hold the Trophy as the first Tiberian Sun mod in history to get this far in any previous mod of the year event. So here it is: Thank you! :) Who knows, we've made it this far, we could go all the way, despite the age of our beloved Tiberian Sun.
Still reading? Then I have another little treat for you. Me and Twisted Insurrection's most talented map artist (Q45) have been hard at work on Twisted Insurrection's campaign. the campaign itself is progressing very, very well and is looking good so far to be finished before a set release date (please do not ask for estimates or exact dates). I've not shown previews of the campaign anywhere before apart from one or two of these shots so here is a sneak peak preview of some of the GDI missions.
(Click on the below images to view them in actual size)
We hope you enjoyed the update!
Keep watching for more updates and all information on news and Twisted Insurrection. To view more images, more information and to get a lot more updates, sign up on the Twisted Insurrection Forums, we are far more active there than we are anywhere else.
- Aro, Lin Kuei Ominae & the Twisted Insurrection Staff